If you're familiar with what sets brads apart from regular nails, you already know what a brad nailer is. Despite having a similar footprint as traditional nail guns, a brad nailer shoots nails instead of flathead nails. That is, however, as simple as it gets. Do give a read to get more insights on gauge measurements and use cases.
Brad Nailer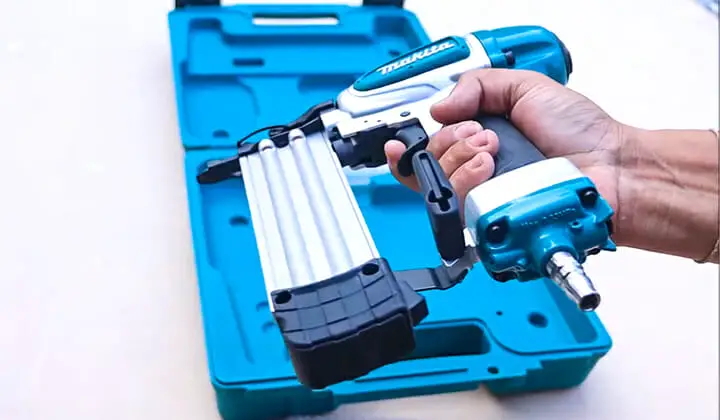 In terms of operation and appearance, a brad nailer is almost similar to a nail gun. Instead of shooting nails, brad nailer shoots 'Brads'. Brads are little thin nails with a small head. For delicate finishing and trimming, carpenters use brad nailer.
Depending on the uses and the capacity of a nailer, brad nails have different sizes. And gauge is the diameter to perceive the size. 18 to 21 gauges are available in the market. 
The gauge defines how smoothly the nail drives into the nailing material. A smaller gauge thrusts less effortlessly, but it has a lessened bond. Eighteen gauge brad nails provide a strong bond comparing to other nails.
There are two types of brad nailer in the market. The first one is pneumatic, and the other is cordless. 
Pneumatic Brad Nailer
To penetrate the nails, pneumatic ones use a strong air compressor attached to the nailer with a cord. In terms of performance, a pneumatic nailer is a good choice. As soon as you press the button, the nails start to penetrate the nailing material swiftly.
Though pneumatic nailers are lighter in weight, they bring along the burden of carrying an extra nuisance compressor. But in terms of price, they are more reasonable than the cordless ones.
Cordless Brad Nailer
No products found.
Cordless nailers are battery-functioned. A 1.5 amp battery converts electricity into kinetic energy that allows the nailer to shoot with a great force. They are heavyweight as they have an extra battery inside them. It is worthy in a way since there is no necessity of carrying extra wire.
When it comes to performance, cordless ones are a little bit slow. Being an electric one, it has some heat build-up issues. Before firing, it does take some time to spin up.
What Can You Use a Brad Nailer For?
To attach subtle trims and moldings, a brad nailer is an appropriate tool for carpenters. It is designed for detailed woodwork and provides a smooth finishing that makes your carpentry more nailing.
Baseboards
Brads are perfect for affixing baseboards on the wall surface due to their small footprint. Besides, brads drive into the nailing material very swiftly. In this manner, you can also effortlessly bind a thinner piece of wood with a larger one.
Crown Molding
You would find bordering on the lining between the roof and wall surface in the Traditional American house. This borderline is crown molding, where brad nails are used since they are almost invisible.
Repairing Furniture
Brad nailer is used for attaching small pieces of wooden furniture. As they leave a small hole, there is no necessity of concealing with putty. Besides, it saves your carpenter costs. You can also use a brad nailer to repair slightly broken furniture.
House Repairing
By doing some home renovation, you can save labor costs. But primarily, you need some tools to renovate. And the best tool for small renovations is a brad nailer. Brad nailers help to get a small renovation without a carpenter. Moreover, its small and almost invisible hole gives you a better finishing.
Crafting
If you love crafting tiny wooden objects, then a brad nailer is the best option for you. That is because thin nails protect small wooden pieces from splitting. Plus, when you craft, using a brad nailer can save both your time and energy.
Can I Use a Brad Nailer for Baseboards?
Though brad nails have small heads and little holding power, you can use a brad nailer for your baseboard. But ensure that your baseboard is only half an inch in width. As the baseboard needs to be attached to the drywall surface, it is somehow troublesome to hold the baseboard to the wall. Hence, 18GA gauge brad nailers are good enough to hold half-inch baseboard trims.
Can I Build Furniture with Brad Nailer?
When it comes to the question of constructing furniture, I would say "No." You cannot build a piece of furniture with a brad nailer. As it has little holding power, it cannot hold two heavy wood pieces. Nevertheless, you can use it for adding final details. 
And if you need trimming and attaching small pieces of wood, you can use this marvelous tool. The little head of the brad nailer causes a tiny hole and lessens the chances of using putty. This delicate finishing provides you with a professional look.
Is It Better to Nail or Screw Plywood?
Plywood is made of multiple layers of thin wood with layers attached with strong adhesive. So, when it is a question of using a nail or screw, I would suggest a screw. Screws are suitable for soft layers of plywood, as they get in with less effort. And even when it comes to withdrawing the screw, it is easier than a nail. On the contrary, brads cannot hold broad wood pieces. 
Frequently Asked Question
1. Does brad nailer need glue to attach?
A brad nailer shoots nails with a heavy force. Though brads might be thin and a bit too weak to hold heavy wood, they are better for attaching small pieces. And there is no need for extra adhesive in most cases. The nails have glue on them. While shooting, the cohesive force melts its glue and sets immediately.
2. Can I use a brad nailer for drywall?
In a word, you cannot use brad nails in the drywall for hanging something. The thin heads of brad nails are nearly inexistent. Besides, the nail head is not strong enough to hold large picture frames on the wall. Therefore, there remains no scope for using a brad nailer for drywall.
3. Can I use a hammer for brad's nails?
As I stated before, brad's nails have a small and thin head that can get damaged from the extra force. While hammering, excessive force may split the slender wooden piece into two. 
Conclusion
There is nothing compatible with a brad nailer that attaches to a piece of wooden material. Thin nails have low holding capacity yet help to protect the slender piece of wood from splitting. Anyways, while choosing a brad nailer, you must keep the thickness of the nailing material in mind.