Brad Nailer Tips (The Ultimate Guide)
Using a brad nailer is not so tricky if you follow the brad nailer tips properly. To be able to work like a professional, you need to clean and oil the nailer regularly and select the appropriate nail size, firing mode, depth, and air pressure while using protective features such as a no-mar cap and goggles.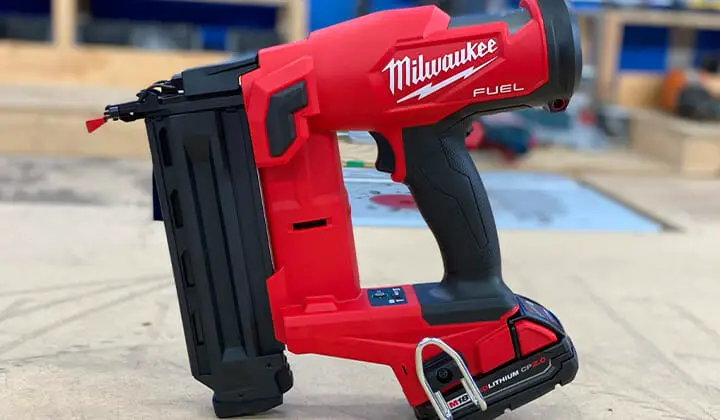 Brad Nailer Tips You Must Follow 
Perfecting the art of nailing may take years, but doing the job nicely doesn't need years to grasp. Even if you didn't ever use a nailer, you can still do a decent job if you follow the tips and tricks mentioned in this section. Also, avoid bad nail mistakes properly. You can watch this video to visualize the tips.
Nail Lengths
Most of the brad nailer supports nails with several length sizes. But it's not wise to use them randomly. Always choose the brad nail with 2x length of the workpiece you are going to work with. Choosing a shorter nail than this will not provide much holding power and long nails can damage the workpieces.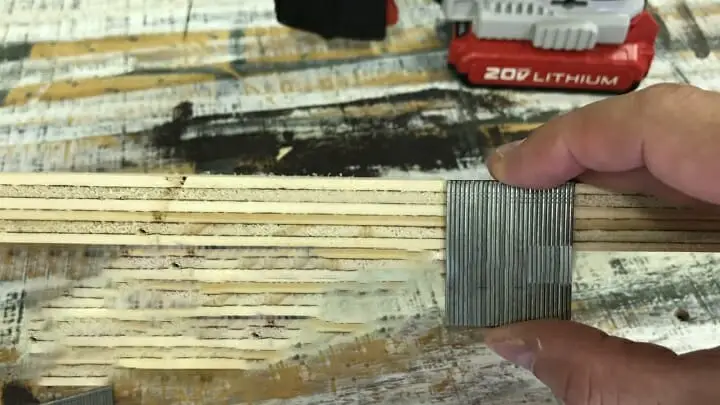 Depth Adjustment
Depth adjustment is important because if you set the depth too deep or too shallow, it can damage the surface, stuck with any different object, or break apart too easily. You can change the depth of drive of the nail gun by turning the depth control wheel near the trigger.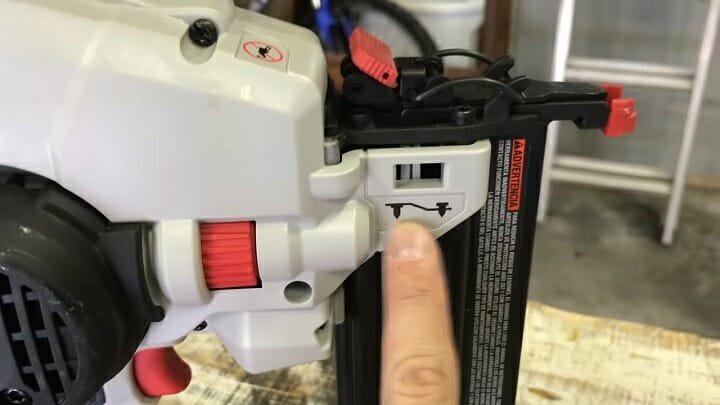 No-Mar Tip
The no-mar cap is a plastic wrap to cover the nose of your brad nailer so that it doesn't place any mark on the work surface. You can also put some scotch tape on the nose to make it, even more, safer for the wood surface.
Pressure Adjustment
One of the important brad nail mistakes you should avoid is setting too much pressure for driving nails. Because it can cause bruises in the woods, make holes deeper, put the nails too deep, or make a crack on the workpiece. So when you are working with shorter nails or light works, set your working pressure between low.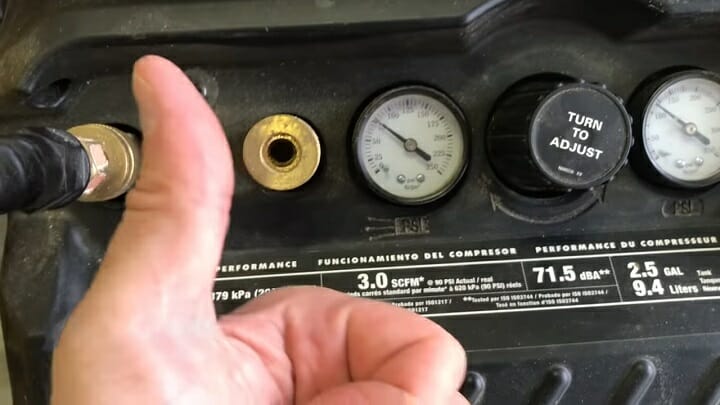 Spring Out
Spring out is when the brad nail changes its direction and a large portion of the nail stick out from the surface. It can happen when you are not nailing exactly vertically or holding the gun lightly. You should use both of your hands to hold the nailer firmly in the upright position.
Sometimes nails change the direction because of the intervention of different patterns of the wood fiber. To solve this problem, you can shoot drive at an angle that makes nails spring out in a direction that doesn't hamper your project.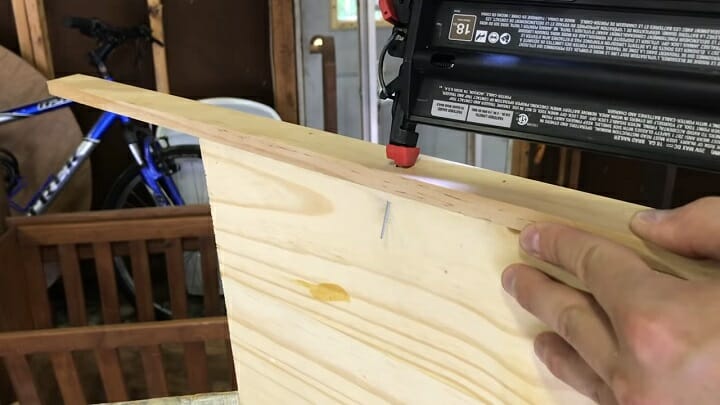 Toenailing
Toenailing or driving nails obliquely is not a strong point for a brad nailer. Although you can shoot from an angled position sometimes, do not set it at more than 20°. 
Cleaning and Lubricating
Cleaning and lubricating the brad nailer on a regular basis is very important for making the tool long-lasting and working smoothly. Always try to use dry air to clean the nailer. never use water or damp air for cleaning otherwise the nailer will get rust. And also, use only a few drops of oil, or it will tint the wood.
Checking Magazine
Sometimes one or two nails are still stuck inside the magazine after removing the nail batch. It can be a problem if you are going to use nails with different lengths next. Because if the stuck nail is longer than the current nail, it will damage the workpiece.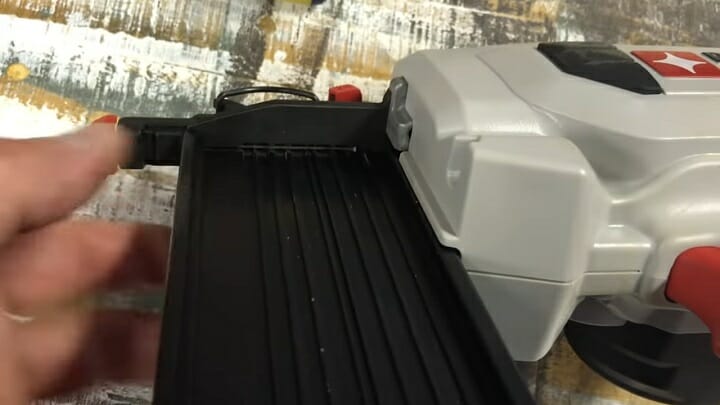 Avoid Metal
Avoiding metals is also a critical brad nail mistake you should avoid. Brad nails are not that strong, even you can bend them with your hand. So, if you try to nail the wood on a metal surface, it will bend the nail and spoil the workpiece.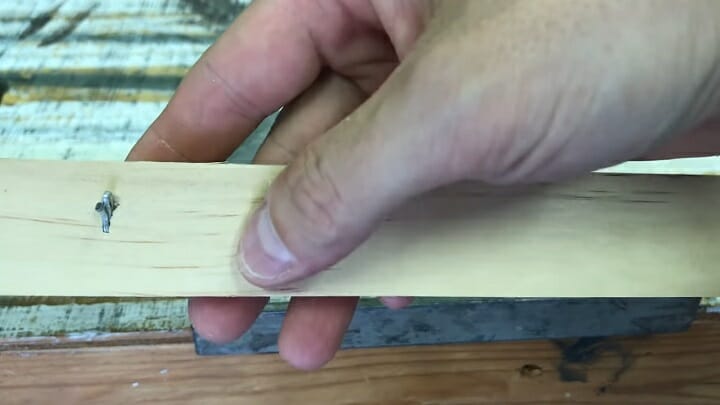 User Protection
Last, of all, take the proper measurements for your protection by using a brad nailer. Wear goggles to protect your eyes and also, avoid placing your hand near the surface you are going to nail. Because spring out or other accidents can injure you.
Now, Do You Really Need a Brad Nailer?
A brad nailer is versatile since they use brad nails that are not as rough as finish nails but stronger than pins. Brad's nails help prevent surface splitting as they are not too large. You can also easily fill up the brad openings easily. So having a brad nailer is very convenient.
How to Use a Brad Nailer
Using a brad nailer is not so hard. Always make sure to read the instruction thoroughly. Follow the tips and procedures given in the manual. Before connecting to the power source, set the firing mode and depth. Before start nailing on the workpiece, test the fire to make sure everything is alright.
What Can You Built with a Brad Nailer 
You can do any light and medium-duty work with a brad nailer. For example, decorative trim, narrow trims in doors and windows, picture frames, birdhouse, paneling, shoe molding, quarter-round molding, thin cuts in baseboards or thin wood, or in your DIY projects.
How Do You Prevent Brad Nailer Marks
[aawp box="B00JTYO248″ template="vertical"]
To prevent brad nailer marks, there are a few things you need to follow. Don't put too much oil while lubricating since it will cause oil tints on the surface. Also, put a no-mar cap or tape with several layers on the nose to prevent marks.
Frequently Asked Questions
Can I use a brad nailer for baseboards?
Yes, brad nailers are perfect for baseboard. But not all the brad nailers are suitable for it. Get the best brad nailer for baseboards that can support more nail sizes.
Which one is the best brad nailer for the money?
Usually, the best brands offer the best brad nailers. you can buy a reasonable one from those manufacturers. Some of the inexpensive best brad nailers are from Wen, Metabo HTP, Stanley, etc.
Final Words
Brad nailer is a very flexible tool for everyday use in random works. The only downside of it is that you won't be able to do heavier projects with this tool. So, don't force your brad nailer to do the jobs it is not designed for, or else the nail gun will malfunction.