Brad Nailer Uses | Both 18 & 16 Gauge Nailers
Are you confused about where you can use a brad nailer yet when there are several fields for that? For example, you may use your brad nailer for shoe molding, crown molding, attaching baseboard, and making a birdhouse. 
Using a brad nailer makes your task easier. Alongside, it saves your time. If you are interested in more information about brad nailers, sit tight and read further.
Brad Nailer Uses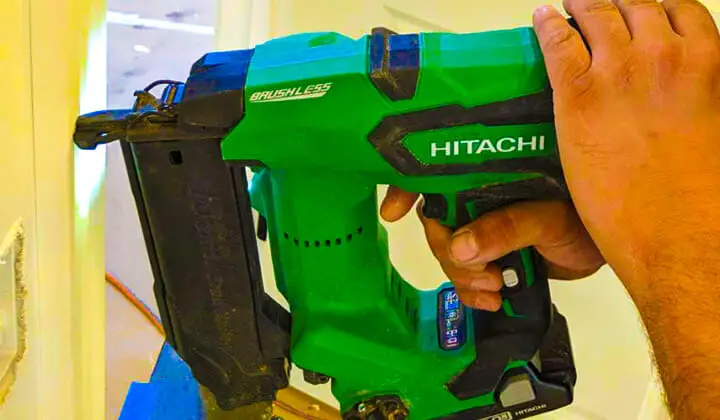 Brad nailers are mainly used for attaching slender pieces of wood. Brad's heads are not strong enough to hold a big wooden part. Yet Small brad heads protect the wooden piece from splitting in two. As brad heads leave a tiny hole, there is no need to put them.
Shoe Molding
Shoe molding provides a polished finishing and conceals the transition between the bottom of the floor and the wall. And the thin brads of brad nailer attach the thin pieces of baseboards delicately.
Shoe moldings are using to add an extra decorative touch. And the delicate finishing of the brad nailer provides you with this requirement.
Quarter-Round Molding
A quarter round is a convex molding with a cross-section in the form of a quarter circle. Besides, it is almost the same as shoe molding except for its rounded shape. 
Quarter round constructs from flexible hardwood, softwood, engineered wood.  Furthermore, its flexibility helps the brad nailer penetrate spontaneously and join the wooden pieces with the floor surface.
Crown Molding
Crown molding is that type of molding which usually used in the ceiling of an interior wall. It also applies to the top of the door, window, and cabinets. 
Crown molding needs to be attached to the wall surface. But, at the same time, it has to be almost invisible. In this term, a brad nailer is the best option for molding. The thin brads provide a small, almost invisible hole.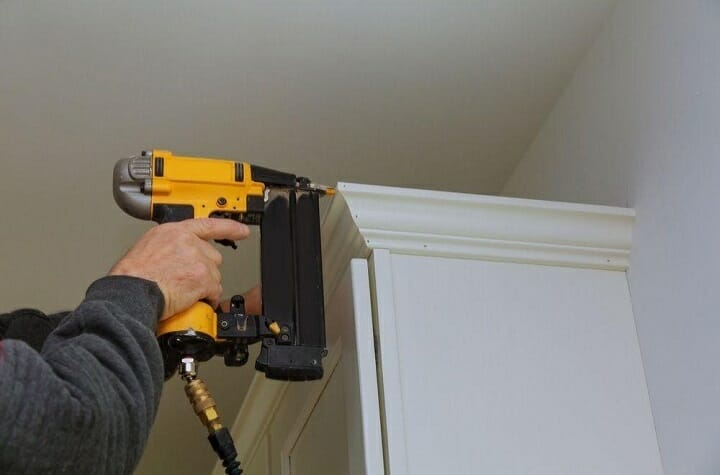 Baseboards
Baseboards are usually a little thicker. Therefore, the Brad nailers cannot be used on relatively thick baseboards. Yet half-inch thick baseboards are perfect for using 18 gauges brad nailers.
The baseboards can be paired to the wall with comparatively strong brad nails. And Thin nails effortlessly penetrate the baseboards. However, there is no need to worry about hammering. Just one press and brads penetrate smoothly in the wood.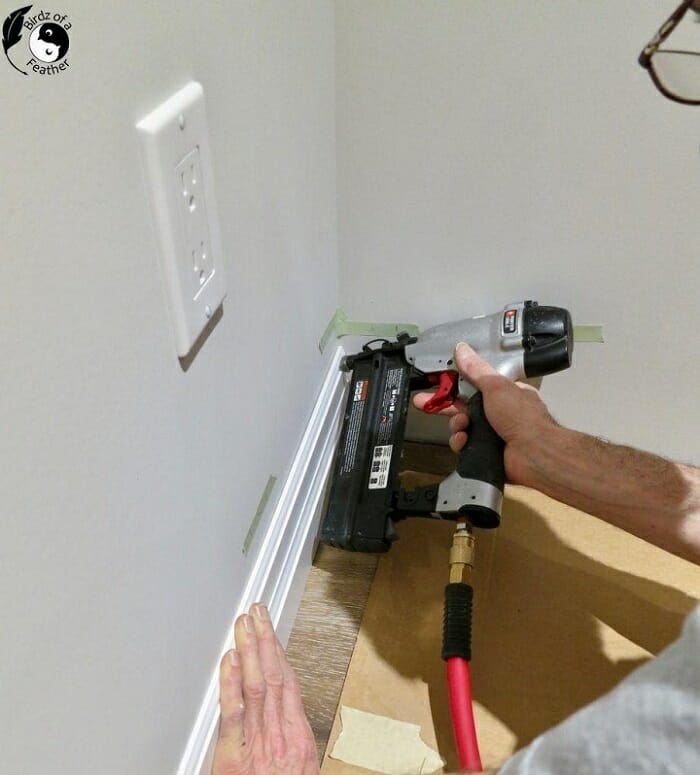 Picture Framing
Picture frames are made from slender pieces of wood. So naturally, you have to be more cautious while attaching the pieces. The use of a wrong size nail may be a reason for splitting the wood into two. 
As brad heads are too thin, using a brad must be a good choice for picture framing. Therefore, an 18gauge brad nailer is the best choice for picture framing. Needless to say, though brad heads leave a tiny hole, it is strong enough to hold the frame.
Birdhouse
If you are willing to make your kid's childhood full of memories, you may build a birdhouse for him.
The birdhouse should be weightless. So, you have to use slender pieces of wood. To avoid splitting the wood, you can use an 18 gauge brad nail. Without split into two, these thin brad nails easily attach two pieces of wood.
Furniture
You cannot build furniture with a brad nailer. Yet you can repair your small damaged furniture on your own.
Carpenters mostly use brad nailers for attaching the small parts of furniture. As I said before, the small brad heads leave a small hole that does not need putty. In consequence, brad nails give a professional posture. 
Narrow Trim
Trim is one kind of molding that uses in the corner of a door or window. 
As the door and windows are always at open views, it needs to be decorative. But using nails while trimming may give a messy look.  In that case, brad nailer provides you strong but almost invisible look.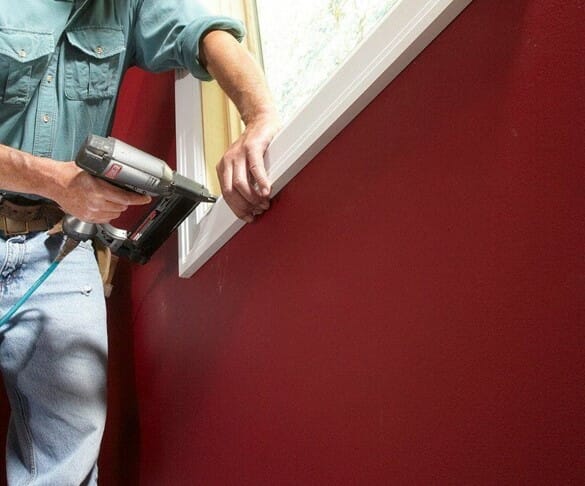 Crafting
The crafting business is booming nowadays. And the business products are wooden jewelry, showpiece, and other home decor things.
Most products are handmade. For joining wooden slender jewelry parts, there is nothing better than brad nailers. Thin brad heads prevent the slender piece from splitting into two.
Small Home Renovation
Traditional American houses are constructed with baseboards and wooden pieces. Even the ceilings are also molded with baseboards for interior design. 
If there is any need for repairing, you can do small repairings by yourself with the help of a brad nailer. Small thin brads repair light damages spontaneously.
Using on the Corner
[aawp box="B079FHJZ94″ template="vertical"]
As brad nailers provide a good finishing, many carpenters prefer to use brad nailers in the corner.
Frequently Asked Question
Can I use brad nails without a nailer?
It is a tricky question to answer in a word. You can penetrate brad nails into wooden pieces by using a hammer. But there may be a chance of breaking the brad heads for excessive pressure of the hammer. Again, excessive force may cause break the slender piece of wood that you try to attach. Moreover, hammering takes more time to penetrate whither brad nailer takes less.
Can I use a brad nailer for plywood?
Plywood is generally a little thicker. This is because small brad nails cannot go through the thick wooden pieces. Apart from that, small brad heads are not strong enough to hold plywood.
Can I use a brad nailer for melamine?
The Melamine finish is usually slippery. There may arise problems while holding the panels in alignment for drilling holes for screws. For avoiding this problem, first, pin the panels with 18 gauges brad nails. And then screw up. You may not attach melamine with a brad nailer. But you may align them with the brad nailer. 
Conclusion 
Brad nailers are a brilliant tool for attaching thin pieces of wood. Using a brad nailer saves your energy, time as well as money.  Though brads have not strong holding power as other nails, it provides a well-finishing and decorative look. Moreover, brad heads leave a tiny hole that does not need to be putty.