Avoid Project Failures with Dewalt 5-in-1 Multi-Tacker and Brad Nailer
Brad nailers and staplers were both invented in the last century to join different items more simply. At present days both of the tools became more convenient with lots of new features. You can even find some tools merged for multi-tasking. One of them is the Dewalt 5-in-1 Multi-Tacker and Brad Nailer.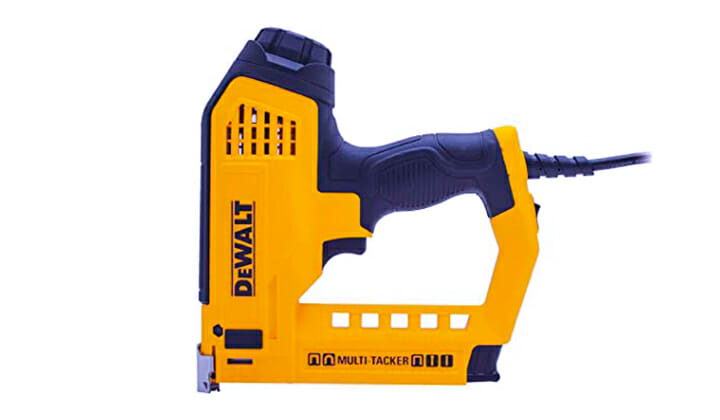 As the name suggests, this machine is equal to 5 unique tools that can be used in several jobs. But like the saying, all that glitters is not gold, most of the fascinating tools can turn out to be the worst. That's why this article gathered all the info on the tool to help you decide if it is ideal for you. Let's hop on and explore!
Dewalt 5-in-1 Multi-Tacker and Brad Nailer 
The 5-in-1 Multi-Tacker and Brad Nailer from the Dewalt brand is an electric cross-functional machine that you should have in your possession. Let's have a look at the characteristics of this machine from this section.
DEWALT 5-in-1 Multi-tacker and Brad Nailer
No products found.
Fastener  
While purchasing a nail gun, you must ensure first that it is compatible with your required fastener sizes. This DEWALT brad nailer works with, Heavy Duty, Narrow Flat Crown, and cable staples along with 18 gauge brad nails and 18 gauge headless nails.
Usage
Since this electric multi-tacker is suited to drive a variety of staples and brad nails, it can handle numerous applications. For instance, this tool can be used for installing carpet and sheets of insulation, attaching lightweight trim, decorative trim, and narrow trim.
Also, you can use the nailer for pictures frames, paneling, birdhouses, shoe molding, quarter-round molding, thin cuts, and crafting projects.
Design 
Another important thing for a nailer is its design as the design influences the workflow and performance. This multi-tacker is designed to be balanced and compact. The ergonomic comfortable grip allows you to work for a longer time and prevents fatigue.
For easy and user-friendly refill, the magazine is designed for bottom loading. The electric cord is 8 meters long, which is very convenient. Also, the integrated wire guide design allows for accurate stapling over wires.
Weight
Along with the design, the weight of your tool also has an impact on the workflow. The more lightweight the machine will be, the easier and comfier the work will be. Dewalt multi-tucker weighs only 3 pounds! You can easily carry and work with this. Also, your children can freely use it for their school projects.
Firing Mode 
Some nailers feature two types of firing mode at the same time, while others come with only one type of firing mode. In this brad nailer, there is a contact-trip switch that allows a staple or brad nail to fire only if it is pressed against a work surface. 
Also, it has a high/low power switch that allows for the tool to drive fasteners into hard and soft materials ranging from Oak to Pine.
Warranty
For a long-lasting and more durable product, one should go for a nailer with more warranty period. So that, even if your tool doesn't work properly after a time, you can easily replace it. With this brad nailer, the manufacturer offers a limited lifetime warranty for the best user experience. 
Drawbacks
According to some customers, this brad nailer doesn't provide enough strength to drive nails and staples completely into the woods. Also, it works better as a stapler, not as a nailer.
Frequently Asked Questions
How do I clear jams in my nailer?
Jams will happen frequently if your nailer is getting old or there is low maintenance. To clear jams, open the nose or magazine to easily access the nail that's causing the jam. Use a wrench to take out the nail and you are ready to work with the tool again.
How can I use my nail gun to penetrate the woods perfectly?
Holding a nailer with both of your hands will provide more strength to penetrate both the soft and hardwood perfectly. If your tool is powered by electricity, make sure the voltage is not too low.
How to use a nailer safe and sound?
Always use eye protection to use a nailer safely. You can use gloves, but it can be a hassle to push the triggers. Adjust the firing mode and required depth. Try test-firing a couple of times to make sure everything is alright with the tool. When you are not working, lock the trigger or shut off the power source. 
Last Words
Buying a multi-tacker with a lifetime warranty is not enough to make the tool last long or provide better performance. You should clean the nailer regularly with air, and lubricate the parts from time to time. It will make the tool mechanism smoother and everlasting.