How to Nail Vinyl Siding (With Video)
You will need your hammer or vinyl siding tools and nails to nail the vinyl siding of your house. Nailing vinyl siding for your home is a simple job, but doing it in the wrong way may bring disaster to your house siding.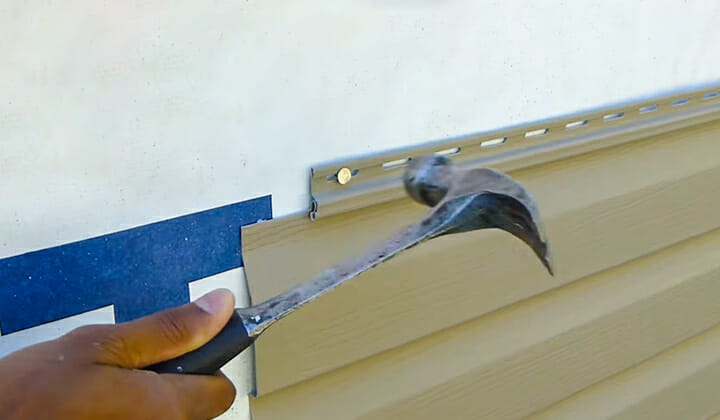 How to Nail Vinyl Siding
Siding is for the protection of the walls of your house. Vinyl siding can be an excellent choice. Unlike other sidings like wood sidings and aluminum sidings, vinyl sidings have plastic, which is more long-lasting than others.
Though vinyl siding is costlier than other sidings, it will be more durable if you can install it properly by nailing it perfectly. You have to be precise in nailing these plastic sidings. Any improper step can break or crack your vinyl board.
Step: 1: Choose Your Nail Wisely
Galvanized roofing nails are the best choice for vinyl siding. The electro-plated nails are easier to handle and work with, but they are more likely to rust.
You need to choose aluminum, galvanized steel, corrosion-resistant nails, staples, or screws for installing vinyl siding. Aluminum trim pieces require aluminum or stainless steel fasteners.
Step: 2: Pick Up Your Nail Size Perfectly
Nailheads should be 7.9mm minimum in diameter. Moreover, the shank should be 3.2mm in diameter. Indeed, the nails should penetrate ¾ inch into a solid wood base. You should not use anything less than a 1-inch nail.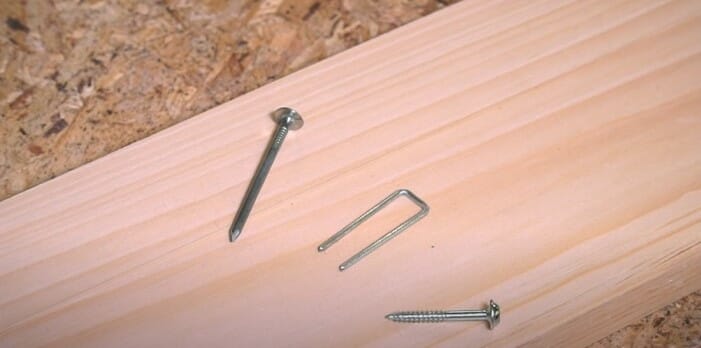 Step: 3: Select Your Nail Length Identically
You will need a different length of nails, for example- 1″ to 1/2″ for general purpose, 2″ for residing, 2-1/2″ minimum for going through siding with backer board, and 1″ to 1-1/2″ for trimming.
Step: 4: Don't Nail Flush
Whether you hammer or use a nail gun, never nail it fully. Nailing tight would ruin the siding on the go. It will be weird to see and cause the siding to buckle when it expands, contracts, or changes temperature. Note that experts often suggest not to face-nail.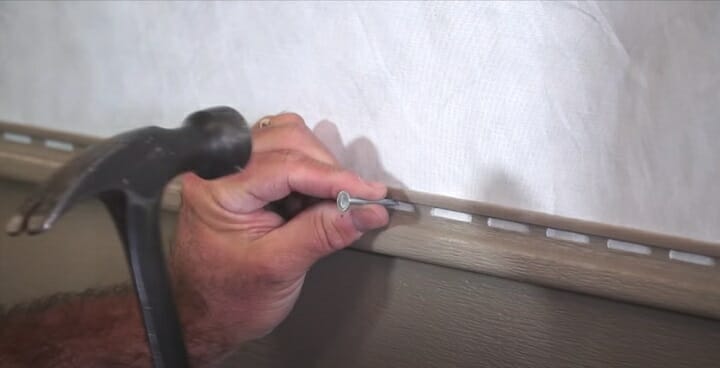 Step: 5: Position Your Nails Carefully
You need to put nails in the center of the slots to permit expansion and contraction of the siding. You should put drive nails straight and level to prevent distortion and buckling of the panel.
Hold them in position if you want to start nailing vertical siding and trim pieces at the top of the uppermost slots. Lastly, place all other nails in the center of the spaces.
Step: 6: Ensure the Tightness of Nails Prudently
You have to ensure that the nails are not too tight. You have to leave about 1/3 inch between the nail head and the vinyl siding. The siding must be nailed loosely but not too loose that the nails will not secure the siding.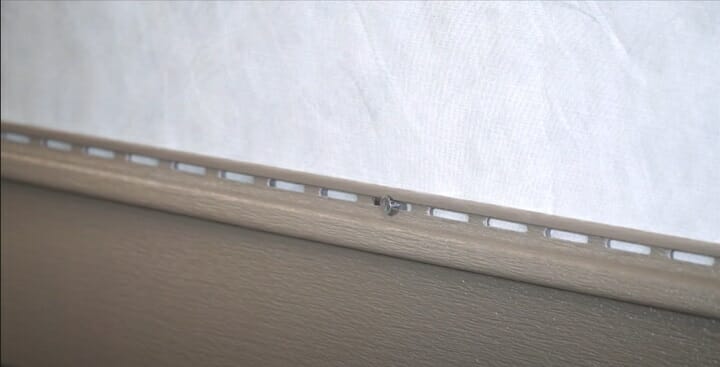 Step: 7: Keep Distance Between the Nails Equally
You have to keep the distance between the nails about a maximum of 16 inches apart for horizontal siding panels, every 12 inches for vertical siding panels, and 6 to 12 inches for accessories.
Importance of Proper Nailing for Vinyl Siding
Vinyl siding is made of plastics which is different than other sidings like wood siding or aluminum siding. This is why precise nailing is very necessary; otherwise, it can break easily.
Also, when installing, you have to keep in mind that vinyl siding can crack it up in the change of weather. If you do not save enough space between sidings, things can go wrong. The purpose of installing siding might not work out.
No products found.
Proper nailing of vinyl siding can be more durable and attractive cladding for homes. Though it is a bit costly, it will protect your house for a long time if you can install it properly.
Frequently Asked Questions
1. Can I Use Roofing Nails for Vinyl Siding?
Yes, you can use roofing nails for vinyl siding also. But you have to use the galvanized aluminum roofing nails with a diameter of 1/8″ and a nail head of 3/8″ or larger. If you have other materials between your base and siding, you must use an even longer nail.
2. Do I have to nail siding into studs?
No, you should never nail siding into studs directly. You need to put a sheathing that has a flat and smooth surface before nailing into studs. Sheathings can be used like plywood, oriented strand board (OSB), other materials with foam-plastic insulation, etc.
3. Should I install a house wrap before siding?
Yes, you should always install a house wrap before siding. You need to install it over the sheathing and behind the siding. It will help to prevent moisture from entering the wall of the house.
4. Can I put vinyl siding over the clapboard?
Yes, you can put vinyl siding over the clapboard. You have to install rigid foam over the top of the existing clapboard. It will create a consistent and stable surface for the vinyl siding.
Conclusion 
While nailing the vinyl sidings, make sure to recheck your sidings from time to time. You have to lock the panels at the bottom, but don't pull them tight when nailing. Investing time and energy in this will give you a long-protected house with decor.