Roofing Nailer vs Framing Nailer – Everything You Need to Know
A roofing nailer is a tool needed for roofing jobs such as the installation of asphalt shingles. And a framing nailer is a tool for heavy-duty constructions, for example, framings. A framing gun is bigger and stronger than a roofing nail gun.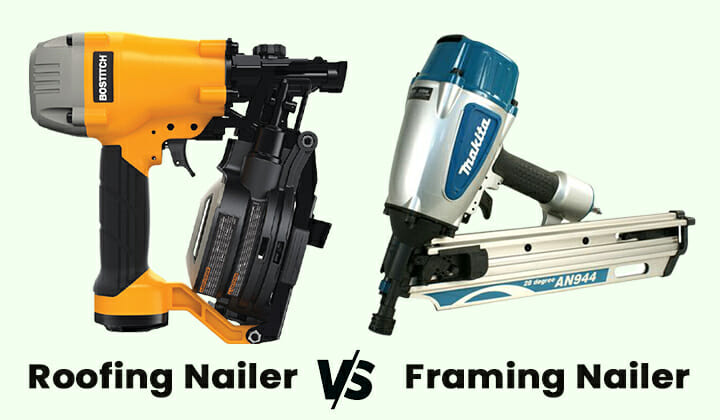 Roofing Nailer vs Framing Nailer 
Roofing and framing nailers have many other dissimilarities for different factors, such as the magazine type, fastener type, design, or usage. In this section, you will get to know about all the contrasts in full detail.  
Fastener Type 
For framing works, you need long and thick nails. Nails used for framing works are usually 3-1/2 inches to 7 inches long. They are called 16d or 16-penny nails. Sometimes 10d, 8d, and 6d nail sizes are also used for framing jobs. 
Though the thickness may vary, the nails of the framing nailer are always longer than others. Some framing nailers are compatible with different fasteners, such as staples, wire mesh, or screws.
On the other hand, a roofing nailer works with shorter nails. According to the International Building Code, roofing nails must have a minimum 12 gauge shank and 3/8 inch diameter head. The lengths usually vary from 2d to 6d in penny sizes.
Nail Loading 
Nail loading depends on the magazine of both types of nail guns. Most roofing nailers come with an angled coil magazine, whereas most framing nailers feature turned sliding magazines. Some roofing and framing nailers come with different magazines, but they are not much popular among roofers.
As a normal roofing nailer uses coiled or bundled nails, you don't need to reload much often. But a framing nailer requires filling much often since the magazine can't hold many strips at a time.
Design
A framing nail gun is designed to be bigger than a roofing nail gun. They also have different types of nose designs. The nose of a framing nailer is jagged, so it leaves marks on the works surfaces. But, a roofing nailer comes with a flat nose design that rarely leaves any impact on the workpieces.
Sometimes the framing nailer has angled nozzles that ensure easy access to tighter spaces. The picture below shows how it looks like after using a framing nailer. You can also learn about different framing nailers, compare them and choose your ideal nail gun.
Durability and Strength
Framing nails are more extensive and can provide much more holding power than roofing nails. As framing nails need to grab thick materials, they are reliable and sturdy enough by construction. So that they can keep the pieces together for many decades. And to shoot these strong nails, the framing nailers are also made strong enough.
Since the roofing nails are smaller in size, they are less durable and provide less holding power than the framing nails. But they are durable enough to install your roof correctly and hold the pieces for ages. A roofing nailer requires less strength to drive the roofing nails. 
Usage 
If you are building a house, you need the framing nailer from the first phases. But you need the roofing nailer only after the whole house is built, except for some roofing jobs. Since both the roofing and framing nailer has their different uses, you need to know them to avoid mistakes in your projects.
A roofing nailer is used in medium-duty roofing jobs such as installing shingles or felt works. On the contrary, a framing nailer is used for heavy construction jobs such as framing, attaching boards, assembling felts, in beams, etc.
Types of Roofing and Framing Nail Guns
Depending on the fastener size and usage, nail guns can be more than five types, pin nailer, brad nailer, finish nailer, roofing nailer, framing nailer, siding nailer, and so on. They all differ in size but look almost the same. If you are new to construction jobs or need nail guns for DIY purposes, you must know about all of them first.
Electric Nail Guns | Framing vs Roofing
Electric nail guns are powered by electricity. Many roofing, framing, and other types of nailers feature this type of power source. But an electric roofing nailer is not very handy since there will be no electric port on the roofs. It will be best to go for a cordless or air nailer for roofing jobs. They are better in the case of framing ones.
How do I Choose a Roofing Nailer?
You can choose a roofing nailer according to your need. Check the specifications first and go for the nail gun with the most advantages and suits you too. It will be better if you choose a cordless coil roofing nailer. You may take help from the best coil roofing nailer or the best cordless roofing nailer reviews to find one.
How do I Choose a Framing Nailer?
Choosing a framing nailer is almost the same as selecting the roofing nailer. Check the specifications and buy a nail gun with long term warranty and return or money back feature. It ensures that the brands are confident enough with their best nailer. Even if the nailer is not up to your expectation, you can quickly return it this way.
Frequently Asked Questions (FAQ) 
1. What is degree framing nailer best?
Framing nail guns angeled from 30 to 34 degrees are the best. They are convenient enough since they can access tight angles in framing applications.
2. How to use a roofing nailer as a beginner?
Read the user manual after you get your first nail gun. Wear gloves, goggles and then power on the tool—test fire a couple of times to check if everything is okay. Adjust the depth and firing mood if necessary. Lock triggers or power off the nailer whenever you are not nailing.
3. Can a roofing nailer be used for framing?
Yes, but it needs some requirements. Roofing nailers usually work with shorter nails since roof covering doesn't need long nails. But framing requires long nails, so if you can get a roofing nail gun that can support the nail lengths necessary for the structure, you can use it.
Final Statement
If you are new to nail gun works, you can get started with a roofing nailer. It is lighter and suitable for practicing around. You may feel more comfortable if you choose a cordless nail gun. After you become used to nailing with a roofing gun, you can quickly shift to framing nailers.