If you're looking for a nail gun only for personal indoor use, NuMax SFR2190 can be the best affordable option for you. If you're willing to have a nailer with something extra, 3PLUS H3490SP can serve you well. Be clear on your purpose and cost to get the best framing nailer for the money.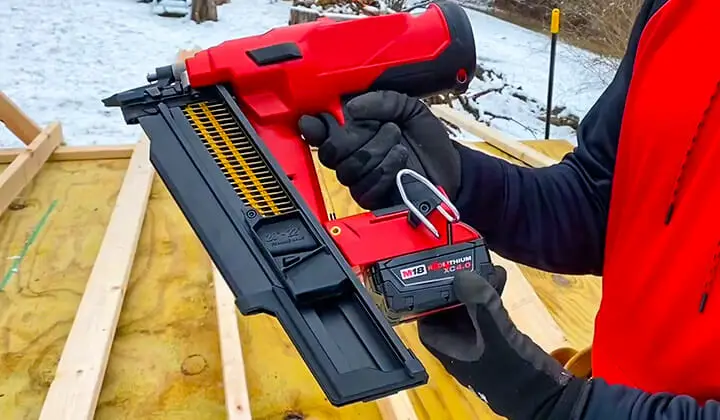 Best Framing Nailer For the Money to Look For 
Editors Choice
Best Buy
Nice Pick
NuMax SFR2190 Pneumatic 21 Degree 3-1/2" Framing Nailer
NuMax SFN64 Pneumatic 16-Gauge 2-1/2" Straight Finish Nailer
3PLUS H3490SP 34 Degree Clipped Head Framing Nailer
Editors Choice
NuMax SFR2190 Pneumatic 21 Degree 3-1/2" Framing Nailer
Best Buy
NuMax SFN64 Pneumatic 16-Gauge 2-1/2" Straight Finish Nailer
Nice Pick
3PLUS H3490SP 34 Degree Clipped Head Framing Nailer
A framing nailer is an essential DIY tool. We often need it for any kind of heavy-duty woodwork in our homes and professional surroundings. We tried to uphold some of the best nailers at a limited and affordable price. Hopefully, it will shorten your list and save time and confusion. 
1. NuMax SFR2190 Pneumatic 21 Degree 3-1/2″ Full Round Head Framing Nailer – Ergonomic and Lightweight Nail Gun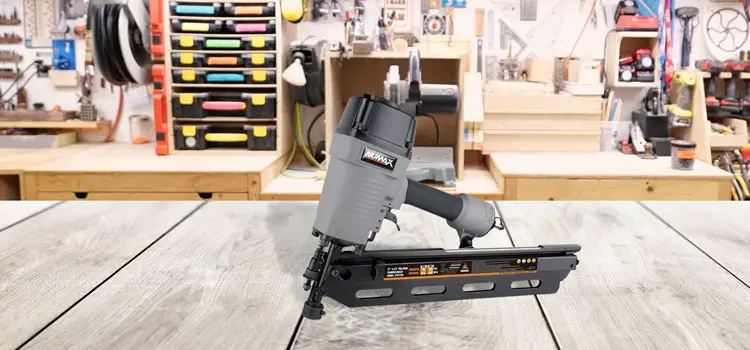 NuMax SFR2190 can be the best framing nailer for you if you have a tight budget. Within a limited cost, this nailer includes each important feature for perfect nailing. It is a high-quality nailer with a rigid yet lightweight body. The body of this item is made of magnesium. 
It includes an appropriate secure handle and an interchangeable trigger. It helps in quickfire or single-shot operations. This is a 21-degree pneumatic framing nailer. This nailer offers flexibility. You can use it to install sub-floors, wood fencing, roof decking, sheathing, and so on.
It is because the product features depth adjustment and a no-mar tip. It allows this nailer to be adapted to various working surfaces. The framing nailer is not only perfect for DIY projects but also for professional construction contractors. The round head of this nailer is quite ergonomic to use. The padded grip provides comfort. 
You can use 2 to 3-1/2 inch long nails with this framing nailer. It functions from 70 PSI to 115 PSI and needs 2.5 CFM at 90 PSI. The product is quite long-lasting. A 1-year warranty backs it. Also, it comes with a 30-day wearable parts warranty which is pretty liable. 
However, the performance of this framing nailer is not the best to be accounted for. To change into bump firing from single firing mode, you have to switch the triggers manually. 
Pros 
Lightweight yet durable design.
Includes a padded secure grip handle
Usable for different applications.
Affordable 
Extended nail support of 2"-3-1/2".
Cons 
Median performance. 
The triggers are needed to be switched manually. 
2. NuMax SFN64 Pneumatic 16-Gauge 2-1/2″ Straight Finish Nailer with Tool-Free Depth Adjust and No Mar Tip- Best for Versatile Use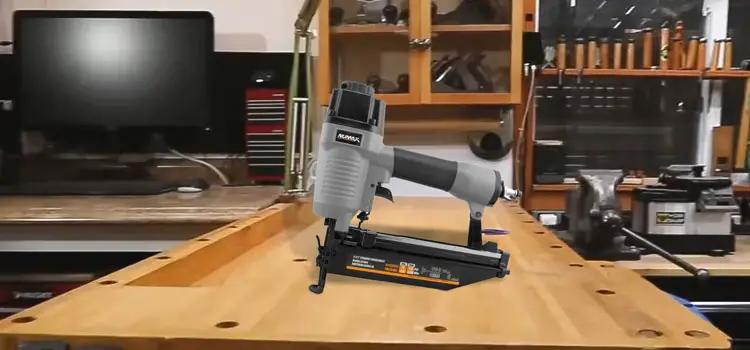 NuMax SFN64 is one of the most versatile framing nailers. It is ideal for exterior and interior finish and trim, cabinetwork, furniture, staircases, shoe, crown molding, baseboards, window casing, and chair rail molding. It includes a sequential firing and tool-free depth adjustment, which offers customization for any venture. 
The ergonomic grip handle helps to do the work with comfort and security. There's also a quick jam release included to assist in clearing jams quickly without taking the nailer apart. A no-mar tip prevents dents and dings. This can be the ideal framing nailer for your job not only because of its excellent two-inch but also for its liability and performance. 
This framing nailer is durable, challenging, and dependable. It is a pneumatic 16-gauge straight finish nailer, which is lightweight yet sturdy. Unlike the NuMax SFR2190, this nailer has an aluminum body. This construction is optimal for nailing purposes. However, the rubber tip is relatively thicker, and it affects the nail depth. 
Pros 
Pneumatic 16-gauge framing nailer.
Ideal for any kind of exterior and interior trim and finish
Includes a sequential firing and tool-free depth adjustment
Ergonomic, secure comfort grip handle.
No-mar tip prevents dents and dings.
Features a quick jam release
Cons 
The thick rubber tip sometimes affects nail depth.
3. 3PLUS H3490SP 34 Degree Clipped Head Framing Nailer-Most Functional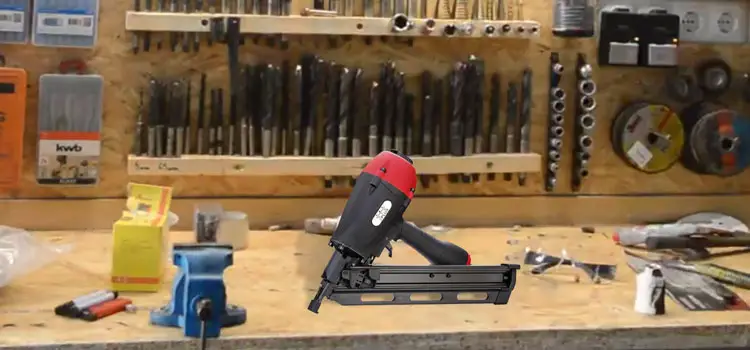 3PLUS H3490SP is a well-functioned framing nailer with some fantastic features. The power source of this nailer is an air compressor. It uses a clipper head of 30 to 34 degrees and an offset round head. 
It includes a unique multi-directional exhaust cover that rotates 360-degree. This feature exhausts air away directly from the user. Like NuMax SFR2190, this framing nailer also provides a nail support length of 2-inch to 3-1/2-inch. The nails are also easy to store. You can simply hold the pins in a 30-degree to 34-degree nail magazine. It offers more room and freedom to handle the nailer. 
Tool-less depth adjustment is featured in this item for more detailed flush and countersink nailing. It includes a hardened claw tip as well to hold the nail securely. All you have to do to expose the claw is to take off the no-mar lead. This is particularly helpful while toe-nailing the wood.
There's also a dry-fire lockout feature added to increase the motor life. It also averts missing nails. A single sequential trigger like NuMax SFN64 is used for driving nails. Just manually release the trigger, and several pins will be sent off in one go. 
However, unlike the other two framing nailers, this nailer is not that lightweight. It is bulky and heavy, which can decrease your mobility and accuracy. Also, it's a big piece of tool. The single sequence fire is not the safest as well. 
Pros 
Multi-directional exhaust cover with a rotation of 360-degree.
Tool-less depth adjustment.
Includes a hardened claw
Dry-fire lockout feature.
It needs a nail magazine of 30-34 degrees. 
Nail length support of 2-inch to 3-1/2-inch.
Cons 
Average performance 
Heavy body.
Single sequence fire can result in accidents. 
Frequently Asked Questions (FAQ)
1. How frequently should I oil my framing nailer?
If you're working on a big project, it is better to oil the framing nailer daily. Oil it whenever you start working and oil it again mid-way through the day. If you don't use it for a long time, definitely oil it before using it. 
2. What are angle framing nailers best to use?
Framing nail guns having an angle from 30 to 34-degree are the best to use. They provide the most exemplary access to the tight bends in framing functions.
Final Verdict
Some people don't like to invest a considerable amount of money in such tools, and it's understandable. Many framing nailers are available on the market, starting from a meager cost to a high price. Somewhere in between best framing nailer for the money exists. As it involves safety issues and hazards, choosing the best nailer is very important.