The air compressor of a finish nailer is important in the sense that it provides consistent power and ease of use for efficiency. The popularity of pneumatic guns has been increasing rapidly. Therefore, homeowners and professionals cannot overlook the gravity of a compatible air compressor. However, not all of them will fit all types of pneumatic finish nailers.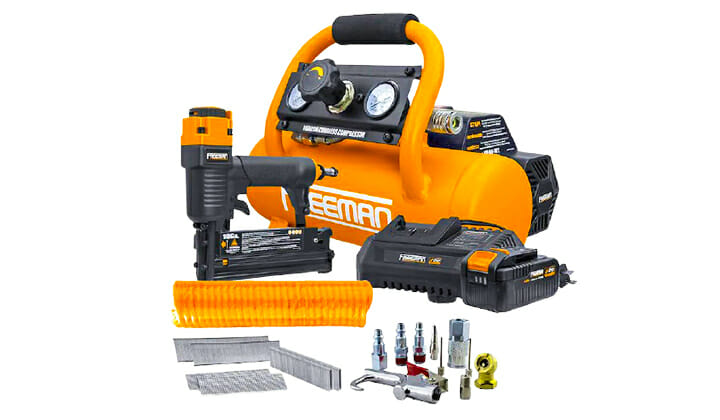 If we talk about the best ones out there, BOSTITCH BTFP3KIT and BTFP2KIT air compressors are perfect for continuous and powerful applications. But if your requirements do not involve huge tank capacity, then you can go for SENCO FinishPro18MG.
Best Air Compressors for Finish Nailer
Editors Choice
Best Buy
Nice Pick
Bostitch Air Compressor Combo Kit, 3-Tool (BTFP3KIT) 21.1 x 19.5 x 18 inches
BOSTITCH Air Compressor Combo Kit, 2-Tool (BTFP2KIT) , Yellow
SENCO PC1343 FinishPro18MG 18-Gauge 2-1/8 in. Finish Nailer/ 1/2 HP 1 Gallon Hand Carry Air Compressor Combo Kit
Editors Choice
Bostitch Air Compressor Combo Kit, 3-Tool (BTFP3KIT) 21.1 x 19.5 x 18 inches
Best Buy
BOSTITCH Air Compressor Combo Kit, 2-Tool (BTFP2KIT) , Yellow
Nice Pick
SENCO PC1343 FinishPro18MG 18-Gauge 2-1/8 in. Finish Nailer/ 1/2 HP 1 Gallon Hand Carry Air Compressor Combo Kit
The best air compressor is the one that fits your needs and budget. Below are some of the candidates that are most likely to fit any kind of requirements that you may have.
1. BOSTITCH Air Compressor Combo Kit, 3 Air Tools (BTFP3KIT)- Best for Powerful Applications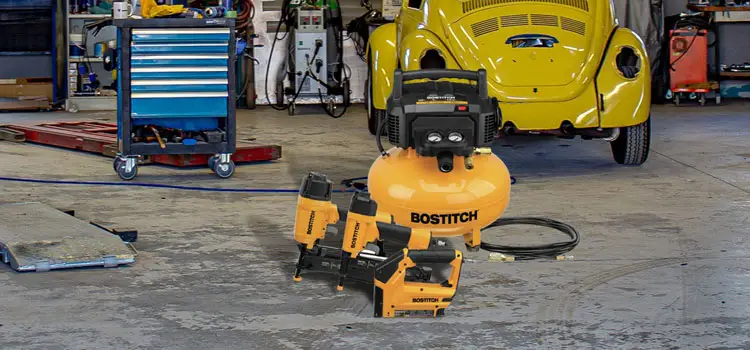 BOSTITCH is a top brand for manufacturing sublime tools for carpentry and related works. The manufacturers have continued to produce reliable and efficient products to ameliorate the market situation. The result of that combined effort is the BOSTITCH BTFP3KIT air compressor combo kit.
This air compressor is a dependable one for BOSTITCH finish nailer. It is a pancake-style air compressor, great for moving around. The capacity is also quite large, a 6-gallon air compressor. Therefore, you can carry out bigger finishing jobs that take quite a lot of time and effort.
Despite having a tank with huge capacity, this powerful air compressor is surprisingly lightweight. You can carry it with you and continue your work in different places. It also fills very fast and therefore, you can quickly start operating again.
The air hose is a 15ft hose that has no chance of leaking even if attached over a weekend. As for the motor, it is powerful and ensures an oil-free operation. If you are looking for the right air compressor for heavy tasks, this is an excellent option.
However, this air compressor is pretty loud despite being oil-free. But that is to be expected as air compressors are typically loud.
Pros
Huge air compressor tank capacity.
Oil-free operation.
Large hose.
Cons
2. BOSTITCH Air Compressor Combo Kit, 2-Tool (BTFP2KIT)- Best for Ease of Use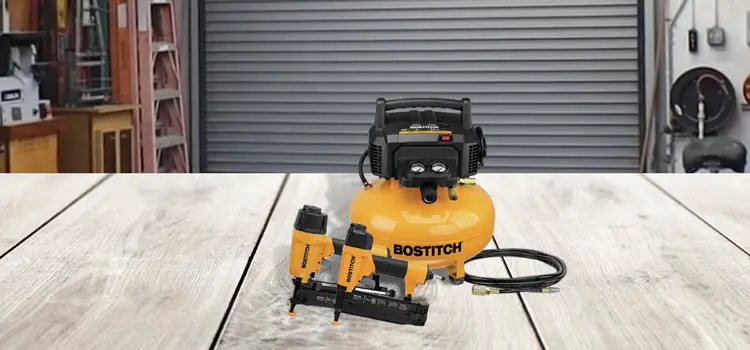 BOSTITCH offer you another one of their excellent air compressor product. This air compressor combo kit is a more reasonable option compared to the previous one and includes all the necessary tools. Heavy-duty or DIY finishing projects, this air compressor is powerful enough to cover both. 
BOSTITCH BTFP2KIT offers 150 PSI max for powerful applications. In addition, you get a tank with 6 gallons of air capacity. These features combined allow a longer runtime. The air compressor also recovers pretty quickly after being drained. As a result, your time is saved and efficiency is increased.
The air compressor has a pancake shape with a grip handle. This allows you better maneuverability. The product itself is pretty lightweight, offering you fast portability. Besides, the 15 ft air hose is there to make your operation smooth and fast.
BOSTITCH has also incorporated a drainage system to drain out the condensed water. You won't have to face problems related to maintenance either thanks to its oil-free operation. The consistent power output coupled with the performance allows you to use this compressor both indoors and out.
On the downside, this air compressor is a bit loud despite the claims. You may also have to face vibrating issues due to high operational conditions.
Pros
Great for heavy projects.
Water drainage system.
Cons
3. SENCO PC1343 FinishPro18MG 18-Gauge 2-1/8 in. Finish Nailer/ 1/2 HP 1 Oil-Free Air Compressor Combo Kit- Best for DIY Projects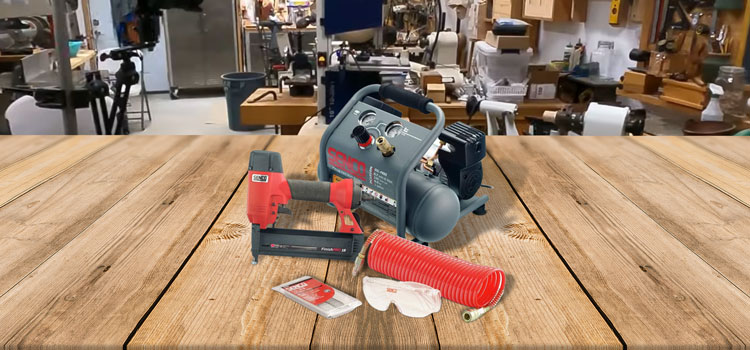 Senco is another reputed brand famous for its high-quality carpentry tools and accessories. The SENCO PC1343 FinishPro18MG Air Compressor combo kit is a product that includes all the tools necessary to finish and trim a carpentry project smoothly.
The air compressor from the FinishPro18MG provides sufficient air pressure of 120 PSI, in fact, this is among the best air pressure providers in the world. So you can expect this tool to work well in conditions where power is required. Besides, the motor runs at 68dBA which is comparatively quieter than most of the air compressors for nails you will see these days in the market. Frankly, this is the quietest air compressor on this list.
The size of the air compressor is favorable to projects where spaces are occupied. There is a disconnect coupler that helps you detach the hose and the compressor at any time. Also, the regular indicated control panel is equipped with gauges for the perfect measurement of pressure.
You can easily move around with the tool thanks to the comfortable grip on the handle. Moreover, this portable compressor is oil-free and saves you the hassle of extra maintenance. Overall, it is a durable air compressor with quick recovery and fast operative features.
However, the one-gallon air compressor for nails may prove to be insufficient for continuous application. Also, it works with 115V only which is a letdown.
Pros
Ultra-quiet.
Compact and lightweight.
Portable.
Cons
Frequently Asked Questions
What size of air compressors should I get?
When it comes to tank capacity or size, a bigger size is better for continuous application. However, if you are going to use your finish nailer for DIY or smaller projects, then getting bigger than the required size will only waste your money. 
What is a nail gun?
The nail gun was invented in 1950 by a construction worker, Mr. John Sullivan. He created it to help him complete his work faster and with more efficiency. Air compressors are used for various tools, one of which is nail guns. While it may seem a little too technical when you're looking for one, you should know the terminology and what to look out for.
A pneumatic nail gun is a tool where the nail or fastener is shot through materials from a portable air compressor. It was first used for carpentry work, but today it can be used for many different types of projects, such as flooring and drywall installation.
What kind of oil should I use for my air compressor?
You should go for oils that are only made for the lubrication of pneumatic tools. They are available in the market and are meant for lubrication purposes. Oils other than these may prove to be counterproductive.
Conclusion
Getting the best air compressor for your finish nailer is a necessity. By best, we mean the appropriate one for your task or project that fits your budget. You must keep the PSI requirement and CFM rating in mind while aiming to go a little up at the same time. The crux of the matter is that it should serve the purpose and give the best value for money.