Brad Nailer vs Straight Nailer – Which One Should I Use?
Brad nailers are suitable for non-heavy material work such as picture frames, paneling birdhouses, trim works, etc. Whereas straight finish nailers are perfect for heavy materials works like installing large heavy pieces of trims, baseboards, plywood, etc.
Brad Nailer vs Straight Nailer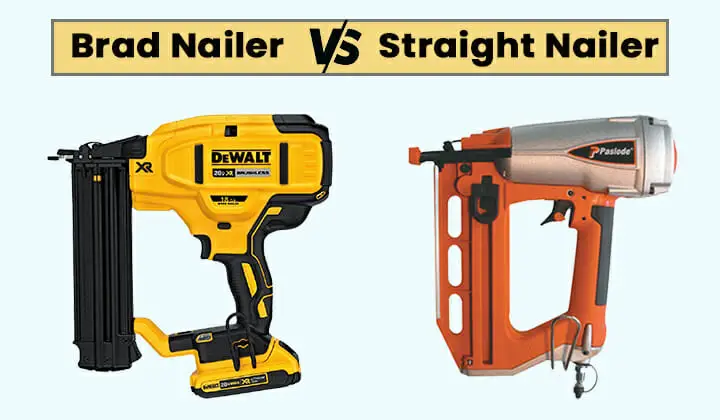 Both these nailers have different roles and uses but both of them have a similar look. As they have different application uses, it's important to choose the right one for the job.
Brad nailer
Brad nailer is the type of nailer that shoots thinner nails. If you are worried about splitting the wood or the size of the nail head, you can use a brad nailer for it. In this kind of smaller application, a brad nailer is an ideal choice. If you want less of a mark on your woodwork or are worried that can shoot, and the nail head will leave a big hole on your woodwork, a brad nailer is a solution.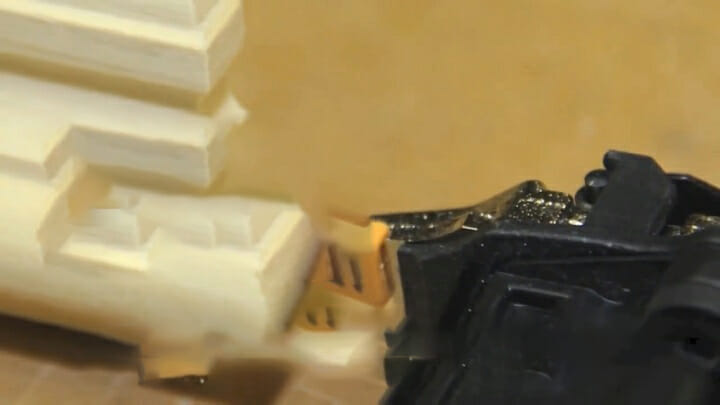 Use of a Brad Nailer
Brad nailers are designed for 18 gauge nails. Where wood splitting might be an issue or if you need a thinner nail for less of a hole, you need a brad nailer here. It also has many uses like trim work, casing, baseboard, paneling, fastening decorative molding. If you are working on non-heavy materials worrying about material splitting and cleaner work, a brad nailer is a right choice for it.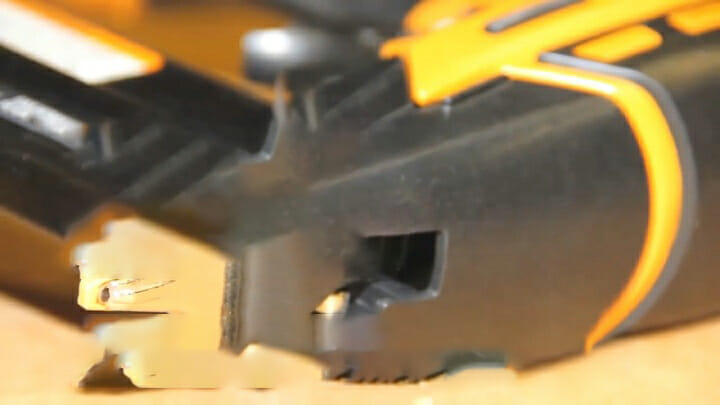 Pros of a Brad Nailer
The nails are perfect for smaller projects like picture frames or jewelry boxes etc. 
Leaves a small nail head hole.
Ideal for thinner or more delicate wood.
If you need to temporarily hold things in place when using glue, a brad nailer is a good choice.
Cons of a Brad Nailer
In the case of large or thick wood, a brad nailer is not the option.
You will still need to invest in an air pump if you choose a pneumatic nailer.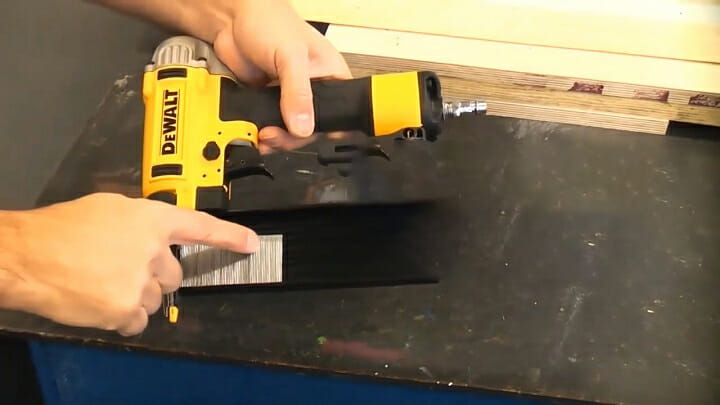 Straight Finish Nailer
A straight finish nailer provides a bit more strength and holding power. So, this tool is suitable for heavier projects. In this case, 15/16 gauge nails are used. The jobs that need a straight finish nailer: cabinets, exterior trim, staircases, chair railing, windows, and door casing, etc.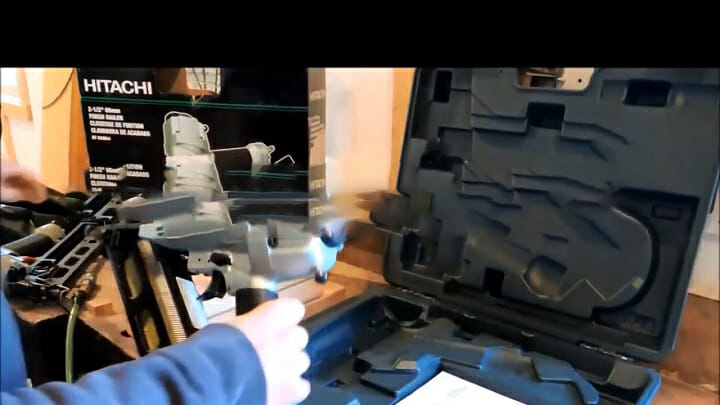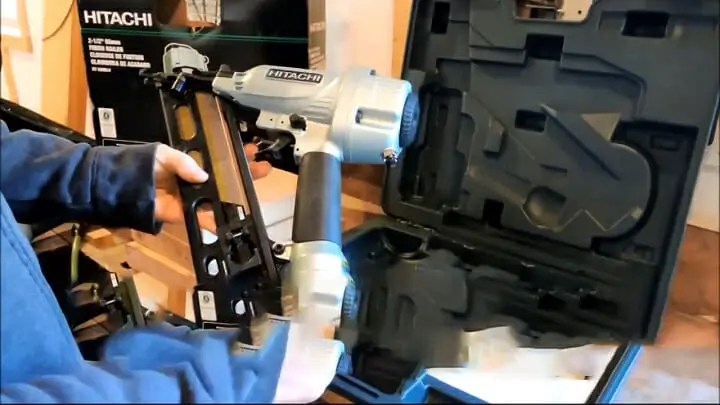 Pros of a Straight Finish Nailer
Able to hold thicker or heavier wood.
They are used for a permanent hole.
The nails come in with long strips so that you don't have to reload them.
Versatile options.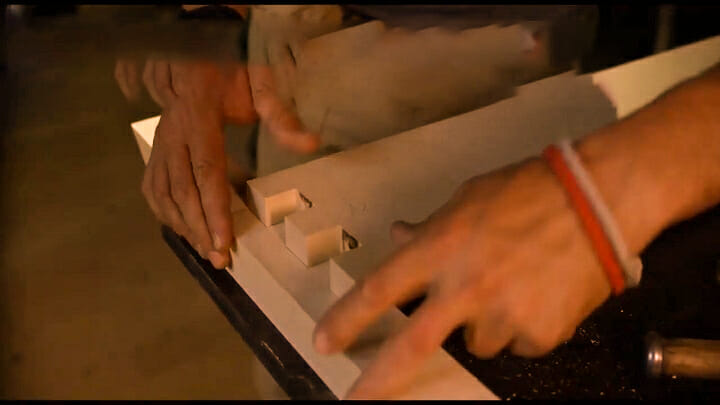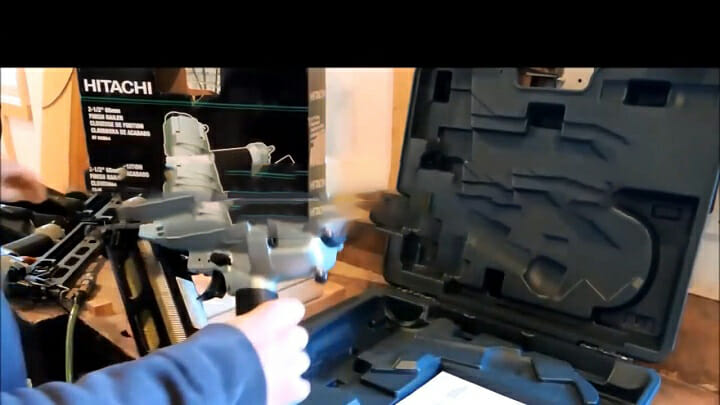 Cons of a Straight Finish Nailer
Not good with thin materials and has good to splitting thin materials
Responsible for large nails holes that need filling
For more information check this video 
A Brad Nailer or a Straight Finish Nailer – Which Wins?
It depends on your work. If you are looking for more holding power and strength a straight finish liner will be suitable. But in the case of smaller projects where you have thin materials, you should go for a  brad nailer.
If you use a straight finish nailer on thin material, you might have a splitting problem as it has more strength and holding power whereas a brad nailer can temporarily hold things with its 18 gauge nails and also leave a smaller hole. 
So, while using a brad nailer you don't have to worry about filling the holes that much. But if you are working on some heavy materials a brad nailer won't have the power or strength to hold much. For larger trims or baseboards a straight-finish nailer is the best option. It will leave a larger hole that needs to be filled up but it has good holding power using its 15/16 gauge nails.
Brad Nailer for Baseboard Good or Bad
Yes, you can use your brad nailer for baseboards but it depends on the thickness of the baseboard or trim. If the thickness is limited to ½ you can use a brad nailer. But if the thickness crosses ½ inch I would suggest you not use a brad nailer. In these cases, a straight finish nailer is a good option.
Should You Get a 15 or 16 Gauge, Straight Finish Nailer?
If we are talking about size, 16 gauge nails are thinner than 15 gauge ones and have a smaller head. If we talk about versatility or if you need to do a lot of trim work, 16 gauge nails are a better option. In this way, you don't have to own multiple guns. So,16 gauge would be a better option over 15 gauge as it is more versatile.
What Is a Brad Nailer Good For?
As brad nails are thinner compared to straight finish nailers, they represent cleaner and non-heavy work. Such as picture frames, paneling, birdhouses, shoe molding or trim works, etc. This tool leaves a small hole that doesn't need to be filled and you won't have to worry about wood splitting as it is thinner. 
However, it is not suitable for heavy works such as on heavy materials as it doesn't have that much holding power or strength like straight finish line nailers.
Are Brad Nails Good For Plywood?
No, brad nails are not the ones that are suitable for plywood. Brad nailers are not capable of fixing large-width wood pieces. It lacks the strength or power to go through thick plywood.
You require a straight finish nailer in this case. This gun uses larger diameter nails such as 15/ 16 gauge nails which can attach thicker pieces of plywood to a surface other than wood. So, you should not go for brad nails if you are working on plywood. 
Frequently Asked Questions (FAQ)
Can a 16g nail gun use an 18g nail?
16g has a larger head and 18g has a smaller head. Most of the 16g guns can hoot up to 2 ½" inch nails whereas most of the 18g guns won't shoot up to 2" nails. It's because the bigger the head the bigger the hole. As 16g has a bigger head, it has a bigger hole and can shoot up to 2 ½ " nails. 18g guns have a smaller head and smaller holes that don't help them shoot up to 2" nails.
How long should you use brad nails?
If you are looking for a good outcome or result having the right length of brad is important.  The thickness of the material is important because a brad should be three times as long as the thickness of the material. In this scenario, choose a brad gun that takes the length of the brad that you need.
Conclusion
The efficiency of brad nailer and straight nailer depends on some conditions. They are both useful and effective in their way and differ in the work. Many users use a combination of finish and brad tools. If you're not a professional, it's best to compare your application against the tools you are considering.