What Nail Gun to Use For A Fence | Suitable Nail Gun Types Explained
A nail gun that delivers the proper size and type of nails depending on the fencing material is the best choice for fencing. Arguably, framing nail gun and coil nail gun is better to use for fencing. I will try to show what nail guns to use and the ones to avoid in this article. You might find a few recommendations here and there too.
Types of Nail Gun
Though nowadays fencing is a must to combat security issues, it remains expensive. However, you can save a few bucks if you do fencing on your own. Yet, you have to know the nuances of fencing.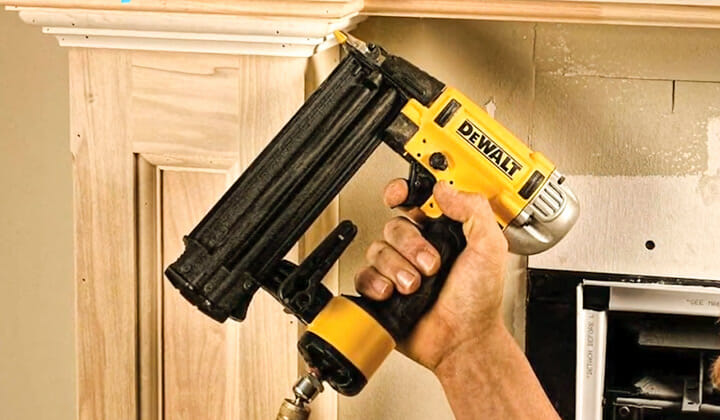 The required type of nail gun varies depending on your fencing material. For example, when you construct a metal mesh or wire fence, you need staples and a staple gun. On the contrary, for wooden fences, use nail guns. Getting the proper nail gun saves your time as well as money. 
Furthermore, depending on the primary delivery system, you can use two types of nail guns, either coil or strip. A coil nail gun keeps the nails on a tight coil, whereas a strip nail gun keeps them in line. The holding system of the coil nail gun helps to hold and fire more nails at a rapid rate. Contrariwise, the strip nail gun takes much time to shoot and fire.
As for power sources, cordless and battery-powered nail guns provide about 400 to 1600 shots on each charge. On the other hand, pneumatic nail guns shoot as long as the cord stays connected to the electricity. Since cordless or battery-powered nail guns are handy and don't need extra wires or air compressors, you can use them anywhere you want. 
As a coil nail gun shoots ring shank nails up to two and a half inches long, it works best for fencing. Anyhow, a framing nailer is a good option as well. 
Coil Siding Nail Gun
A coil siding nail gun uses one and a half inches long ring shank nail. These ring shanks help to secure the fasteners into the wood. Therefore, it is one of the best nail guns for fencing.
Besides, the galvanized nails provide long-lasting bondage. If you do not use galvanized nails for fencing, raindrops form rust on the nails and damage the bonding over time.
Furthermore, the comparatively larger head provides better security to the picket or palings. Though coil siding nail guns are pretty expensive and limited in use, it is the better option for fencing. 
I would suggest either the Freeman PCN65 Pneumatic Coil Siding Nailer or the DEWALT DW66C-1 2-1/2 inches 15-degree Coil Siding and Fencing Nailer if you are searching for a suitable coil nail gun. Nevertheless, the Value-Air CN55R 15-degree Pneumatic Coil Siding Nail Gun can be a worthy option as well.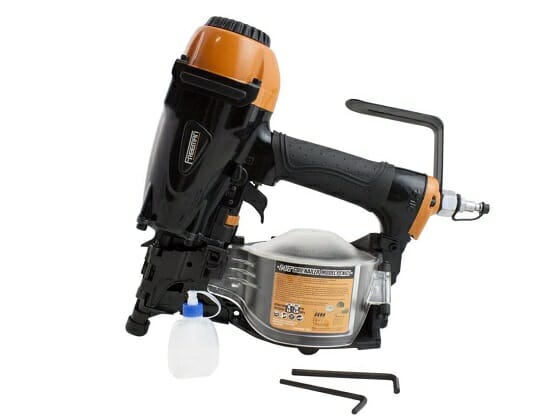 Freeman PCN65 Pneumatic Coil Siding Nailer
Framing Nail Gun
Generally, it is best to use less than 2-inch ring shank galvanized nails while fencing. But when it comes to the framing nail gun, it gets problematic. But this issue is avoidable by following some steps.
Usually, framing nailers are for attaching larger pieces of wood. And fasteners, from 1-1/4 inches to 3-1/2 inches long, help to hold the large piece of wood. Besides, in terms of price, a framing nailer is cheaper than a coil nail gun. 
Hitachi NR90AES1 Framing Nailer and Paslode-501000 PowerMaster Pneumatic Framing Nailer are the best choices for fencing. Besides, you may use BOSTITCH Round Head Framing Nailer (F21PL) as well as NuMax SFR2190 Pneumatic Framing nailer. Furthermore, Metabo HPT NR90AES1 21-degree Pneumatic is a worthy option as well.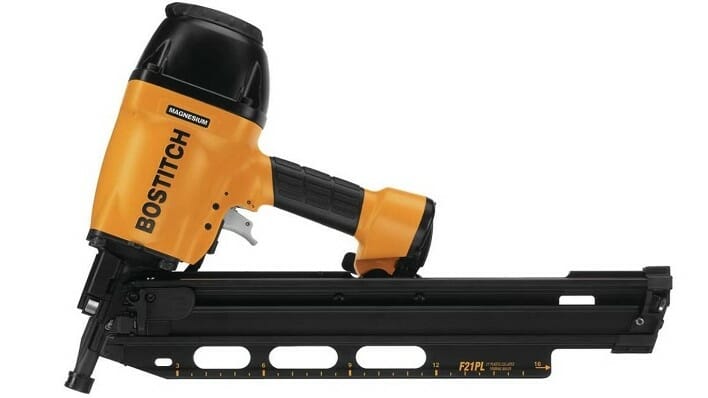 BOSTITCH Framing Nailer
Staple Guns
As I said before, a staple gun is suitable when you use a metal and wire type element as the fencing material. In other words, staples are specialized framing nailers designed for heavy finishing work. 
While affixing wire to fence posts, you may use a fence stapler. Besides, staplers help to secure slats and other detailed pieces which are for design. Furthermore, the biggest advantage of a staple nail gun is it is lighter than other nail guns. Besides, this nail gun is easier to use as well. 
I recommend using Freeman PFS105 Pneumatic Fencing Stapler and DEWALT DCFS950B Cordless Fencing Stapler if you get confused searching for a fencing stapler. Hence, I also suggest trying to use Freeman PFS18 Pneumatic Fencing Stapler.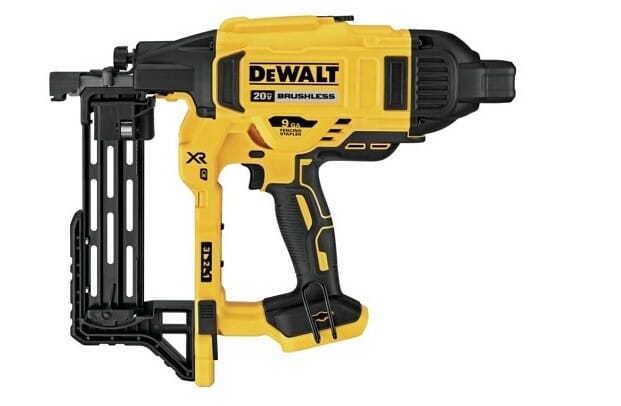 DEWALT DCFS950B Cordless Fencing Stapler 
Nail Size For Fence
A proper nail gun will powerfully drive the nail into the wood without splintering or damaging the wood's structural integrity. Depending on the picket or paling lengths, nail gun types and nail sizes vary. 
Two inches nails are perfect for 5/8 inches pickets. Besides, keep in mind that up to 2-3 inches of nail guns protrude out of the rail. So, it is better to avoid these nail guns. 
Furthermore, as ring shank nail guns have a ring or concentric ridges that go all the way down the shaft, try to use ring shank nails. By doing so, the rings will grip the wood properly and secure it for a longer time. Yet, you have to use a lot of force if you want to pull out the nails.
Can I Use Finish Nailer For Fencing?
When it comes to the question of whether you can use a finish nail gun for fencing or not, the answer is "no". In general, a finish nailer is a versatile tool and drives either a 15-gauge or a 16-gauge nail. Usually, a finish nailer is best suited for crown moldings, cabinets, baseboards, and chair rails.
Though a finish nail gun is efficient to attach small pieces of wood, you cannot use it for fencing, as the nails of the finish nailer are too small. Therefore, the small heads and narrow bodies of a finish nail gun cannot hold the picket and palings in line. 
No products found.
Frequently asked question
Can I use screws for fencing?
Even if both screws and nails serve somewhat the same purpose, screws are far better in some ways. Screws not only hold better but also prevent the boards from warping. Furthermore, you can remove and rework screws pretty conveniently.
Can I use a brad nailer for fencing?
In general, brad nailers use 18-gauge thin wire to attach things. They are unconditionally a good option for trimming and other subtle types of projects. But you cannot use them for fencing. The thin brads are not strong enough to hold thick fences in line. Besides, the little heads of the brads cannot bear the weight of pickets or palings.   
Conclusion
There are so many options for fencing. Yet, I would any day prefer a Coil Nail gun over others for fencing. Before choosing a nail gun for fencing, always bear in mind that the nail gun needs to be ergonomic, lightweight, and powerful enough to drive nails quickly. It will help you move the nail gun quickly from one picket or paling to the next one.