Finish Nailer Uses | When and How to Use It
Finish Nailer is a simple and easy tool for all woodworkers! A finish nailer is outstanding for working on trim, molding, baseboard, or chair rail. It works faster and better than any hammer! Today, we'll discuss some exciting finish nailer uses in this article.
Table could not be displayed.
Finish Nailer Uses and Using Process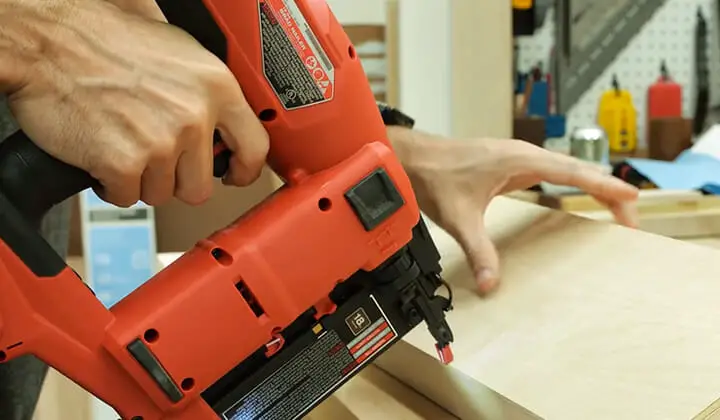 Here is the process of using the 15-gauge nailer on different woodwork. These nailers are to shoot up to two-and-a-half-inch nails.
For Using on Trim
Not only trim, but you can also adopt these steps for any finished work too. Nails have small heads on them. So, door trim or shooting on drywalls is definitely possible.
Make Yourself Safe First
Never underestimate, treat this like any other power tool. Thus, while using it, you should wear safety glasses to prevent eye injuries (you may also use gloves to keep the fingers safe). When you are loading the gun, keep the air disconnected from it.   
Fill the Nailer
Push the nail all the way up from the bottom. Pull back the spring-loaded catch. Now the gun is loaded. The length of the nail/fattener depends on your decisions. Your fastener should be twice as long as what you are going through (your wood piece depth).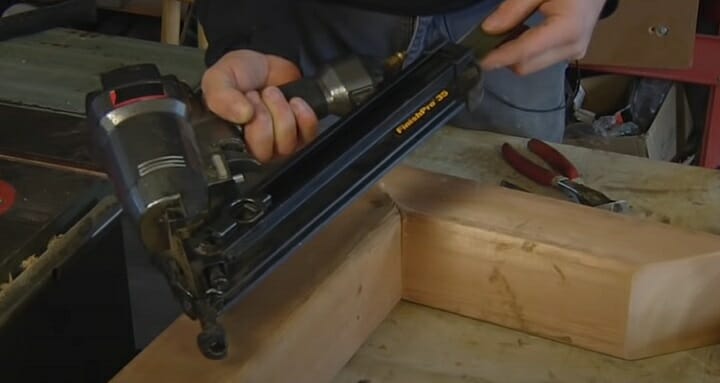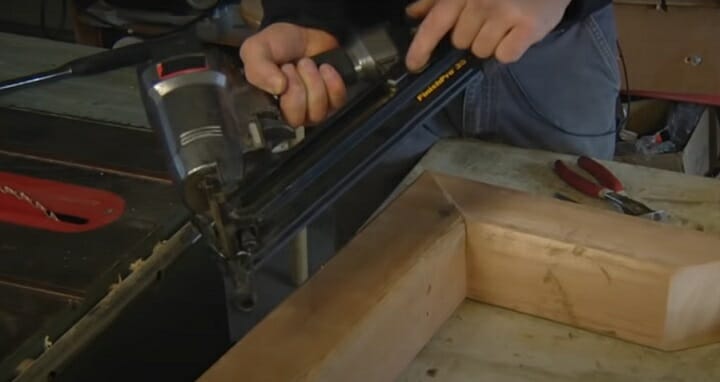 Note: All the nailers available in the market bear the adjustment functions for setting the nail depth. The knob at the front rolls the trip in or out and works to determine how deeply the nails can be set.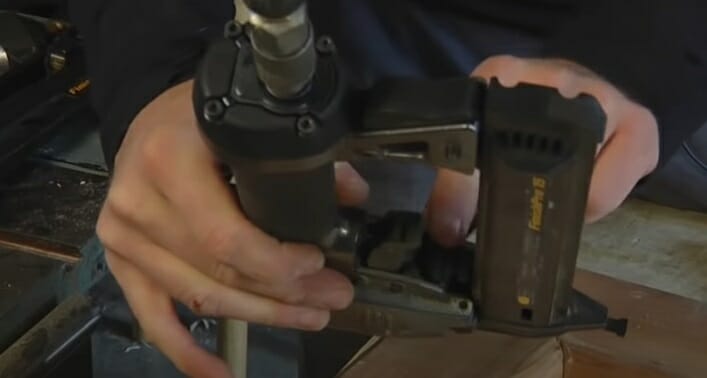 How to Hold the Finish Nailer
There are mainly two ways, you can put the gun can perpendicular or parallel to the framework. But the right answer is, to hold it perpendicular.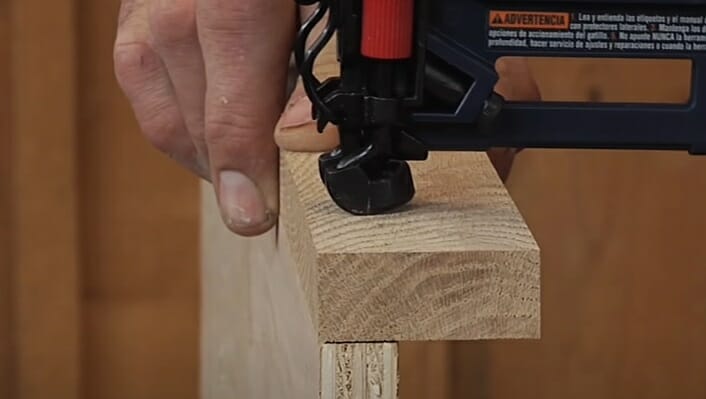 Make the Woodwork Ready
First, line the nailer up on the wood piece. Set the frames carefully. Hold the gun carefully in one hand, and put the fingers of the other hand safely away from the gun. Gently depress the front tip.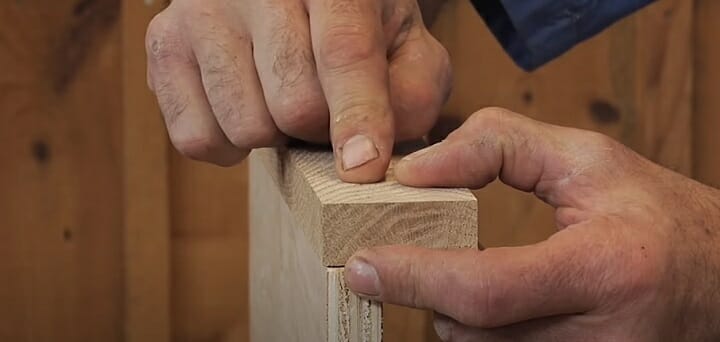 Be Careful of the Angle
Push the safety tip down on your wood surface. Now, carefully make the angle between the gunpoint and the wood piece. If you keep the gun straight in, that will sink the head below the surface. Be sure that your nails will not come through the woods.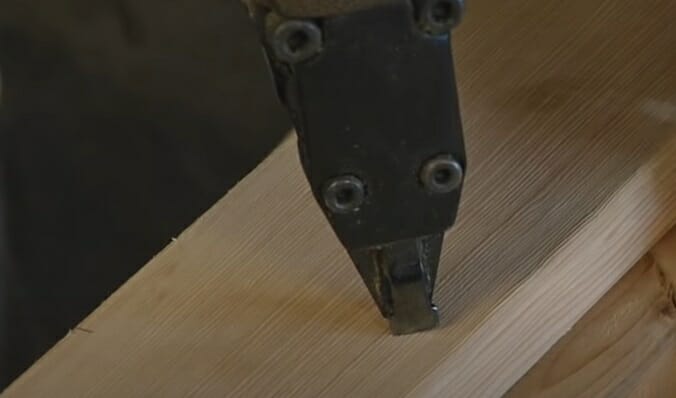 Fire the Nails
Give air pressure to the compressor to fire. Push the gun firmly. Make the tip depressed to make the gun ready for firing. Just pull the trigger one time. Then you will see the nail is set below the surface. There is a knob to roll the tip inside or outside to determine the depth of the nails.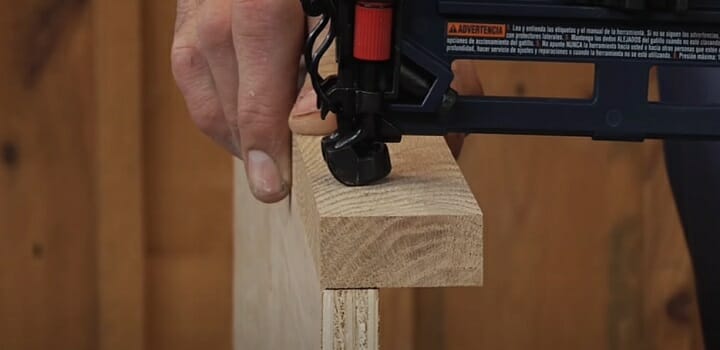 What About Nails?
If you watch the nails carefully, you will see that each nail is V-shaped at the bottom, and all sides are straight. So, if you run a nail in the long direction, it will blow out.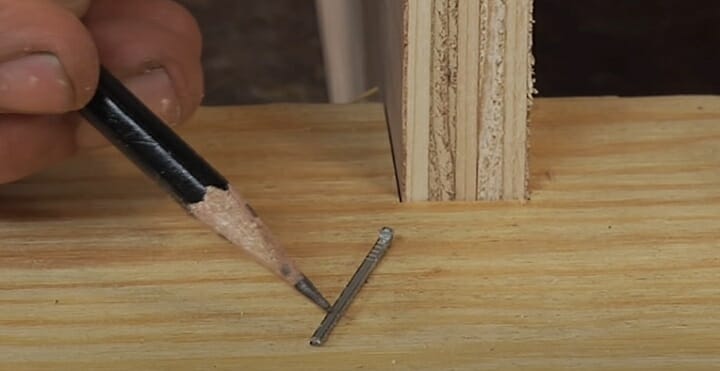 How to Use Finish Nailers for Fixing Chair Rails
Chair rails are needed to be installed on dull walls. For this task, a finish nailer is needed. Let's see how to use a nailer in the process.
Instruments Used Here
Finish Nail Gun
Compressor
18-gauge 2-inches long nails
Step 1
Measure the height on which you want to attach your chair rail. You may use a measuring tape or laser level.
How to Measure with a Laser Level? After turning the laser level on, it will divide your wall into four sections. The chair rail level used is generally 32 inches above the floor.
Step 2
Set the nails in the gun.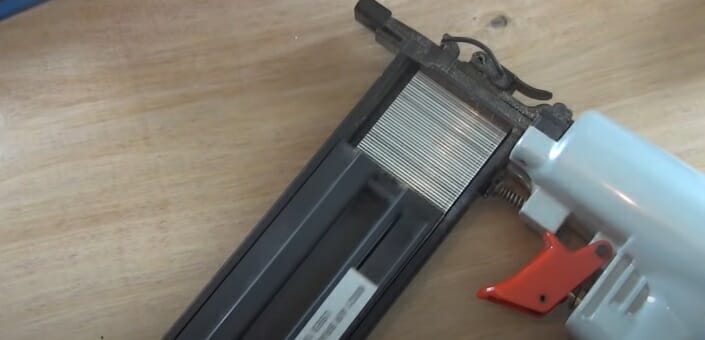 Step 3
After making further measurements, bring your chair rail to the wall.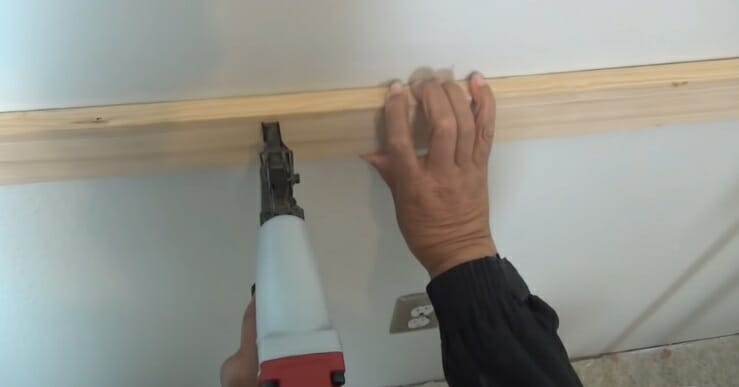 Step 4
Fire the gun on rails (make the gun angle of 90-degrees). Hold the nail in one hand.
If you find nail finishing like this, place a dimple on that and just hit using a hammer. Then place wood filler.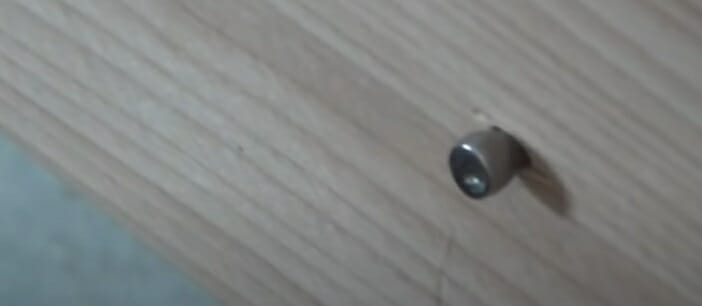 Brad Nailers vs Finishing Nailers | Differences and Comparison
What nail suits your job? Choose after reading these differences.
Nail Size
Brad nailers always shoot 18-gauge nails. And the finish nailers can work with 15, 16 0r 18-gauge. You will notice that if the gauge number increases, their diameter reduces. Both of them don't leave any noticeable holes. You can fill the holes with putty or wood fillers.
Note: Brad nails are seen with a smaller diameter with the head. So, you may find it easy to use on small woods, and no need to apply putty. So, there will be a cleaner look. Finish nails are made from 15 or 16-gauge wire, these wires are heavier. 
Efficiency
Finishing nailers are considered more powerful than brad ones. They bear higher strength of holding. But for the thick trims, brad nail is best despite having less holding strength. But when the light trims or moldings come, use the finish nails.
Where Can I Use them?
Finish Nailers are amazing on baseboards (larger ones), crown molding, and plywood. These are very handy but not suitable for narrow trims. On the other hand, brad nailers have no complaints about splitting the trims. Besides, it is suitable for smaller plywood (up to 0.5 inches). As a con, we can say that it is not for tight spaces or corners.
The use of a brad or finish nailer depends largely on the weight or thickness of your woodwork.  Many of the carpenters use both brad and finish nails together. 
Electric Finish Nailers
1. NEU MASTER NTC0040 Electric Nail Gun/Staple Gun 
No products found.
Features
This device makes the brad nails of 18 gauge to drive. It can be used on whether it is craftwork, picture frame, light trims, or upholstery. You will not need any compressor or hose. For a complete finish, a non-marring nose made of rubber is always there.
Neu Master NTC0040 is made to drive nails and staples with a grip that provides comfort and outstanding control. The machine is to give flawless finishing with a quick release.
Cons
There was a complaint of inconsistent nailing.
2. Arrow Professional Electric Nailer
No products found.
What We like
If you can get the right amount of power with a depth-control knob that can be adjustable, will it not be amazing? This mind-blowing feature is brought by the Arrow Professional Electric Nailer. Also, for the user's comfort, the nailer ensures contact safety and a softer grip.
Here is a power cord which is six-foot-long and so, it is better for any work you want to do. No need to worry about setting the brad nails properly because the nozzle can be adjustable.
Cons
3. CRAFTSMAN V20 Cordless Brad Nailer Kit
No products found.
Pros
Craftsman V20 is made to work with 18-gauge finish nails. It is a cordless one and removes the need for a compressor or gas cartridges. Users will achieve a constant result in all weather conditions. 
If you want a quick setup and jam-free using, Craftsman can supply tool-free depth settings. To give the users optimal balance and comfort in the hand, Craftsman is lightweight (bears the optimal center of gravity). 
It comes with a battery and charger (runs by a lithium-ion battery). This nailer is cordless and weighs only 7.26 pounds.
Cons
It needs a jam remover so often!
Frequently Asked Questions (FAQs)
What is considered the most versatile nail gun?
It is the Bostitch F21PL. This tool is largely used for all light and heavy framing objects.
Can I use a finish nailer for fencing?
Finish or the brad nailers are not suitable for fencing because of their small diameter. For fencing or any wood floorings, it is better to use power staplers.
What gauge finish nailer is best?
The answer is a 16-gauge nailer. It is lightweight, a small nailer. They are outstanding for thicker woods. But if you are searching for enough holding power, we will tell you to buy the 15-gauge one.
What are the differences between a framing nailer and a finishing nailer?
Framing ones are lighter and use 8 to 12-gauge whereas finishing nailers for heavier jobs with nails of 15 to 16-gauge.
If I Want to Use My Finish Nailer on Metal Studs?
Well, when the studs are wood, it is okay to use finish nailers. But these can not go on the metals.
Conclusion
Check out how many places we can use the finish nailer effectively. Let this article help you to know why a brad nail is different from a finish nail and to choose the best electric nail gun. Also, you may get the answers to the questions on the finish nailer that arise in your mind.