Pin Nailer Uses – When To Use A Pin Nailer
Among the arsenal of nailers, the ones used to drive 23 gauge headless nails are pin nailers. Pin nailers are broadly used in woodworking, including activities in carpentry, furniture building, and decorating. Modern days have raised pin nailer uses in trimming, framing, DIY projects, crafts, and in those places where attaching materials is required.
Pin Nailer Uses | Carpentry, Furniture, and Arts & Crafts 
Pin nailers are a modern alternative to hammers. But the nailers are better since you don't need to use your strength. Also, nailing doesn't leave a mark on the wooden pieces as a hammer would.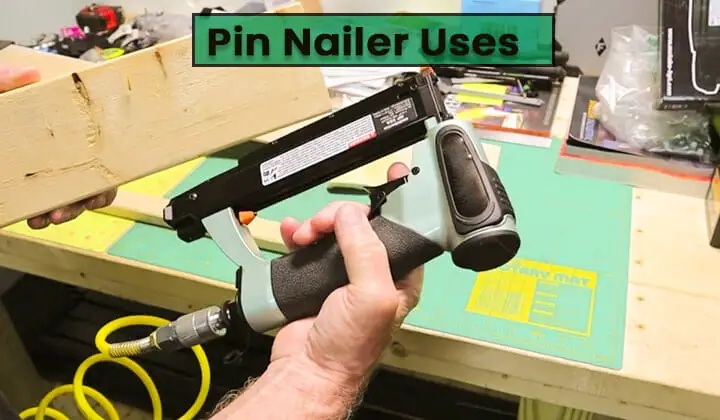 You can use these pins or headless nails with daily wooden objects and some thin or low-density materials like cardboard, cork, foam board, thin plastic, wood veneers, bamboo, and so on. Albeit most of them are the product of wood fiber. 
Apart from using a pin nailer on different materials, there are many types of work where it is used. We are also going to discuss them shortly in this segment.
Carpentry 
Woods are being used as building materials for a very long time. Even in this age, where concrete rules the construction industry, we still need to use many wooden parts when building something, whether that is made with or without concrete. 
Usually, pin nailers are used in the carpentry world for trimming those woods, framing the doors and windows, shoe molding, quarter round, or as the support to glued materials.
Furniture 
To make wooden furniture, pins are also used with more giant nails. They are generally used for attaching two pieces tightly after using glue so that the pieces won't be able to move. And also for trimming and decorating the furniture.
Arts & Crafts 
Many craftworks require pins for attaching materials or for decorative purposes, including DIY projects, building miniature objects, binding pictures or art frames, trimming, finishing, and many more that will take hours to describe. Sometimes artists use pin nailers to make a different form of art using nails.
Top-Notch Pin Nailers 
Usually, the best brands offer the best nailers, such as the Grex, BOSTITCH, Metabo, Freeman, Senco brands. But they produce various models with different characteristics. So only depending on the brands won't always lead you to the best nailer.
To get the best nailer, you have to consider four things, performance, durability, work range, and price. When all these factors are favorable with a nailer, that specific nailer will be the best choice for you.
Cordless Nailers
Battery-powered nailers are usually called cordless nailers. Even though they are free from the cord hassle, they have the significant disadvantage of being bulky. You have to carry both the bodyweight of the nailer and the battery, which can lead to hand fatigue and destroy the flow of the work. 
So, it's better to avoid cordless nailers. And for the corded nailers, getting a nail gun with a medium length as a short cord will be problematic where electric ports are far away while a long cord consumes more power.
How to Use a Pin Nailer?
Using a pin nailer is very easy once you do it for the first time. There aren't many steps to use a pin nailer. We will describe the steps briefly in this segment.
First, open the magazine like the manual says since different magazines open differently. Then take the pins and see what the marks say. Put your pins in the way that the V side is in the down position and then close the magazine. Then the nailer is ready to operate.
After the nailer is all set, take the pieces you want to join, point the nailer's nose, and pull the trigger. Congratulations, you unlocked the ability to use a pin nailer.
No products found.
Frequently Asked Questions (FAQ) 
Can I use a pin nailer for baseboards?
No, you can't. Baseboards are too thick to be held by the pins; you need to use extra glue to make it work somehow. But the best choice is to use a finish nailer as larger pins provide enough holding power for the baseboards.
Which is better electric or an air nailer? 
An air nailer is preferable to an electric nailer. Unlike electric nailers, air nailers are reasonable, lighter, and can shoot nails with more strength. This is why most people go for the pneumatic or air nailer. 
How do I make sure the pins penetrate perfectly?
To get the perfect penetration try holding the nailer with two hands and aim at the point, you want nailing. In this way, the nailer can shoot at full strength and ensures that the nailer won't move even slightly from the point.
Parting Words
Pin nailer is a very convenient tool for homeowners, carpenters, or anyone who likes crafting. Make sure you buy the best pin nailer no matter what kind of work you are up to. And more importantly, read the instructions and follow the safety rules to avoid damage. Let's do some nailing!