7 Popular Nail Gun Storage Ideas
There are many ways you can store your nail guns in an organized manner. For example, you can make a cabinet or a shelf, or a rack to properly store these tools. Let's go through some of the nail gun storage ideas that you can apply in your workshop.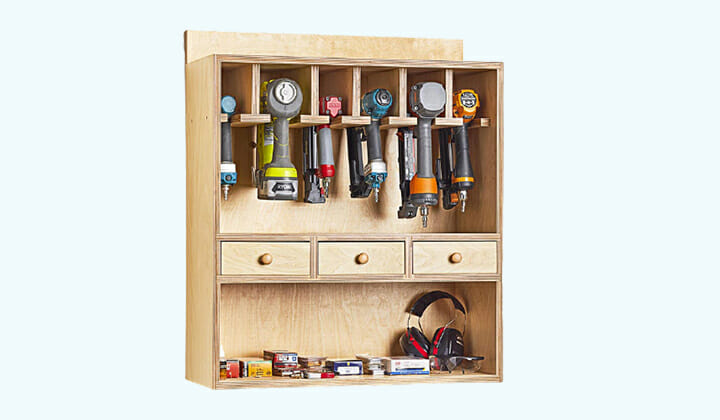 Nail Gun Storage Ideas
Nail Gun Rack
To organize your workshop and streamline your tasks, you need to create the perfect home for your nail guns. This rack will allow you to store your nail guns & nails/staples without any storage problems. All you need to design the whole thing is a quarter-inch & half-inch plywood sheet. 
First, you need to measure all your nail guns right to fit them into the slot as per the photo. After you have done the measurement, finish doing the base & sides first with the half-inch plywood. Use the thinner plywood to create individual slots. Make some space underneath to store nails or staples or other accessories.
Modular Nail Gun Cabinet
If you are looking to store your nail guns in a cabinet-type environment, this idea can inspire your thoughts. The cabinet allows you to have not only store your nail guns but also all the accessories in one perfect location. There are two separate drawers that allow you to have much more space for the accessories.
To build the cabinet you need ¾ inch plywood to build the structure. Then you need to finish the drawers & have small slots to organize all your accessories. This way you can separate the different nail sizes. make sure you measure the slots so that all your nailers can fit perfectly.
Shelf Type Organizer 
The title is self-explanatory for this sort of organization for your nail guns. There is enormous storage for you as the main nail guns are hanging in the bottom. You can use the shelf for all the nails, staplers & other accessories. The whole thing will hang on the wall. 
You can use ¾ inch plywood for the entire thing. The nailers attach to the bottom using couplers.  You can even store other tools on the shelf as there is plenty of space left on it. Pneumatic air guns hang underneath the shelf.
Overhead Driver Storage Rack
Many users get overwhelmed by all the tools & a small workshop or garage. Even if we hang it on the wall it would still be occupying some storage. For those who want the ultimate solution, this is an overhead nail gun storage rack. You can make the structure easily using strong plywood.
Before going into the build, make sure you have the proper measurements for all your tools to hang. Then you mark the slots for every tool & start cutting. You are going to use hooks to hang the rack on the ceiling. This will save you a lot of space around your garage.
Portable Storage Cabinet
The fun fact of tools is that one is never enough to finish a job. You need many tools & accessories at the same time to do different tasks. Such as different types of nailers or nails. Going back to your storage space can be irritating as it hampers the flow of your work. 
Here is a portable storage cabinet to solve your problem. As you can see there are many slots to keep the nail guns, nails & drivers. If you own a pneumatic nailer, then you need an air compressor with it. You can easily store it underneath the slots. It's very easy to make with plywood. Anyway, do you know the differences between blind nailing and face nailing?
Air Nail Gun Rack
If you own pneumatic tools, here is a simple idea to store your nail guns. Here you can see the tools hanging using a PVC pipe. The pipe has male couplers so that it can hang the air tools from the inlets. It is one of the most inexpensive solutions to your storage problems. 
Anyone with the proper tools and knowledge can build it easily in no time. You can attach the pipe to any table or structure underneath. This saves a lot of your garage space. One downside is that you can't store nail guns that are non-pneumatic.
Simple Nail Gun Holder 
For those who don't want to invest in a complex storage project, this is the perfect one for you. It's very simple as you can see from the photo. It has slots to keep all your nail guns in one place. You just have to get the right measurements for the slots before doing the cutting. 
¾ inch of plywood would be enough to do the whole thing. If you want you can keep some small pockets in front for nails or other accessories. That's up to you. Other than that, this is as simple as it gets for nail gun storage.
Frequently Asked Questions
What type of wood is best to build the storage? 
Oak or birch hardwood is good for building storage. The wood is tough enough to withstand the weight of the tools & it's easy to work with. Although it has hardwood in its name, you will have no trouble penetrating the wood. 
What storage idea saves the most space?
If you are looking to save space for storage, the overhead rack is the best way to do so. The ceiling remains empty for most people. You can use it for the overhead rack. 
Can couplers defect the air inlet of the air gun? 
The couples are completely safe to use for pneumatic tools. They can provide the full support of the nail gun without any problems. But if you think your air gun is huge in size, then it's better off on a shelf. Most nail guns are okay with couplers. 
Conclusion
Having limited space or having too much to deal with is very normal. But when you are finding a solution make sure it's a permanent one with quality materials. Otherwise, you are just wasting your time & money.