Using a brad nailer for light or medium-duty work is a wise choice since it has enough holding power for these works while not leaving big holes or cracking the woods. WEN is one of the top manufacturers to produce good quality brad nail guns and trade them at lower prices comparing to the other brands.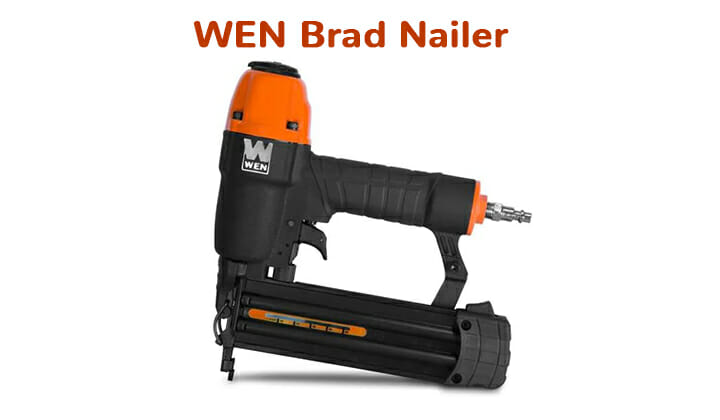 From this WEN brad nailer review, I suggest you buy the WEN 61720 model nailer because not only it is inexpensive, but also it comes with more positive features than others. You can also pick the WEN 61722 model to do both nailings and stapling with only one tool. Let's get started!
Editors Choice
Best Buy
Nice Pick
WEN 61721 18-Gauge 3/8-Inch to 2-Inch Pneumatic Brad Nailer
WEN 61720 3/4-Inch to 2-Inch 18-Gauge Brad Nailer
WEN 61722 18-Gauge 2-in-1 Pneumatic 2-Inch Brad Nailer and 1/4-Inch Crown Stapler
Editors Choice
WEN 61721 18-Gauge 3/8-Inch to 2-Inch Pneumatic Brad Nailer
Best Buy
WEN 61720 3/4-Inch to 2-Inch 18-Gauge Brad Nailer
Nice Pick
WEN 61722 18-Gauge 2-in-1 Pneumatic 2-Inch Brad Nailer and 1/4-Inch Crown Stapler
Grab the Best Nailer with WEN Brad Nailer Review 
In this section, we have gathered all kinds of information that will assist you to find your ideal brad nailer.
1. WEN 61721 18-Gauge 3/8-Inch to 2-Inch Pneumatic Brad Nailer with 2000 Nails
Fastener and Magazine 
First of all, a brad nailer must support the fastener size of your requirements. Because every brad nailer supports different lengths and types of nails.
This WEN pneumatic brad nailer can drive 18 gauge brad nails with lengths ranging from 3/8 inch to 2 inches. Also, the specious metal magazine can hold up to 106 brad nails at a time. As the magazine is spring-loaded, you can easily and quickly reload it. 
Design 
For better workflow and performance, you need a brad nailer with a better design. WEN 61721 model nail gun is designed to be ergonomic and compact. It weighs less than 3 pounds. The rubber grip handle prevents slip and hand fatigue so you can nail for a long time comfortably.
You can choose the direction for the air's output by rotating the adjustable exhaust port. This convenient design allows you to work without the hassle of avoiding exhaust air. The magazine and air inlet designs are also user-friendly.
Depth Adjustment 
To control the depth of nails from the work surface, many nailers come with a depth adjustment feature. It also allows you to work with different lengths of nails. This nail gun features a depth control wheel for easy depth adjustment.
Price 
One of the main deciding factors of buying a product is its price. WEN brand provides the best nailers at so much lower cost than the other brands. You don't even need to spend 50 dollars for a decent brad nailer. Also, this brad nailer is affordable, costing you only around 35 dollars.
Accessories
A brad nailer needs some extra accessories for emergencies and to maintain it properly. Some nail guns come with all the necessary kits, while others don't. With this brad nailer, you won't get any accessories except the tool body.
Warranty 
The warranty of a nailer is like a durability confirmation of that tool. It's better to get a nailer with the max warranty period. This brad nailer from WEN is backed by 2 years guarantee.
Drawbacks
Unlike the other two nailers, there are no nails, tool case, or any other accessories included with this nail gun. Also, this tool keeps jamming from time to time.

2. WEN 61720 3/4-Inch to 2-Inch 18-Gauge Brad Nailer
Fastener and Magazine 
WEN 61720 model nail gun supports more nails than the previous nailer. It also shoots 18 gauge brad nails but the supported lengths are wider, from 3/4 inch to 2 inches.
As for the magazine, it can hold up to 100 brad nails concurrently. Also, the magazine features a mechanism that clears jam quickly without slowing down your work with the quick release latch located on the front of the nailer. 
Design 
To let you work comfortably for a longer time, the ergonomic handle of this nailer is molded with rubber. The aluminum body is compact and easy to carry around and also limits the amount of fatigue while working. 
You can rotate the exhaust port a full 360 degrees and control the direction of the exhaust air to shift it away from your face. The contact trip design maximizes safety and minimizes misfires. Also, there is a magazine window that lets you see if the brad nails are running low.
Depth Adjustment 
Just like the previous nailer, this nail gun also features a depth adjustment mechanism for your convenience. Just turn the wheel to whatever depth you want.
Price 
Among the other nailers on this list, this one has the lowest price, about 33 dollars. So, it's a good choice for all types of people, especially for the ones with a low budget.
Accessories
Even though it is the cheapest nailer hair, you will get a custom carrying case, two adjustment wrenches, and oil for lubrication along with this brad nailer.
Warranty 
Unlike the other two nailers on this list, this nail gun features less warranty period. You will get only a 1-year warranty for the tool parts and labor.
Drawbacks
Fasteners come out of this nail gun in an unpredictable way, which can be a problem as it can leave marks in unexpected places.

3. WEN 61722 18-Gauge 2-in-1 Pneumatic 2-Inch Brad Nailer and 1/4-Inch Crown Stapler
Fastener and Magazine 
Since this model is a combined tool that acts as a brad nailer and a stapler, it supports a variety of fasteners. You can shoot 18 gauge brad nails with length varying from 5/8 inch to 2 inches, and 1/4 inch crown staples ranging from 5/8 inch to 1-5/8 inches long. 
For quick release of jams, the magazine of the nailer is built with spring. It also has enough space to hold up to 100 fasteners. 
Design 
Resembling the other two nailers on this list, this nailer stapler is designed to compact and the handle is molded with rugged rubber for better maneuverability and fatigue-less operation. The powder-coated finish on the nailer's body prevents wear and tear.
To check the remaining fasteners easily, there is a gauge window on the side of the magazine. The air inlet design allows quick connection to the air compressors. Also, you can change the output air in any direction. 
Depth Adjustment 
Similar to all the WEN brad nailers, this model also comes with the depth adjustment feature to let you work with all types of materials for any project.
Price 
Even though the price of this combo tool is 3 to 5 dollars more than the other nailers, it still so cheap for providing the necessary features and work of two different tools. Also, the price is low enough for anyone who wants this tool.
Accessories
Although this combination tool doesn't include many types of accessories with the tool body, you will still get a blow mold carrying case for easy transportation and safe storage.
Warranty 
With this nail gun, you will get a 2-year warranty just like the first nailer. Also, WEN comes with a friendly customer helpline and a nationwide network of skilled service technicians.
Drawbacks
Since it is a combo tool, it leaves two holes on the work surface when using as a nailer, which is bad indeed. 
Frequently Asked Questions
How do I lubricate my nailer?
First, disconnect the power source to lubricate the nailer. Then turn the tool so the air inlet is facing up and place 4/5 drops of oil into the air inlet. If there is any excess oil, wipe it off. Don't oil too much because it damages the work surface. Lubricate properly otherwise it will shorten the lifespan of the tool.
How do I clear a jammed nailer?
To clear a jammed nailer, disconnect the power source and keep the tool pointed away from you and others. Then open the latch or magazine, and removed the jammed nail using a wrench or pliers. And your nailer is ready to run again. If the jamming keeps occurring again, you should seek help from the customer center.
Why is air leaking from the trigger area of my nailer?
If air is leaking through the trigger area of your nail gun, the reason can be a damaged trigger valve head, stem, seal, or a worn-out O-ring. You can resolve this problem by replacing the part that is damaged.
Why are nails from my brad nailer kept driven too deep?
If you are using an air nailer, the reason can be too much air pressure. Also, for any nail gun, the reason can be a worn-out bumper or misadjustment of the depth wheel. You can adjust the depth control wheel or air pressure. You should also replace the bumper after a while.
Final Statement
Just getting the nailer with more features and a warranty won't be a solution to make your tool long-lasting. Lubricate the tool parts regularly even if you don't use them often. Never force the nailer to do a job it is not designed for. And always use clean and dry air since condensation from an air nailer can damage the tool.