Any professional or passionate DIYer understands the importance of using the right tool for the job. So, when the job is nailing woods, there is really no better alternative than nail guns. Sure, you can take the old-fashioned route and use hammers and nails, but that would require tons of energy and waste a lot of time!
Instead, an efficient tool like the WEN 61720 can make the job way easier by offering super fast and extremely accurate nailing. You won't have to fear the risk of smashing your thumbs anymore!
Our WEN 61720 review will give you detailed and impartial information about this equipment and tell you exactly what makes it such a popular choice.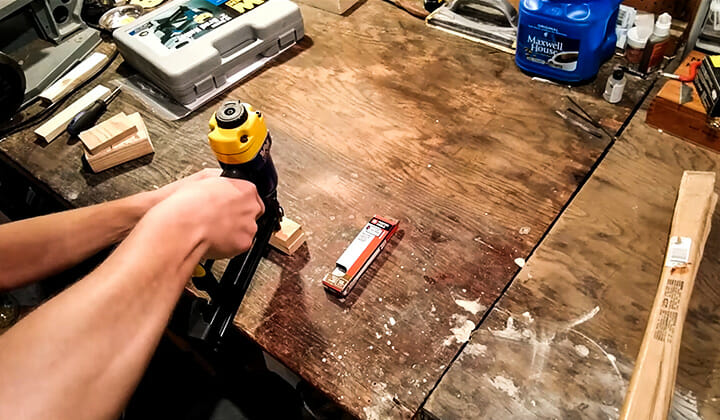 Overview
If you know your tools, chances are you're quite familiar with WEN, a giant company that offers outstanding power tools. They are well-known for making impressive and high-quality nail guns.
The 61720 really nails the nailing job! With its 3-pounds lightweight body fitted with a comfortable rubber-grip handle, you'd have it super easy to operate. There is no chance of the tool slipping off or blisters in your hand even after prolonged use. Besides, it's incredibly durable, thanks to the top-grade aluminum body.
You'd be surprised by this product's capability as it can operate at 60 to 100 PSI once you connect it to a 1/4-inch NPT air inlet. Aided by the ample magazine, you can store up to 100 brad nails of 3/4 to 2 inches in size. This is a great feature because you won't have to reload the tool all too frequently!
Nailers getting jammed can be extremely inconvenient, but that's something that you won't have to worry about if you go for this equipment. It is equipped with a quick-release design that lets you clear the jammed nails within mere seconds!
This kit comes with adjustment wrenches, oil, and a sturdy carrying case so that you can easily carry the tool around. It's astounding how this model is priced so low even though it can be easily compared with more expensive products in terms of features and performance.
Key Features
The important features of the product are as follows;
Adjustable Exhaust Port
You can easily control the direction of the air that flows outside using an adjustable exhaust port. It can be rotated to a whole 360-degree smoothly.
Lightweight & Durable Body
The use of high-quality cast aluminum in the construction of this item's body makes it highly durable and lightweight at the same time. Weighing only 3-pounds, you would barely feel the weight even though it's superbly sturdy. So, you'll get to use this one for quite some time!
Quick-Release Magazine
This is an amazing feature that is rarely seen in affordable models on the market. You'd find a quick-release latch on the body of the nailer. And you can use it to clear the jams that can slow you down. So, whenever there is a jam, you'd be able to quickly clear it up to get back on the job almost in no time!
Depth Adjustment Wheel
With this feature, you'd have complete control over how deep you want the nails to be driven. You can simply turn the depth adjustment wheel to set the depth of the nails to your preference. This allows you to be highly accurate in your task.
Spacious Magazine
This machine can easily hold 100 brad nails at once. So, you won't have to refill it up too frequently. As a result, this will effectively save you a lot of time when you have to handle long projects.
Comfortability
The handle is covered with comfortable rubber. So, you won't feel any pain or fatigue even after you use this tool for quite some time.
Contact Trip
Misfires from nail guns can be very dangerous. In order to prevent accidents, this model comes with a safety feature that prevents the nailer firing unless the contact trip is engaged against a workpiece.
Pros
Super easy to use even if you're a newbie
High-quality aluminum body for lightweight and durability
Capable of holding a lot of brad nails at once
Quite comfortable to hold thanks to the rubber-grip handle
Quick-release design offers easy clearing of jammed nails
Highly affordable price design
Cons
Not powerful enough to handle heavy-duty tasks
Frequently Asked Questions (FAQs)
Here are some of the most important queries regarding the Wen product;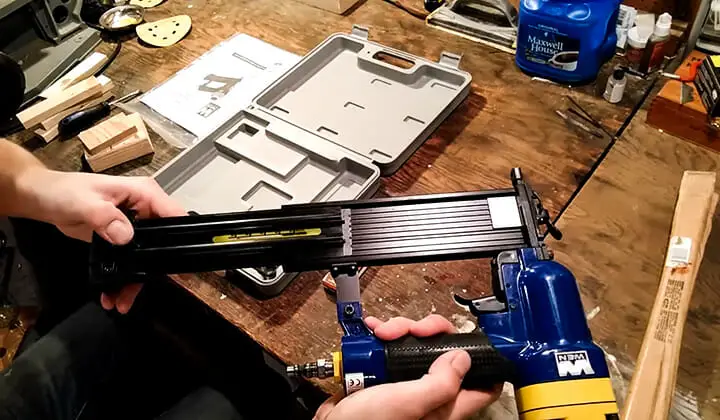 Q: Does it require an air compressor?
Ans: Yup, you'd have to connect it to an air compressor to use it.
Q: Can this model be used on cement flooring?
Ans: No, because the brads aren't tough enough to penetrate cement. You should use it strictly for wood.
Q: Can I adjust the direction of the exhaust?
Ans: Yeah, that's possible by rotating the adjustable exhaust port.
Final Thoughts
If you've read our WEN 61720 review, you should already know that opting for this model would be a good investment. For a little price, you'd be getting a fantastic nail gun that offers the same features and performance that you can expect from a high-end product.
You May Also Review
Bostitch F21PL Framing Nailer REVIEW