Thousands of brad nailers produce every year to meet the client's demand. Although not every one of the clients is a professional worker, many use the nailer for small tasks at home, DIY, or school projects. For that reason, they don't have much idea if they are choosing the best nailer or using it properly.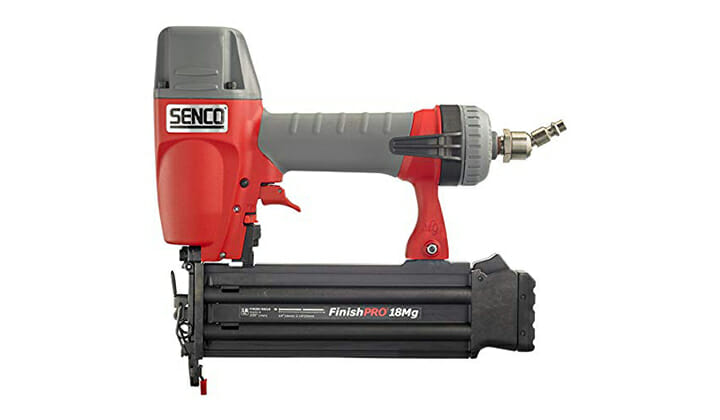 SENCO is a renowned brand for sure, but not all of them are suited for you, that's why we got your back. In this SENCO brad nailer review, we discussed the characteristics of some brad nailers. Our top pick is FinishPro 25XP as it has all the premium quality features you would ask for. Let's see which one is for you!
SENCO Brad Nailer Review 
Even though the applications and results are almost the same for any brad nailer, they have their unique strengths and weaknesses, and they are suitable for specific individuals. This section covers all the facts you need to know.
1. SENCO FinishPro® 18MG, 2-1/8″ 18-Gauge Brad Nailer (ProSeries)
Fastener
When you are buying a nailer, the first thing you need to look at if it supports the nail size and lengths of your requirements. This brad nailer works with 18 gauge brad nails and lengths up to 2-1/8 inches of straight glues strip. You can control the fastening method with the selectable switch of this nailer. 
Design 
Good design of a nailer is very important for influencing the workflow and better results. SENCO FinishPro® is designed ultra-lightweight, only 2.5 pounds. The body is made with Magnesium and the metal cylinder increases durability.
To work comfortably and efficiently, the grip is over-molded with rubber. The rotatable rear exhaust is designed in a way to keep dust away from the work surface. And the oil-free motor prevents oil carryover onto the project surface.
Depth Adjustment 
The depth controlling feature of a nail gun allows you to work with different lengths of nails. You can also choose in which depth from the work surface you want the fastener to go in. This brad nailer offers an adjustable depth of drive feature to let you work on various projects.
Price 
Price matters when you are on a low budget. This SENCO nailer is the most reasonable nailer on this list. It doesn't even cost more than 100 bucks.
Accessories
Unfortunately, this FinishPro® nailer doesn't come with any accessories except the tool body. No doubt that this nail gun costs less for this reason.
Warranty 
A nail gun with a longer warranty period is preferable for your tool to be durable and long-lasting. This highly durable nailer comes with a 5-year long warranty for customer convenience. 
Drawbacks
The warranty of this product doesn't cover O-rings and the plastic magazine is not well-built.
2. Senco 760102N FinishPro 25XP 5/8″ To 2-1/8″ 18 Gauge Brad Nailer
Fastener 
FinishPro 25XP pneumatic brad nailer can drive both slight-headed and medium-headed 18 gauge brad nails with lengths varying from 5/8 inch to 2-1/8 inches. Shooting these nails requires only 70-120 psi air pressure. Arguably, it is one of the best pneumatic nailers on the market.
Design 
760102N model nailer features exclusive 'NeverLube' design of the SENCO brand. It is designed to be very compact and lightweight, only 2.7 pounds for ease of operation and mobility. This nail gun comes with a soft grip handle for extra comfort and control while the rubber bumper protects the tool and work surface.
To direct away oil and dust from the project surface, the 360° adjustable exhaust is designed. It has an onboard construction ruler to take quick measurements. The exhaust doesn't need any tool for adjustment and the angled air inlet keeps the hose off the work area. This user-friendly nailer also has a no-mar pad for safety.
Depth Adjustment 
Not every nailer comes with a depth adjustment mechanism. Luckily this nailer comes with the depth controlling feature that allows precise counterstrike at lower air pressure. 
Furthermore, it also has a power adjustment feature that allows you to increase or decrease the output power according to your need. Although you can accomplish most jobs with the standard or factory setting of the power controlling feature.
Price 
Among all other nail guns on this list, this one is the most expensive. You need to spend more than 200 dollars on this single pneumatic nailer.
Accessories
Unlike the first nailer, you will be offered a 25XP brad nailer, a rugged plastic case, wrenches, a handy belt hook, and a user manual for buying this item. Make sure to read the manual thoroughly before using the nail gun.
Warranty 
You can easily replace your nailer for free after an extended period if it comes with a longer duration of the warranty. Just like the previous nailer, this one is also backed by a 5-year warranty.
Drawbacks
Couplers are not included with the tool. Also, this nailer is very expensive for many people.
3. Senco GT65RHA 16 Ga. 2 1/2″ Cordless Gas 20° Angled Brad Nailer
Fastener and Magazine 
SENCO features a brad nailer that is powered by gas. This nail gun is compatible with 16 gauge nails with lengths ranging from 1-1/4 inches to 2-1/2 inches of basic, galvanized and stainless collation 20° angled nail strip. Also, the magazine of this tool can hold up to 110 nails at a time.
Design 
The GT65RHA brad nailer design combines power and utility in a balanced way to complete all your projects. The powerful motor lets you work in all weather conditions and performs optimally between 20° to 120° Fahrenheit. For increased durability, the magazine is made with durable metal. 
Being a cordless nailer, it saves you from any hassle of cords, compressors, and hoses. There is a sequential action trigger to finish the works more decently. Although this nailer is heavier than the other nailers, weighing almost 5 pounds.
Depth Adjustment 
Just like the other nailers, this model features a thumbwheel depth of drive adjustment. Being a tool-free feature, it doesn't require any help from other tools to work perfectly.
Price 
GT65RHA model nailer doesn't cost as much as the previous nailer. But its price is still too higher than the others, which is almost 200 dollars. 
Accessories
You will get a lot of accessories with this brad nailer. the package includes a durable storage case, a battery, battery charger, and service tools such as a wrench along with the tool body.
Warranty 
A long-term warranty ensures more durability for your nail gun. But unlike the previous nailers, this tool doesn't come with a longer warranty period. It offers only a 2-year guarantee.
Drawbacks
As it is heavier, working with this nailer is not that cozier. The warranty period is also shorter. Also, it is expensive compared to its features.
4. SENCO 11C0001N FinishPro 18 Gauge 2 in. Brad Nailer and 1/4 in. Crown Finish Stapler Combo Kit
Fasteners
With the brad nailer, you can drive 18 gauge brad nails with lengths varying from 3/4 inch to 2 inches. And the stapler tool can shoot 5/8 inch to 1-1/4 inches of crown 18 gauge staples.
Design 
The combo of a brad nailer and a stapler is designed to handles most of your work together. Both of them are designed compact, and lighter to easily and comfortably carry out the jobs. The clear latch design virtually eliminates downtime caused by fastener jams. 
For better control over the tools, both of their handles are over-molded with rubber. It also allows a comfortable and fatigue-free work experience. 
Depth Adjustment 
In this combo of brad nailer and finish stapler, both of the tools feature an easy depth of drive controlling mechanism. It allows you to do keep nailing and stapling in a wide range of applications.
Price 
Unlike the other nailers, this combo kit is much cheaper. Although it's not the most reasonable option, you can get two types of the tool just by spending a bit more than 100 dollars.
Accessories
Both the brad nailer and finish stapler comes with a storage bag for safety and a rotatable belt hook for user convenience. This combo is best suited for the DIYers 
Warranty 
SENCO 11C0001N FinishPro nailer and stapler combo kit come with the shortest warranty period on this list. You will get a warranty for only one year with this kit. 
Drawbacks
As they are corded electric tools, there's a hassle of cords and working near an electric outlet. Also, the magazines are not built well or durable enough.
Frequently Asked Questions
How do I use a nailer safely?
Use goggles for the safety of your eyes while working with a nailer. Always test fire before directly starting the work to check every setting is alright. It can prevent unwanted project damages. Try to lock the triggers or cut off the power source when you are not working with the nail gun.
Can I use a bard nailer for baseboards?
Yes, you can use a brad nailer for baseboards. A pin nailer doesn't provide enough holding power while a finish nailer can break the baseboards. That's why a brad nailer is well suited for them.
Which work can be done with the brad nailers?
You can do decorative trim, narrow trim, window and door trim, picture frames, birdhouses, paneling, molding, and many other cuts on materials like wood.
Final Verdict
No matter which nailer you buy, proper maintenance is required for the best performance and longer lifespan of your tool. Clean the nail gun regularly using air pressure, do no use water to prevent rusting. Also, try to lubricate the parts before and after using the tool, as well as when it is stored away for days.