Ryobi has quite a few nail guns in its AirStrike lineup, all of which aim at providing a convenient cordless experience. The P320 is no exception to that, as it comes with a fairly compact nature and excellent portability.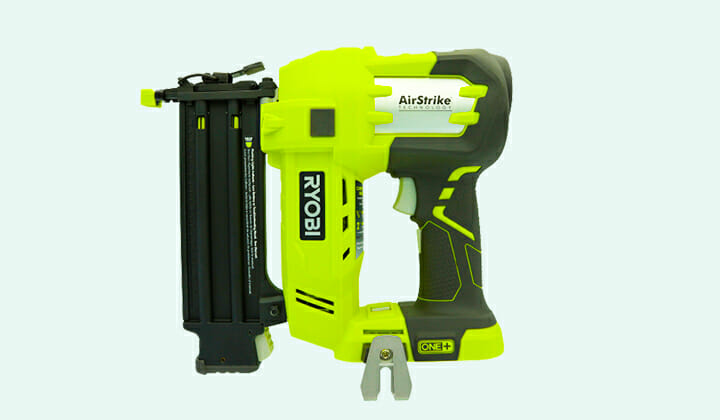 This 18-gauge brad nailer can shoot up to 1,700 nails on a single charge, making many pneumatic nailers envious. Above all, it doesn't require any bulky air hoses or boisterous compressors. Learn more about what else it brings to the table in our Ryobi P320 review.
1. Ryobi P320 Airstrike 18 Volt One+ Lithium-Ion Cordless Brad Nailer (Battery Not Included, Power Tool Only)
Portability
Weighing at around 5lbs excluding batteries, Ryobi P320 is not arguably the most lightweight in the market. That is if you compare it against corded pneumatic brad nailers. But weight is only one of the several factors that determine portability.
Though some pneumatic tools weigh well under the 5lbs mark, you have to carry a compressor and air hoses along. Hence, their overall maneuverability takes a hit. Being cordless, Ryobi P320 doesn't need such components and has virtually no strings attached. It features a belt hook to enhance portability as well.
Versatility
Like any nail gun, the versatility of a brad nailer comes from the adjustable depth of drive. It matters because the depth requirement of each project is pretty much unique. Ryobi P320 doesn't miss out on that, offering convenient depth of drive adjustment. Therefore, it allows accurate setting of the nail heads.
What else defines versatility is the easy access to actuation modes. While the single sequential mode allows for precise placement, contact actuation offers continuous nailing. With Ryobi P320, switching back and forth between these modes is easy as pie. Plus, it has a handy adjustment dial for optimal regulation of air pressure.
Performance
As with any rechargeable tool, the performance of a cordless brad nailer is the work done on a single charge. We measure it by the number of nails driven per charge. Ryobi P320 scores pretty high on that note, driving up to 1,700 nails before it needs to get plugged in again.
But remember that this value is achievable when P320 runs with p108 4Ah lithium batteries from Ryobi. The results may slightly vary if you use the 18V ONE+ battery.  
Surface Care
Sharp nose tips of brad nailers can leave tool marks on delicate surfaces, ruining the aesthetics. That is why having some protection is a must. While most brands like Porter Cable provide only a no-mar tip, Ryobi P320 comes equipped with 2 non-marring pads. Thus, it can offer a better dent-free nailing experience.
Ease of Use
Other than performance, a brad nailer must comprise some additional features for convenience. Such features include an easy jam release mechanism, low nail indicator, and more. The jam release mechanism and depth adjustment on Ryobi P320 is entirely tool-free, offering convenience at its best.
Moreover, it has this Grip-Light technology that engages an LED while grabbing the handle. Best of all, there's a low nail indicator to inform you about when to reload the magazine. These details, paired with a cordless and compressor-free form factor, make sure your projects finish in a snap.
Cons
Ryobi P320 is not entirely void of caveats. The fact that it doesn't ship with batteries and a charger can be a letdown for some. Apart from that, its polycarbonate build is not as durable as its steel or aluminum-constructed counterparts.
Frequently Asked Questions
1. What nails does Ryobi P320 use? 
According to the manufacturer, Ryobi P320 will work best with 18 Gauge 1-¼-inches brad nails. However, you can use brad nails that have a length between 5/8-inch to 2-inch as well.
2. Can I use Ryobi P320 with DeWalt brad nails?
Yes, you can use Ryobi P320 with brad nails from DeWalt or any other brand as long as the size matches. The length of those nails must match the specifications of the Ryobi P320. For instance, you can't use 16-gauge nails since P320 is 18-gauge compatible only.
Verdict
Although Ryobi P320 can work with the regular 18V ONE+ batteries, they can create a bottleneck. That can result in fewer nail driving per charge. Therefore, we recommend upgrading to compatible lithium-ion batteries like the LITHIUM+ from Ryobi. It will keep the weight low and help you tackle trim jobs of all sorts.