Roofing nailers are great for different kinds of roofing jobs. The nail guns first appeared a century ago for flooring jobs. You may think the old nailers were huge or completely different in appearance. But the reality is the other way round! The old nailers were almost the same as the current nail gun in both looks and size.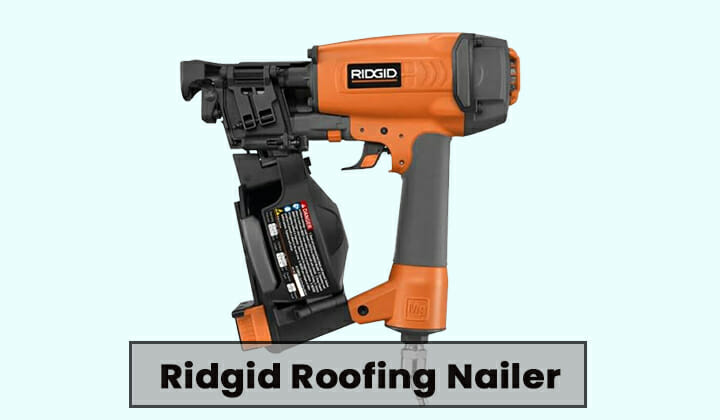 Ridgid roofing nailer reviews in this article are exclusively arranged to help you get the nailer you need. I suggest you go for the Ridgid R175RNF model since it is cheaper and lighter. You can also go for the Ridgid R175RNE model for two types of firing styles. Stay till the end to find out which one truly suits you.
Editors Choice
Best Buy
15 Degree 1-3/4 in. Coil Roofing Nailer
Ridgid R175RNE, 1-3/4 in. Roofing Coil Nailer
Editors Choice
15 Degree 1-3/4 in. Coil Roofing Nailer
Best Buy
Ridgid R175RNE, 1-3/4 in. Roofing Coil Nailer
Find The Best Nailer With Ridgid Roofing Nailer Reviews
In this section, we overviewed all the sides of two of the best models of Ridgid nailers so that you can compare them and choose your own. They are quite similar in durability and performance but they have many other dissimilarities too.
1. RIDGID 15 Degree 1-3/4 in. Coil Roofing Nailer
This Ridgid R175RNF model nail gun is powered by compressed air. Let's see the other features from this segment.
Fastener and Magazine
Every roofing nail gun supports different sizes of roofing nails, both the nail diameter and lengths vary from a nailer to nailer. This nailer supports 11 gauge coil roofing nails with lengths ranging from 3/4 inch to 1-3/4 inch. 
The magazine of this nail gun is angeled to 15° that features fast and easy loading of the nails. For quality drive through the last nails, this magnetic nail holder positions nails perfectly. 
Tool Design 
For comfortable work experiences, this nail gun features a compact and ergonomic design. As the weight of this tool is only 4 pounds, making it suitable for any roofing application. The exhaust diffuser with muffler design automatically directs exhaust away from the user. 
Safety Features
To prevent misfire and extend motor life, the nailer has dry-fire lockout. The straight drive feature assures the nails sit flush with the materials to reduce shingle damage. Nosepiece and carbide inserts extend the nailer life. The wear guards of the pool protect it from damage on abrasive surfaces.
For blocking the sliding of the tool, anti-skid pads are integrated with the nailer. Also, the over-molded handle and trigger rubber over-mold interlocks with the metal housing for maximum durability and prevents the grip from twisting. 
Shingle Guide
Single guides are used for the precise placement of the nails. By using this feature, you can also drive nails with the exact distance between them. This nail gun comes with a removable tool-free shingle guide adjustment feature for perfect shingle installation.
Durability and Warranty
R175RNF tool body is made with metal and plastic for more durability. You will also get a 3 years warranty with this bail gun. This tool is also backed by the industry's lifetime service agreement if you buy from its website. Register within the first 90 days of purchase and enjoy free service and parts replacement for life!. 
Price
Price is a crucial factor for tight budgets. This roofing nailer is not so inexpensive, but it's not out of reach either. Tough, it's more reasonable than the latter one. 
Drawbacks
If you use cheap nails with this nailer, it will keep jamming every few minutes. This tool also jams with high-quality nails, but not as frequently as with cheaper fasteners. Also, it doesn't feature two firing modes. The nailer is quite expensive for normal users.
2. Ridgid R175RNE, 1-3/4 in. Roofing Coil Nailer
Ridgid R175RNE is the best coil roofing nailer which is also powered by air. Let's see how it differs from the first nailer.
Fastener and Magazine
the supported fastener size of this nailer is utterly different from the previous nailer. It does not operate with the 11 gauge nails, but rather the 15 gauge coil nails with lengths ranging from 3/4 inch to 1-3/4 inch. The cover of the magazine features a clear view of the inside for easy sight of the nail supply.
Tool Design 
This nailer is a newer model than the first nail gun. It is retrofitted, tested certified, and designed to always look and work like a new nail gun.
Firing Mode
A nailer can have two firing modes, single action or sequential mode and bump or contact mode. Some nailers support both modes, while others come with only one of them. With each trigger pull, one nail is discharged in the sequential mode and this mode is required for longer nails. 
In bump mode, your nail gun must be in contact with the work surface to shoot nails after pressing the trigger. This mode works better with short nails. This nail gun has a selectable trigger that allows both the contact and sequential firing modes for high productivity.
Safety Features
To prevent hand fatigue and provide comfortable work experiences, the handle of this nailer is over-molded with rubber. The replaceable nosepiece with carbide inserts provides an extended tool life and offers easy maintenance. 
Also, the plate guard prevents accidental sliding and protects from abrasive surfaces. To prevent misfire, there is a dry-fire lock-out system.
Price
Compared to the first nailer, this one is too much expensive. It will cost you around 400 dollars including the shipping cost. But if you buy the nail gun from its website or the selected stores and register the nailer, you can get a lifetime free service as well as free part replacement for years.
Drawbacks
Sometimes the dry-fire lock system doesn't work properly. It weighs much more than the other nailer, which can lead to hand fatigue from time to time. This nailer also costs a fortune. 
Frequently Asked Questions (FAQ) 
1. Roofing nailer vs framing nailer, which one should I get?
It depends on which types of work you are into. A roofing nailer is a medium-duty tool, dedicated to all types of roofing jobs, such as installing shingles. Meanwhile, a framing nailer is a stronger tool, designed for heavy construction jobs.
2. How to use a roofing nailer like a pro?
Always read the instructions carefully after buying a nail gun. Wear goggles and gloves for your safety. Before starting the nailing on your project, test fire it a few times to check everything is okay. Adjust the depth and the firing mode. Lock the trigger or remove the power source when you are not using the tool.
3. Is a cordless nailer better than an air nailer?
Cordless nailers are mainly powered by batteries. They are free from the hose hassle but quite bulky for the batteries. Also, they can't provide much force while shooting. On the other hand, an air nailer is a hassle for hoses and air compressors, but it offers maximum shooting power.
Final Verdict
After you've chosen your ideal tool, from our Ridgid roofing nailer reviews, take good care of it after purchasing. It will make sure your nail gun provides the best performance and lasts longer than ever. Whether you use the nail gun often or not, clean and lubricate it regularly to protect the integrated parts of the tool.