This battery-powered cordless brad nailer kit has been described by many reviews as one of the best in the market. The glowing reviews from past users and hobbyists are further proof that this tool is worth paying attention to.
If you are looking for a cordless option that comes with incredible features and works effectively, this is the nailer for you. This is a powerful 20V max cordless nailer kit that can work effectively with common working surfaces and frames within the home.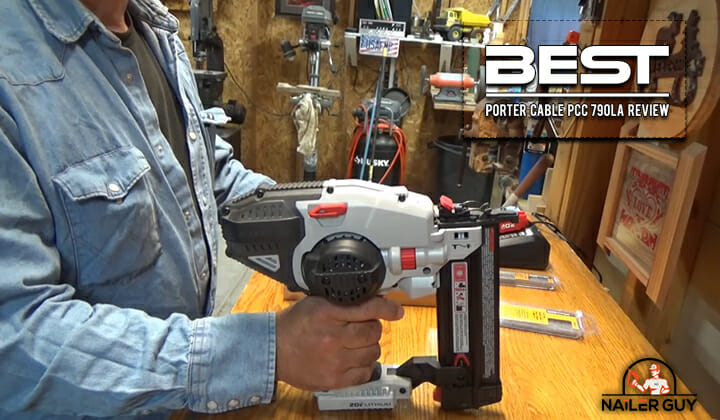 This is an effective tool that can be used by professional contractors and experienced users. A nailer gun for all your needs.
PORTER-CABLE PCC790LA Review
The array of features that come with Porter Cable PCC790LA is why it has become a favorite for many DIY users and contractors. It has been designed to offer great ease of use, the powerful firing of nails, and the elimination of costly accessories.
Here are the features of the Porter Cable PCC790LA
Adjustable Driving Depth
Adjustable driving depth is one of the main draws of this nailer gun. It comes with a wheel that can be modified to give you whatever depth you desire. You can adjust the driving depth with great consistency and accuracy – ensuring that the result is neat carpentry work.
Jam Release/Clearing
A common feature of nailer guns is that they get jammed as you use them. It is virtually impossible to eliminate nailers' jamming – which is why a nailer with a jam release feature comes in handy.
The Porter Cable PCC790LA lets you easily clear the jam with its jam release feature and you can continue with your work without fuss. No need for pausing, just activate the jam release feature and get on with your work.
Tool Release Lever
Another feature that offers great ease of use is the release lever of the product. If you are looking for a comfortable and easy-to-use nailer gun, then this gives you just what you are looking for.
Cordless Nailer Gun
With a cordless nailer gun like Porter Cable PCC790LA, you never have to worry about any form of restriction. You are not limited to any length – corded tools keep you restricted to the length at which the cord can go.
Multipurpose LED Lights
The LED lights perform the primary function of illuminating dark areas. They also indicate an error with the settings inputted into the tool. This is another feature that highlights the convenience that comes with using PCC790LA. 
High Capacity Magazine
A nailer gun with a magazine of high capacity is always an added bonus for the user. The stress of loading and reloading nailers is not something to look forward to and it makes the work extra strenuous.
For jobs that need an extended period of time to complete, the idea of loading and reloading is even worse. With the Porter Cable PCC790LA, you never have to worry about this.
The magazine of the tool can take up to 100 nailers – a sufficient amount to carry out most carpentry and framing work within the home. Of course, professional contractors may likely need more than this. However, the number of times for reloading is still significantly reduced.
Sequential Mode for Firing
The firing mode that comes with the Porter-Cable PCC790LA offers you the option of accuracy and depth adjustment shooting the nails. The mode is perfect for carpentry and framing works that require different depths.
Trigger Lock
The manufacturers of this product took into consideration the chances of nailer guns firing unintentionally. This is why the trigger lock feature was added to stop the unintentional firing of nails that can lead to a work accident.  
PROS
The rechargeable battery makes for a powerful source of energy for the tool.
The 3-year limited warranty gives you a level of assurance in case of any defect or damage.
Nails can be easily replaced in the magazine
Jam release makes for easy use of the tool.
CONS
Doesn't come with a dual-mode of firing – it doesn't have a bump mode for quick firing.
The tool is not that convenient on massive working surfaces.
A little bulkier than most cordless nailers.
It doesn't come with a case/bag. Users that need a case/bag would need to make an extra purchase.
Conclusion
Porter Cable PCC790LA is a pretty effective tool for most operations that you will encounter within the home. It has numerous features that offer accuracy, convenience, and versatility.
It is definitely recommendable to DIY users and professional users. 
You can also read- How Does a Brad Nailer Work?