The fact that Porter-Cable has a framing nailer in its portfolio is somewhat surprising for many people. Although the brand is known mainly for power tools like belt sanders and saws, FR350B performs on par with industry leaders.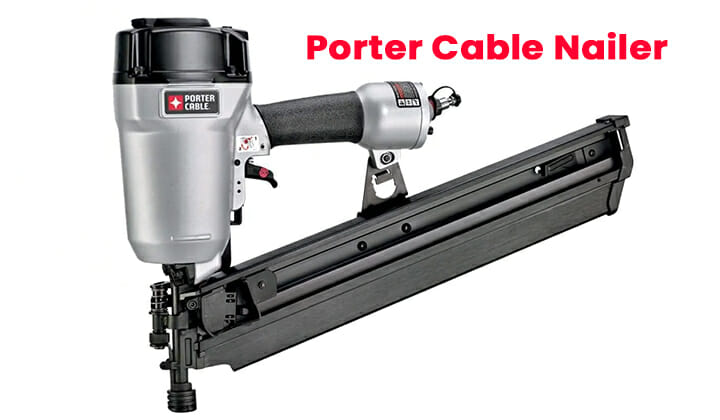 What sets FR350B apart from typical bulky framing nailers is its lightweight footprint. That, paired with a rubberized handle, offers an ergonomically pleasing experience. In this Porter Cable FR350B review, we pointed out such upsides and some apparent pitfalls of this versatile tool.
PORTER-CABLE Framing Nailer, Full Round, 3-1/2-Inch, Tool Only (FR350B)
Weight
Pneumatic framing nailers are usually more on the bulkier side, weighing around 8-10lbs on average. Fortunately, Porter Cable FR350B weighs 7.3lbs. Though it is not the lightest of tools, it gives a sense of relief in a world full of heavy alternatives. So, you won't experience as much fatigue while hauling it around.
Besides, too little weight means problems regarding the dampening of recoil. That is because you do need at least some heft to dampen it properly. The mass of the Porter-Cable FR350B is just about right for that job.
Adaptability
A framing nailer is of little or no use unless it can adapt to the various firing depths required for different projects. Luckily, Porter Cable FR350B features an adjustable depth of drive to set the nail heads properly. The process is also pretty convenient since it doesn't take any additional tools to adjust.  
The trigger assembly is another factor of concern. Switching between contact actuation and restrictive mode should not require detaching the whole trigger. Porter-Cable FR350B offers that convenience, as you can change back and forth without disassembling the trigger. It allows you to work with minimal distractions.
Nail Support
Regular nail guns have support for limited nail types only. Some accept only brads, whereas some are restricted to smooth shanks or 2×4 studs. But that's not the case with Porter Cable FR350B. No matter the nail type, you won't face compatibility issues.
Compatibility with Compressors
Framing nailers must comply with both portable and fixed compressors to ensure both power and portability. While typical units fall flat, Porter Cable FR350B manages to get powered by compressors of all types. That is because it comes pre-fitted with ¼-inch air fitting and operates between 70 to 120 PSI.  
Performance
Performance depends on the frequency of shooting nails as well as how far they drive-in. You can also measure it in terms of surface variety. In all those aspects, Porter Cable FR350B scores pretty high. It has enough power up its sleeve to drive nails up to 3-½ inches, even into treated lumber.
Surface Care
Framing nailers should have at least some protective measures onboard. That is to make sure they put no dents on the surface. As such measure, this tool comes with a rubber-made no-mar tool at the tip of its safety release.
Safety 
Safety measures should comprise an adjustable air exhaust system and reload alerts. While the latter keeps the internal components safe and sound, the former drives the exhaust air out of your way. FR350B has both been implemented well since it locks out the trigger at low nail count and offers a tool-free exhaust adjustment.
Frequently Asked Questions
Which collation and nail head are best for Porter Cable FR350B? 
The FR in the name FR350B stands for full round head nails. So, it is a no-brainer that it will accept nails with full round heads. And for the collation, go for regular plastic collated nails to achieve the best results.
What does it mean by oil daily at the back of the handle on FR350B? 
The oil daily instruction means you have to lubricate the nailer regularly. Use around 5-6 drops of specified oil into the inlet before you start nailing. It will ensure clog-free performance and increase the overall lifespan of the tool.
Bottom Line
Porter Cable FR350B is an excellent tool yet not void of downsides. You might experience recoil to some extent, which is nothing uncommon for pneumatic nail guns. Let it recoil off the material, wait a bit, and it's good to go again. Though it might sound a bit intimidating to adapt, it's nothing of a dealbreaker.