Porter-Cable is that one perfectionist brand that tries to live up to the expectations of its consumers. The FN250C 16GA finish nailer continues that legacy as well. It has a light yet rigid build and internal piston catch for outstanding performance.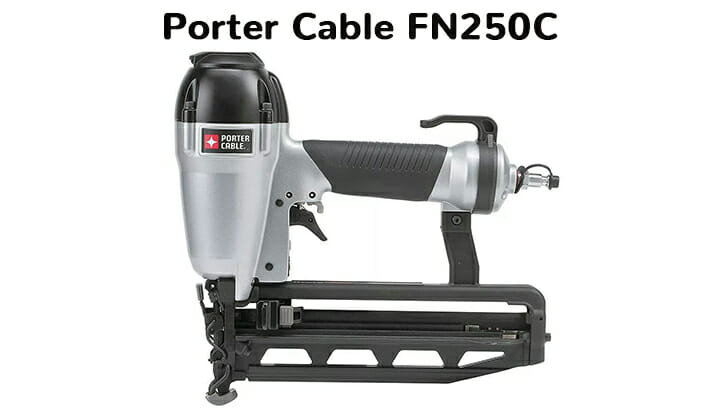 Well, these on-paper specifications do sound tempting. But how do they stack up against the perks of rivals like Dewalt D51257K and Hitachi NT65MA4? Let's find that out in our dedicated Porter Cable FN250C review.
PORTER-CABLE Finish Nailer, 16GA, 1-Inch to 2-1/2-Inch (FN250C)
Weight and Maneuverability
Though it's unfair to compare the weight of a pneumatic finish nailer with that of a cordless one, a limit should be set. With that said, anything beyond the 5lbs mark will undoubtedly be a pain in the neck. Luckily, the weight of Porter-Cable FN250C is way less than that, offering unparalleled ease in portability.
FN250C weighs only 3.85lbs, thanks to a featherweight die-cast aluminum build. Therefore, carrying it around is hands down a refreshing experience. Even if you add the combined weight of an air compressor and hoses, it doesn't require much elbow grease at all. It even brings along a belt hook for further convenience.
Durability
Being lightweight should not necessarily mean being less durable. Let's face it. Construction sites are not the kind of place where tools get treated gently. So, a finish nailer also has to have a rugged build. 
Unlike some polycarbonate nailers out there, FN250C features a durable aluminum housing. Plus, it has a maintenance-free motor that they specifically designed for a longer lifespan. As a result, it will last years if not a decade, no matter the operating environment.  
Versatility
A versatile finish nailer will allow you to alter the depth of drive depending on your project requirements. Porter-Cable FN250C does deliver this option alongside detents for the precise setting of the nail heads. In fact, the process of adjusting the nailing depth is entirely tool-free, something rarely seen at this price point.
Best of all, it comes with a removable non-marring nose tip. Whenever the surface is a bit delicate, you can use this tip to avoid scratches and dents. Similarly, you can move it aside to get a firmer grip when the surface is more rugged.
Performance
The performance of a finish nailer depends on factors like the driving depth, number of nails driven per hour, and so on. FN250C scores well in all these criteria and thus proves itself as a beast in terms of performance.
First of all, it has this internal piston catch that makes sure it gives its best in each shot. So, you can expect that all the nails shot will travel the same distance into the surface. Secondly, this tool operates at 70-120 PSI for better support with different air compressors. Hence, its performance will remain consistent no matter what.
Ease of Use
Tool-free depth adjustments and easy jam release are what make a finish nailer user-friendly. Porter Cable, being the perfectionist, did not cut corners in these areas either. FN250C requires no additional tools for neither depth of drive adjustment nor jam release.
On top of that, adjusting the exhaust channels is tool-free as well. Hence, keeping the contaminants away from you is hassle-free. Moreover, its magazine has a rear loading mechanism, unlike the traditional sideload. It allows for an easier and faster reloading experience.
Pitfalls
FN250C has to break a sweat whenever nailing at acute angles or hard-to-reach corners. That is because its nose piece is a bit larger than usual, making it hard to point out the hitting area. Plus, it lacks contact actuation, aka bump-fire mechanism. So, you'll have to manage with sequential firing only.
Frequently Asked Questions
How do I load my Porter Cable FN250C? 
First, make sure the trigger is locked while the nose tip is pointing away from your body. Locate the T-shaped opening at the rear of its magazine and slide two clips of nails inside. Pull the pusher located at the left of the magazine until it reaches the end. Finally, release the pusher and make sure it sets the nails in shooting position.
How often should I oil the Porter Cable FN250C? 
For seamless nailing, you should oil pneumatic tools like FN250C every day. Use 4 to 5 drops of pneumatic lubricant to make sure it runs smooth as new.
Bottom Line
If only it had variable actuation, Porter Cable FN250C could have been unbeatable in its price segment. No matter what, it still holds its ground, as its closest competitors are yet to outperform it. Hence, getting your hands on this powerful tool won't be a letdown at all.