Having the Porter Cable tag itself is enough of a reason to get your hands on the BN200C. Even if you prioritize the value-proposition of a product over the brand image, we bet you'll fall for its excellent performance. Mainly, what it offers for its asking price is truly remarkable.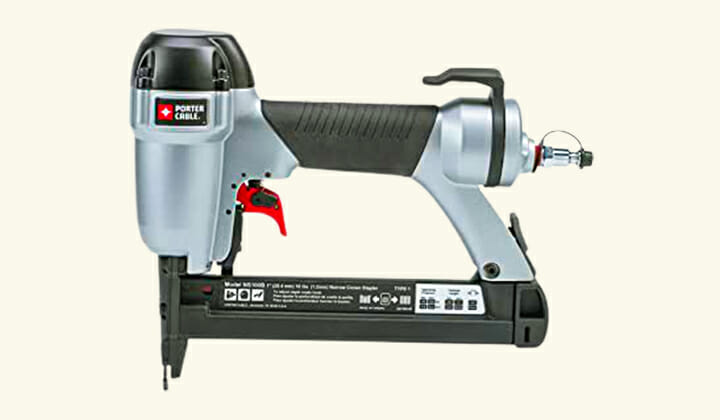 It features a compact and lightweight design, enhanced portability, and, most importantly, unparalleled durability. What more could you ask for in a brad nailer? Well, taste the cream of the market through our detailed Porter Cable BN200C review.
PORTER-CABLE Nail Gun, Pneumatic, 2-Inch, 18GA (BN200C)
Maneuverability 
While most pneumatic brad nailers weigh well above 5lbs, BN200C weighs only 2.6lbs. That is about 50% less heft, resulting in a fatigue-free nailing experience. Such a featherweight design was possible thanks to the use of magnesium. This material is about 30% lighter than the formerly most lightweight aluminum. 
Lighter weight means better portability which is hands down the best feature of this nailer. Besides, it has this adjustable belt hook that lets you carry it along, keeping your hands free. 
Durability
The use of lightweight material doesn't necessarily mean compromising durability. With that said, the longevity of magnesium tools is on par with that of stainless-steel ones. That is because magnesium is less prone to rust and corrosion than other metals. Porter-Cable BN200C, therefore, should last you a lifetime.
Depth of Drive
What's more important than having an adjustable depth of drive is the tool-free experience. That is because adjusting depth of drive comes as a mandatory feature on brad nailers. But most of them require additional tools of some sort. Porter-Cable BN200C, however, is not indifferent to that matter.
This 18-gauge brad nailer doesn't require any extra tools for adjusting the depth of drive. As a result, it lets you alter the depth according to your project requirements in a breeze.
Ease of Use
You can't overlook the convenience part of a power tool, for it complements the performance. A nailer will require a lot more elbow grease without proper grip and in-hand feel. Porter-Cable BN200C nails it in that aspect with its integrated rubber grip. It feels so comfy in hand that you won't feel a thing during long work hours.
Other than that, it features a tool-less jam release mechanism to provide a clog-free nailing experience. At the same time, a rear exhaust system allows no contaminants whatsoever. Since most of its rivals pay less attention to such small details, this round is a win for Porter Cable BN200C.
Performance
On the performance side of things, brad nailers don't need to have a monstrous driving force. What matters most is their consistency. Luckily, Porter Cable BN200C doesn't break a sweat while driving 5/8-inch to 2-inch brads with an operating pressure of 70-120 PSI.
Surface Care
The sharp tips on brad nailers are not so surface-friendly. That's why you need some protection onboard to keep your nailing surface damage-free. With a non-marring nose tip, N200C ticks that box as well. Nonetheless, you can remove the tip whenever you need some added grip.
Cons
Using the Porter Cable BN200C is not all plain sailing. First of all, it can't operate without frequent lubrication. And since it lacks a dry fire lockout system, internal damages may occur due to an empty magazine. Moreover, you'll have to install a contact fire trigger separately to enable bump firing.
Frequently Asked Questions
How often does my Porter Cable BN200C need oiling?
Pneumatic brad nailers require lubrication every single day for proper functioning. Porter-Cable BN200C is no exception to that either.
How to oil Porter Cable BN200C?
Firstly, clean the magazine as well as the nose tip to remove dirt and debris. Then insert 5 to 7 drops of pneumatic tool oil into the air fitting, which is on the end cap of the nailer. Make sure to drain the compressor tank to prevent condensation from accumulating inside the tank.
Does Porter Cable BN200C accept staples?
Yes, it does accept staples. Make sure you use ¼-inch crown staples that have a length of ½ to 1-½ inches.
What is the magazine capacity of Porter-Cable BN200C?
The magazine on the Porter-Cable BN200C can hold up to 100 fasteners at a time.
Final Words
From our Porter Cable BN200C review, you already know there's no safety lock mechanism for an empty cartridge. However, it features a low nail indicator that will alert you about when to reload the magazine. Instead of counting nails, keep an eye out for the alert to increase the overall lifespan of your nailer.