Brad nailers are very convenient as we use them in many jobs that require a finish nailer or a pin nailer. Specifically, PCC790LA uses brad nails that have more holding power to do marvelous finish jobs. The slender nail body of the 20v brad nailer is efficient at handling delicate pin works. However, not all the brad nailers are not as performance-oriented as they seem.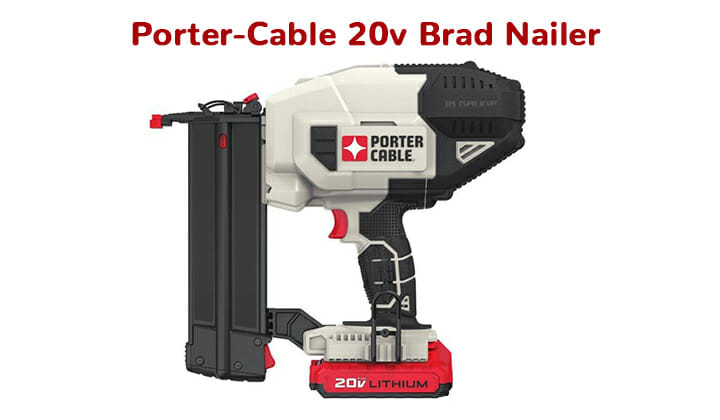 But we got you covered. This Porter-Cable 20v brad nailer review focuses on each feature detailed to crack open the nailing advantages and excavate if more is to come. We embedded tips and tricks in each section to ensure proper care properly taking care of it. Just let it reveal itself up till the end.
Porter-Cable 20v Brad Nailer Review
This section has arranged all the positive and negative features of the portable Porter-Cable brad nail gun.
PORTER-CABLE 20V MAX Cordless Brad Nailer Kit, 18GA (PCC790LA)
Fastener and Magazine 
Since we are dealing with a brad nailer, it uses 18 gauge brad nails of different lengths. The magazine of the tool can hold up to 100 pins at a time. Moreover, the design of the magazine allows quick reloading.
Battery 
As this brad nailer is a cordless battery-powered tool, it saves you from the hassle of air compressors, hoses, or costly gas cartridges. With a 4 Ah lithium-ion battery, this nail gun can drive up to 1300 nails per charge. So no need to worry about running out of battery juice or the hassle of frequently changing batteries.
You will get one battery included with the nail gun. But if you want an extra battery, you can also get it with the tool, but not for free, though. Also, if you already have batteries and only want the nailer with less money, this option is available with this machine.
Depth Adjustment 
Having the depth control feature in your nailer allows you to control the depth of the workpiece you want the nails to go. Our Porter-Cable brad nailer comes with a tool-free depth adjustment wheel and a depth adjustment window to change the depth easily.
User Comfort 
Features for user comfort are significant as the flow of work highly depends on them. To reduce user fatigue, this Porter-Cable nail gun is made lightweight. The optimal center of gravity also provides user comfort in different positions. The handle of the nailer is over-molded with rubber to prevent hand fatigue.
Safety Feature
Safety characteristics are necessary to protect you and your workpieces. In this brad nailer, multi-functional dual LED lights come installed to let you work in dark places safely and reduce errors. 
There is also a tool-free jam release and stall release lever to help you fire nails quickly in various types of materials. The provided plastic nose cap prevents scratches and damage on the work surface.
Durability and Warranty
The durability and warranty of a tool are related to each other. If the brand produces high-quality tools and has confidence in the performance, it provides long term warranty. 
Negative Features
Slight recoiling issues come in records from customers. There is also no trigger locking feature to prevent dry fire.
Frequently Asked Questions
How do I clear jam?
Jamming is familiar with old or low-quality nailers. Clearing jams is an easy task, but it slows down the work progress. For clearing the jam, open the magazine, take a wrench and take out the nail that causes jamming. 
How can I use a nailer as a beginner?
Using a nail gun is easy once you practice for a bit. First, open the magazine and put the nails properly. Then set the firing mode and adjust the depth. After that, connect it to the power source or switch on the power button. Remove the caps and test fire a couple of times to check the nailer, and now you are ready to go.
Can I use pins for baseboards?
Pins don't have that much holding power to work with baseboards. The brad nails are more extensive than pins and more suitable for baseboards. For the best result, work with the best brad nailer for baseboards.
Are the cordless nailers affordable?
Cordless nailers are not the cheapest. An air compressor mainly powers the more affordable nail guns. They work with batteries, so you have to spend extra bucks to charge them. Many inexpensive cordless nailers are available on the market, but buying them will be a waste.
Final Statement
The mystery behind a long-lasting nailer with better performance all time is not only being the best nailer on the market. Even a cheap nailer can show the best results where no care will turn the best nailer into the worst if you take care of the tool properly. Always clean and oil the parts regularly for the best nailing experience.