Fundamentally, siding nailers are not much different from other nailers. However, it is best to use a nailer for the purpose it is supposed to serve. A pneumatic siding nailer is best at doing what its name suggests, that is installing sidings. Although it may come as confusing, you have to make sure you have the best siding nailer with you for this particular purpose.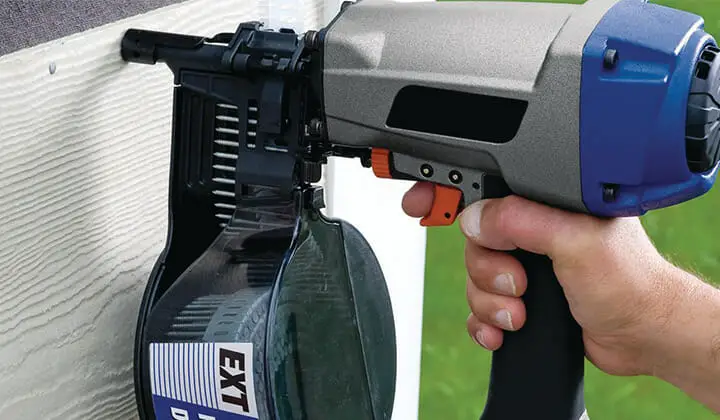 Pneumatic Siding Nailer Reviews for You
Editors Choice
Best Buy
Nice Pick
BOSTITCH Coil Siding Nailer, 1-1-1/4-Inch to 2-1/2-Inch (N66C)
Freeman PCN65 Pneumatic 15 Degree 2-1/2" Coil Siding Nailer with Adjustable Metal Belt Hook
Makita AN613 Pneumatic 15° 2-1/2" Siding Coil Nailer
Editors Choice
BOSTITCH Coil Siding Nailer, 1-1-1/4-Inch to 2-1/2-Inch (N66C)
Best Buy
Freeman PCN65 Pneumatic 15 Degree 2-1/2" Coil Siding Nailer with Adjustable Metal Belt Hook
Nice Pick
Makita AN613 Pneumatic 15° 2-1/2" Siding Coil Nailer
In this section, we will discuss three different pneumatic siding nailers while thoroughly explaining each factor.
1. BOSTITCH Coil Siding Nailer, 1-1-1/4-Inch to 2-1/2-Inch (N66C)
Durability
The build quality and the resultant durability are the best aspects of this siding nailer. The NCC-1 has aluminum construction, making it lightweight and easy to hold. Consequently, the tool is also durable enough to withstand the rigors of all-day use.
The tool only weighs 4.9 pounds. As a result, you can wield it all day and finish your job without breaking a sweat. Moreover, it does not matter what kind of wear and tear this siding nailer is exposed to, it can handle all that.
Power Source
The power source of the BOSTITCH NCC-1 siding nailer is a pneumatic motor. That means it runs on compressed air with the help of an air compressor. The operating pressure of this siding nailer is 70 to 120 PSI. Therefore, the pressurized air from the compressor drivers nails with enough power. 
Moreover, this siding nailer is even strong enough to fasten through light steel, fencing, cement, and even clapboard. Clearly, it is safe to say that the NCC-1 is perfect for fastening siding.
Magazine Capacity
The BOSTITCH N66C-1 has a magazine capacity of 350 nails. This huge amount is enough to handle all your siding works for a whole day. You can also keep working continuously without requiring you to reload for a significant time. The magazine itself is easily accessible and durable as well.
Versatility
Versatility is one of the strong traits of the N66C-1. This nail gun works with both wire-weld and plastic coiled nails ranging from 1-1/4 of an inch to 2-1/2 inches. Be it any type of siding material, whether it is soft pines or hard oaks, the N66C-1 is capable of generating the best results.
Features
Aside from all these, the BOSTITCH N66C-1 is packed with features. First of all, it has an adjustable depth guide. This feature allows you to set nails to desired depths swiftly and conveniently. Besides, there is an adjustable exhaust that conveniently directs exhaust away. As a result, your working condition becomes much smoother.
There is a soft rubber foot that prevents damage to the project you are working on. Not to mention, you get a heavy-duty carrying case with this nail gun for a better-organized task.
Cons
However, the nose of this nail gun is a bit fragile. It might break if it is dropped at the right angle. Therefore, care should be taken when handling the nose. 
2. Freeman PCN65 Pneumatic 15 Degree 2-1/2″ Coil Siding Nailer Ergonomic and Lightweight Nail Gun with Tool-Free Depth Adjust and Side Load Magazine, Black
Quality Build
Freeman lives up to its reputation with the excellent build of the PCN65 siding nailer. The manufacturers observed strict quality control guidelines and ensured maximum comfort. They have featured a lightweight build with a rugged die-cast magnesium body. Hence, you can expect long-lasting durability and performance.
Besides, the Freeman PCN65 weighs only 5.5, which is quite lightweight considering it is a pneumatic gun. Moreover, this siding nailer has a hardened steel drive blade and an anodized aluminum cylinder. These build features altogether add to the gun's durability.
Coil Nails
The Freeman PCN65 uses 15-degree coil siding nails. Its magazine is designed to hold plastic collated nails from 1-1/4" to 2-1/2" and wire collated nails from 1-3/4" to 2-1/2". 
The coil nails allow you to have more nails to work with before you need to reload. Besides, you will be amazed to know that the nose of the magazine utilizes a magnet to keep the coils in a correct position for firing. Therefore, there is no chance of misfiring.
Array of Applications
As this is a 15-degree siding nailer, you will have a good time working on cedar shingles, roof and wall sheathing, siding, and fencing. The compatible 15-degree coil siding nails are specifically designed for purposes like the installation of cement siding, sheathing, fencing, fiber concrete siding, decking, plywood, and OSB. All you need to do is just hop in and get started.
Large Magazine
The magazine of Freeman PCN65 is built for intense-working purposes. It has a capacity of 400 wire or plastic collated siding nails. Since the magazine has a huge capacity, it enables the user to keep working all day without any fear of running out of nails.
Additionally, the magazine has a multi-positional tray that adjusts to hold plastic collated nails and wire collated nails.  Moreover, the magazine has a transparent body. As a result, you can always be sure of when to reload without taking out the magazine cover or anything.
Features
The Freeman PCN65 is packed with features. Apart from all the fundamental features, it has some additional ones that will take your nailing experience up a notch. To get started, this siding nailer has a bump-fire trigger that will drive nails with pinpoint accuracy. There is practically no chance of accidental firing as the safety lock is there to prevent it.
You can easily adjust the depth of nails with the tool-free finger depth adjustment. Not to mention, your long and rigorous work becomes a lot easier and more accurate thanks to the comfort grip. Furthermore, the features include a no-mar tip, a 360° rotatable exhaust, an air filter, a belt hook, and many more to make sure you can execute smooth operations.
Cons
Continuous application can prove to be difficult as the weight comes as a bit of an issue. Also, the trigger and the coil guard are weak and feel cheap.
3. Makita AN611 2-1/2″ Siding Coil Nailer, Silver
Trigger Options
The Makita AN611 siding coil nailer utilizes three different trigger modes. These are contact mode, sequential mode, and lock mode. Contact mode is suitable for fast operation while the sequential mode is for precise placement of nails. You can easily switch between the three modes with the help of a button.
Accuracy
The AN611 offers maximum accuracy and precision when it comes to fastening sidings. It has a tool-free depth adjustment system that has 9 detents settings engineered. This allows you to flush and countersink nails precisely.
Large Magazine
The Makita AN611 uses 15-degree coil siding nails. Its magazine accepts 1-1/4 inch to 2-1/2 inch nails. Furthermore, it has a capacity of 300-400 nails and comes with an easy-loading canister with nail size adjustment. Therefore, you have more control over your project with this excellent tool at your disposal.
Favorable Pressure
The operating pressure of Freeman PCN65 is 65-120 PSI. It generates enough power to drive the head of nails into the workpiece. There is also a pressure regulator dial for you to control its pressure. Therefore, whatever the working condition may be, you can easily adjust accordingly.
Features
This siding nailer has a standard design concerning the drive head and a tool-less depth-of-drive adjustment. Besides, this siding nailer features a 360° rotatable exhaust port to direct exhaust away from the operator. You also get a built-in air filtering system and a rubber bumper for added convenience.
Cons
However, the Makita AN611 comes a bit expensive. It also occasionally fails to recycle after driving a nail which causes inconvenience.
Frequently Asked Questions
Can I use my roofing nailer to install siding?
Yes, you can use a roofing nailer to install sidings. But the condition is if you only "blind nail" them. That means you won't see the nail head at all.
Can I use a Brad Nailer for siding?
No, you cannot. Brad nailers cannot be used for siding as brads leave two holes for each brad. They also do not hold up as well as siding.
Conclusion
A pneumatic siding nailer can prove to be a great company for daily siding purposes. They typically have larger magazines and are capable of handling bigger tasks. Make sure you do your research and check the size, weight, warranty, and other related factors before opting to buy one.