Paslode framing nailer has a bounty of good remarks being the user's heavy-duty company. They pretty much don't act like jamming at all and ensures more lining without a bug. Also, the driving power of the nailer is something to be praised for.  And some of the models have the reputation as market lead over two decades!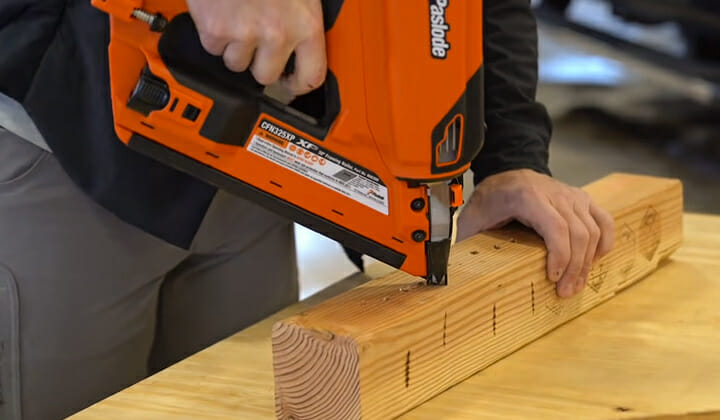 I love pneumatic nailers, and Paslode has put forward one of the lightest in the stalls through the F325R model! Even the model Paslode IM350 has been on the lead in the market for over 30 years. Yet more in await… 
Editors Choice
Nice Pick
Paslode, Cordless XP Framing Nailer, 905600, Battery and Fuel Cell Powered, No Compressor Needed
Paslode, Pneumatic Framing Nailer F325R, 513000, Air Compressor Powered
Editors Choice
Paslode, Cordless XP Framing Nailer, 905600, Battery and Fuel Cell Powered, No Compressor Needed
Nice Pick
Paslode, Pneumatic Framing Nailer F325R, 513000, Air Compressor Powered
Comparative Analysis | Paslode Framing Nailer Review at a Glance
Paslode cordless XP
Has more nailing power can go up to 9000 nail drives
Geared up with Li-ion battery or fuel
Paslode cordless CF325
Nailing power up to 6000 nails in full charge. Takes only an hour to be fully charged
Geared up with lithium battery and no hose attached
Specific swipe up-down button for enabling battery mode and fuel mode, where the battery gets to conserve power
Paslode Pneumatic
The most light-weight nailer ever
Excellent for remodeling works and can cover the tight space works as well.
No battery or fuel to drive. Has hose system to gear up
Review on some leading Paslode Framing Nailers
If we are to say any about Paslode nailers, they are a genuinely tremendous tool for making your work easier. No wonder Paslode framing nailer is a top-notch help hand when you are serious about nailing down the joins! Some of the picked ones are revised in the following section. 
1. Paslode, Cordless XP Framing Nailer, 905600, | No Compressor Needed
Performance
Paslode cordless XP framing nailer gives such high drive efficiency that the one-line entitling goes by "The power to drive non-stop nailing."
The outcome is immensely commendable as it doesn't show any difference even in cold weather (< 14-degree F). Moreover, the nailer is manufactured with this rigor that it barely holds back and makes a get nailed in the best way possible.  
Strength-Check
For Paslode nailer to give a nail flush, it uses New Paslode framing fuel, all-season formula, and the nailing power is added up to 15% more than holes up LVL and hardwoods even.
It can nail up to 1200 at one fuel cell and up to 9000 nails per charge. Pops 2-3 nails per second and gives a smooth work finishing.
Dimensions
A Paslode XP weighs almost 7.2 Ibs. And dimensioned in height is 14.5", in length 12", and 4" in width. It has enabled 50% more run-time with a 7V Li-ion battery.
The battery life is already a land crushing part, and also it has five years of warranty. More importantly, being such a robust tool, it is pretty lightweight and easy to deal with. 
Nail-Deals
If we are taking the nail capacity as a concern, the magazine takes only one papered strip. The nails are ranged accordingly, 2"-3¼", 113-131" shank diameters. It has a specific angle requirement which is 30-degree paper tape.
The nail tyle it chooses is Paslode round drive to offset full head (Brite or Galvguard). So apparently, it is clear that this specification allows full-head nails to operate, and if you are to have a jam and misfire-free nailing session, do choose the actual requirements.  
Specialty
Some additional features make the specified more alluring. They have an aggressive teeth panel for toenailing. However, the compact design fits between 16" o.c. studs, roof trusses, and joints. 
The battery conserves power and gives two years service promise.  You can effortlessly go for driving in bare hands and also in gloves. No one speculates harm. The easy rotation of the work belt prevents blank drives. As the magazine is of stainless steel, it doesn't let the nail jam, and the nail loading and drilling are smooth.
Thumbs Down For
This jam is less feature-focused if the nail is packStudse'sdse preferable size; otherwise, it can give a bumpy end. Also, the 9000-nailing capacity is often questioned, but the number is few so that you can ignore that. We have a comprehensive guide on repairing Paslode nailers.
2. Paslode 902600 CF325Li Lithium-Ion Cordless Framing Nailer
No products found.
Performance
The CF325Li-ion Cordless Paslode framing nailer is your heavy-duty companion that has no hoses and leads with fuel else battery. It has a nose-piece that enables toenailing at any angle.
Strength-check
If we measure the durability, it is sure high performed one and yet the lightweight one that gives you effortless work experience. The beast can drive almost 6000 nails if you have fully charged. It takes only an hour to have a full charge. And a 2-minute charge can hit 200 pins in a row. It has the power to nail 50% more than older versions.
Dimensions
The product dimension is calculated to be 17" x 17" x 5". It has a comparative, more outstanding grip while working and better measurement of the nailer figure. Comparing with the size, the weight is only 7.5 pounds and easy to deal with.
It certainly has a great battery life, and the average rate is 5 hours. There is a warranty of 1 year, and with a lithium-ion battery, you get that extra boost.
Nail-deals
This specification drives 2- 3¼," and 30-degree paper-wrapped strips. The nailer and nail combined are suitable for framing, wall and roof sheathing, floor decking, and many more. And the recommended for driving is 3-3¼" nails.
Specialty
A helpful part is the battery switching segment. You can either switch to OFF mode when you wish to do fuel work or battery work. The charge is then preserved. Easy loading of magazines is also ensured.
Thumbs Down For
An often complaint is that this nailer cannot help in higher altitudes but is optimal for below 6000ft altitudes.
3. Paslode, Pneumatic Framing Nailer F325R, 513000 | Air Compressor Powered
Performance
The pneumatic framing nailer is the most light-weighted one to exist. The performance if you're thinking of is not less than that of the competitors. As an interior remodeler tool, it is much more efficient than ever. 
Strength-Check
It has excellent maneuverability in tight spaces and performs as best. The pressure it produces is 90-120 bar. For any kind of interior work, it will be the ultimate choice. 
Dimensions
The overall dimension of the framing nailer is 12.9" x 12.3" x 4.3" and is easy to deal with one-hand operation. Being the most light-weight nailer ever, it weighs 5.9 pounds. It is meshed up with a soft grip for comfortable usage.
Nail-deals
This goes similar to the cordless XP model for 30-degree paper taped nails and 3- 3¼" nails. The magazine is sized 44, and it can load two strips. So, ultimately the reloading process is minimized. 
Specialty
The topmost facility is the easy drive for having a light figure. Also, it works on bump mode in the fast nailing process. It has accessibility to work in congested spaces and is excellent for interior remodeling. 
Thumbs Down For
It doesn't have a battery, or fuel-driven working experience rathe has the old way hose connected. A battery adjustment would have made its preference much more.
Frequently Asked Questions
Are Paslode nailers work with galvanized nails?
Yes, they do work great. They misfire and jam less if the nails are that definite.
How often does my nailer need to be cleaned?
After almost 50,000 nails, you might go for the clean-up check, some lubricant, and wiping the magazine can make it work like new.
Conclusion
Paslode framing nailers are specifically the dealer of strength works. If you think the guns will fail your expectations, that is less likely to happen. Moreover, the most light-weight gun in the category gives you ultimate comfort along with the stronghold, faster nailers of Paslode.