NuMax SFR2190 has a separate fan base among carpenters due to its versatility. Other than framing, it comes in handy for tasks like sheathing, decking, and installing subfloors. Whereas popular options from Metabo HPT and Freeman only stick to their tiny niche.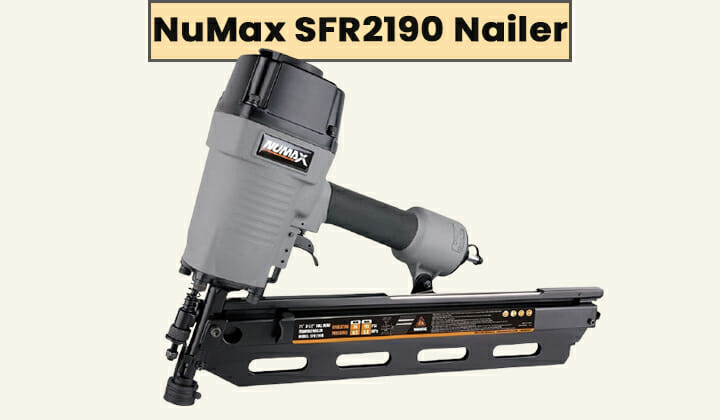 Besides, this 21-degree framing nailer has a lightweight yet rugged build with loads of appealing features. Check out our NuMax SFR2190 review to learn more about what it brings to the table.
NuMax SFR2190 Pneumatic 21 Degree 3-1/2″ Full Round Head Framing Nailer Ergonomic and Lightweight Nail Gun with Tool-Free Depth Adjust and No-Mar Tip
Build Quality
While most nail guns brag about the superiority of aluminum or steel, NuMax SFR2190 holds a middle ground. It comes with a magnesium build that offers excellent portability. Since magnesium weighs 75% less than steel and 30% less than aluminum, lightweight is its middle name. Yet, it has more strength per unit volume. So, you won't miss out on durability either.
In-hand Feel
Thanks to the choice of material, NuMax SFR2190 weighs no more than 8.6lbs. So, it's clear that you won't need that much elbow grease. Plus, the handle has a comfortable yet firm grip to make sure it sits nicely on your hand. It also has an ergonomic design, causing no fatigue whatsoever, even during long projects.
Adaptability
Framing nailers are usually single task handlers that can shoot 2×4 studs only. On the other hand, NuMax SFR2190 is pretty versatile in terms of applications. Apart from framing, you can use it for installing subfloors, wood fencing, sheathing, and roof decking.  
Furthermore, the depth of firing is not the same for each project. That's why SFR2190 offers depth adjustment to deliver persistent driving depth. Besides, it lets you choose between single-firing and bump-firing triggers. Thus, you can achieve precise placement whether yours is a small or high-volume project.
Surface Care
A typical framing nailer can damage your work surface by putting dents and dings. However, that's not the case with NuMax SFR2190 because it has a no-mar tip. So, it's guaranteed to provide a much more professional finish.
Grip
Though the no-mar tip is better for surface protection, it might hamper the grip on wooden surfaces. NuMax has provided no-slip teeth to counter that. All you have to do is take off the no-mar tip, and the grip will be as secure as it gets.  
Performance
The performance of a nail gun depends mostly on how easily and how deep inside it can penetrate a nail. This 21-degree nailer provides around 70-115 PSI and doesn't break a sweat while driving 3-inch nails into hard surfaces. Most amazingly, it doesn't clog even with nail magazines having up to 500 units.
Safety
Safety measures on nail guns should include adjustable air exhaust systems along with empty cartridge warnings. Luckily, NuMax SFR2190 packs in both of them. It has a 360° adjustable air exhaust to blow the air away from your face. And its warning feature prevents internal damage, as it stops firing while running out of nails.
Frequently Asked Questions
1. What type of collation should I use for NuMax SFR2190? 
We recommend plastic collated full-head framing nails to get the most out of this nailer. These nails usually have a plastic strip to hold them together that breaks apart once you fire the SFR2190. However, they are unlikely to jam your NuMax SFR2190 since there's no metal wire involved.
2. Which nails will provide the best performance on NuMax SFR2190? 
NuMax SFR2190 works best with 21° framing nails, while its magazine fits nails with a length between 2 to 3-½ inches. You can, however, opt for 20°-22° nails from any generic brand as well.  
3. What is the appropriate CFM value for NuMax SFR2190? 
Despite being a pneumatic nailer, NuMax SFR2190 requires more or less 2.5 CFM when it is operating at around 90 PSI.
Final Words
Here's one last tip in case you end up buying a portable compressor for your NuMax SFR2190. NuMax claims that a compressor with a 3-gallon capacity is enough for SFR2190. Still, we recommend going for one that can contain 4-15 gallons of compressed air for optimal performance.