Nailing wood takes a lot of time and effort if you're relying on the traditional hammering method. Besides, you can accidentally break your bones or hurt yourself in other ways. You could never be completely precise. But with a high-quality nail gun, you'd be driving a large number of nails in a short time with extreme precision!
The best nail guns like the NuMax SFN64 can sink thousands of nails in a day without requiring any extra effort. And the best thing is, they are surprisingly easy and considerably much safer to use.
If you're on the market for a decent nail gun, check out our NuMax SFN64 review, which is designed to provide comprehensive details about an outstanding tool.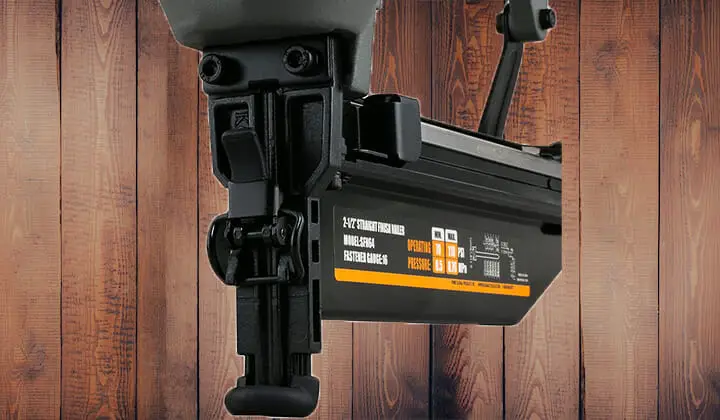 Overview
If you're looking for a high-quality and reliable nail gun without breaking your bank, the NuMax SFN64 can be the best choice for you! Being filled with wonderful features and with the ability to take on a wide range of woodworking projects, this is an extremely popular tool.
NuMax made sure to manufacture this model using the finest aluminum materials and to follow strict quality control guidelines. The result is a solid and durable product that can handle a lot of pressure and abuse.
This 16-gauge finish nailer boasts a lightweight design with a handle that sports an ergonomic design. So, even after a prolonged operation, you won't be worn out thanks to the comfortability in use.
You can rely on it to fire 16-gauge finish nails that are straight. However, make sure that they aren't smaller than 1-inch or larger than 2.5"-inches in length. These nails make this equipment perfect for all sorts of finish projects like trim, baseboards, window casing, shoe and crown molding, chair rail molding, etc.
It's astoundingly easy to use. You would be working with the precision level that can satisfy even the perfectionists! This one's equipped with everything that you want in a nail gun and more, and best of all, you'd be getting it for a really low price.
Key Features
Below are the most important features of the NuMax nailer:
360-Degree Adjustable Exhaust
The exhaust located on the top of the product can be easily adjusted. So, you can redirect it to make sure the air isn't blowing on your face or perhaps use this feature to blow dust and debris away from your place of work!
Depth Adjust
Just by rotating the dial, you can quickly adjust the firing depth to fit the requirements of the materials that you're working with. This offers precision in work and ensures a consistent driving depth.
Quick Jam Release
Jammed nails are extremely inconvenient. Thankfully, this model comes with an amazing mechanism that allows you to access the jams and clear them out rather quickly without dismantling the nailer.   
High-Capacity Magazine
This one's capable of holding up to 100 straight finish nails. As a result, you'd be able to get a lot done before having to reload the gun again. Having to frequently refill the gun can be a nuisance that is eliminated by this feature.
Anti-Dust Cap
To prevent dust build-up in the internal parts of the unit, it comes with an anti-dust cap. This will prevent unwanted stuff from entering your machine and keep it clean all the time.
Safety Feature
No-mar safety contact is an incredible feature of this tool that can increase safety in operation to a great extent. It ensures the gun doesn't fire until it comes in contact with any work surface. Thanks to the unique tip design, this thing won't produce dents and dings.
Sequential Fire
You won't be able to fire accurately if the machine fires rapidly like an auto gun. That's why this item restricts the firing and allows you to fire only one fastener at once. This allows you to work with improved precision.
Comfortability
The lightweight aluminum body makes it almost effortless to wield. And the comfortability is taken to a whole other level by the ergonomic grip handle.
Pros
Suitable for beginners and veterans alike
Compact and lightweight design makes it almost effortless to carry
Allows you to redirect the exhaust away from your face
Offers precision by allowing you to adjust the firing depth
Clearing jams is a cakewalk thanks to the quick-release design
Very safe to operate aided by the safety contact feature
Cons
The nail gun is reported to jam up rather frequently
Frequently Asked Questions (FAQs)
Here are some of the most commonly asked queries regarding the NuMax nailer:
Q: Does this model require an air compressor?
Ans: Yup, you'd require an air compressor to run it. Any compressor that can deliver 70-90 should be good enough.
Q: Is this a single fire or bump fire?
Ans: It's a single fire unit that fires one faster at a time.
Q: Does it use staples besides nails?
Ans: Nope, this one is strictly a nail gun.
Final Words
At its price, you won't find any better nail gun. We've tried to cover everything in our NuMax SFN64 review. This tool is extremely reliable, and as you can see, it's jam-packed with outstanding features. You will be able to do quality work with this equipment, even if you're a complete beginner!
You May Also Review