Framing nailers are bigger, stronger, and more versatile than any finish or brad nailer and that's why they are used for larger projects. In particular, NuMax framing nailer reviews reveal that they are pretty good for backbreaking works. However, most of the nail guns are almost similar and hard to choose although we have your back.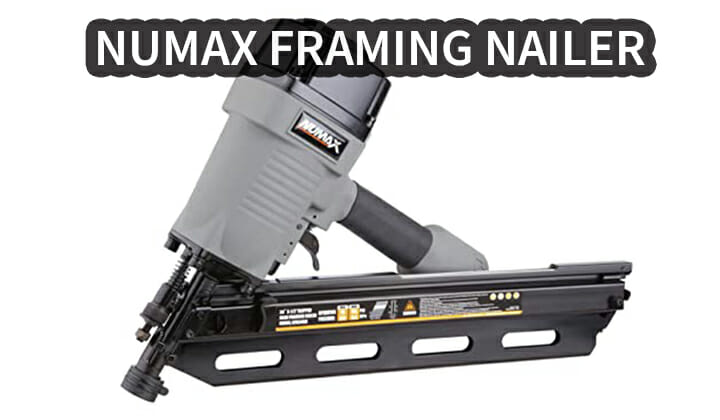 We recommend you buy 34 Degree framing nailers since they don't create a mess in the magazine. But if you work in hot or damp weather most of the time, you should go for the 21 Degree framing nailer. Let's have a look at the finer details about these top-quality framing nail guns from this article.
Editors Choice
Best Buy
NuMax SFR2190 Pneumatic 21 Degree 3-1/2" Framing Nailer
NuMax SFR3490 Pneumatic 34 Degree 3-1/2" Clipped Head Framing Nailer Ergonomic and Lightweight Nail Gun with Tool-Free Depth Adjust and No Mar Tip
Editors Choice
NuMax SFR2190 Pneumatic 21 Degree 3-1/2" Framing Nailer
Best Buy
NuMax SFR3490 Pneumatic 34 Degree 3-1/2" Clipped Head Framing Nailer Ergonomic and Lightweight Nail Gun with Tool-Free Depth Adjust and No Mar Tip
Trip to Find the Best Nailer with NuMax Framing Nailer Review 
In this section, you will get to know about two NuMax nailguns with two different nail angles for comparing and choosing your ideal tool.
1. NuMax SFR2190 Pneumatic 21 Degree 3-1/2″ Full Round Head Framing Nailer 
Fastener 
Whenever you are buying a nail gun, the first thing you need to ensure is that the nailer accepts your required fastener size and lengths. This NuMax nailer is suitable to work with 20°-22°  plastic collated full-head framing nails. But using the 21° nails is ideal for the best performance. 
SFR2190 nailers magazine fits nails from 2῎ to 3-1/2῎ lengths and about 55 nails at a time. You can use nails from any generic brand for use in any light or dense wood. About 70-115 psi pressure is enough for most of the projects.
Adjustable Features
You can customize the firing depth for any project with the depth adjustment wheel near the tool nose. Also, the adjustable exhaust feature allows you to keep air away from your face and blow the specks of dirt and debris from the surface.
Design 
For the best working experience, the nailer is designed ergonomically. The comfortable handle reduces hand fatigue and provides anti-vibration relief. 
With the magnesium body, the nailer feels light in your arms while still being durable. The anti-dust or air filter cap of the tool keeps the internal parts clean from dust and debris and is always ready to go even after a long time of storage.
Fire mode
Some nailer comes with more than one type of firing mode. Nailers with more firing modes offer greater workability. This NuMax nailer comes with an interchangeable trigger to select 2 types of driving modes, single action or sequential mode and bump or contact mode.
Only one nail will be fired after pulling the trigger in the single-shot mode. But in bump mode, the nailer head contract with the work surface for firing. You should use sequential mode for longer nails, and bump mode for the shorter nails.
Safety Feature 
To prevent damages, the anti-dry fire mechanism stops firing when the nails are low. No-mar tip protects the work surface from scratches while no-slip teeth make it easy to grip on the wood for secure firing.
Warranty and Accessories
The warranty of a product ensures durability of a product. The longer the warranty period is, the more lasting the nailer can be. You will get a 1-year limited warranty and 30-day wearable parts warranty with this NuMax SFR2190 nailer. Along with this nailer, you will also get lubricating oil and hex wrenches for adjustment.
Drawbacks
Compared to the most framing nailer, this NuMax nailer is heavier. The magazine of this nailer can hold only 55 fasteners. 
2. NuMax SFR3490 Pneumatic 34 Degree 3-1/2″ Clipped Head Framing Nailer 
Fastener 
In the case of fasteners and magazine capacity, this framing nailer is almost the same as the first nail gun. This tool can shoot 10-12 gauge nails ranging from 2῎ to 3-1/2῎ lengths. But the nail type is 34° paper collated clipped head framing nails. Also, the magazine capacity is 55 framing nails.
Adjustable Features
Similar to the other nailer, this framing nail gun also features tool-free depth adjustment that can be easily controlled by turning a wheel below the trigger. Also, you can control the output air direction with the adjustable exhaust port.
Design 
For use over long shifts, the durable magnesium body and aluminum cylinder make the nail gun lightweight and easy to use. The comfortable grip reduces hand fatigue while a simple pull-back pusher makes the reloading simpler. Also, an air filter or anti-dust cap of the nailer keeps the internal components clean.
Fire mode
SFR3490 nailer model also comes with a dual fire mode trigger to do nailing with a single-shot or bump mode. You should use the right firing mode at the right projects, otherwise, you are highly likely to destroy the workpiece.
Safety Feature 
To reduce damage to the internal components and extend the tool life, this nailer features an anti-dry fire system. The no-mar safety contact tip obliterates damages to your work surface and the teeth don't slip away while shooting.
Warranty and Accessories
With this NuMax SFR3490 days, you will only get 90 days limited warranty from amazon. You can get more warranty periods for buying from the stores or the manufacturer's website. There are adjustment tools and air tool oil are included with the tool body.
Drawbacks
Just like the previous nailer, this framing nail gun is also heavy. It induces fatigue and affects work performance. The accessories included with this tool are not always original and magazine capacity is too low.
Frequently Asked Questions
Where can I use framing nailers?
A framing nailer is usually used for large projects, such as fencing, deck building, sub-flooring, roof sheathing, and framing.
How the 21-degree framing nailer magazine becomes messy?
In a 21° nail strip, the nails are held together by a plastic strip. The nailer magazine becomes messy as the little plastic pieces that break off the container strips as the nails are being fired. It is a hassle to clean, and it also affects the working speed.
What's the downside of the 34-degree framing nails?
34° framing nails are held together with paper. This is why the paper strip doesn't create the same type of mess as plastic strips. But, in wet or warm weather, or when the moisture is present, the paper strip tends to fall apart easily. It can make the nail positions chaotic, and nails may not exit the nailer properly.
What air pressure is required for operating a framing nailer?
If you are working on thin or light wood with an air framing nail gun, air pressure of 70 psi is enough. But if you are working on a dense wood piece, you will need an air pressure of more than 110 psi.
Final Statement
NuMax framing nailer review will certainly help you to find your ideal nailer. However, you need to take some steps to get the best framing experiences. Always clean and oil your nailer, test fire before starting the job, and avoid using bump fire mode since this mode leads to more nail misplacement.