Carrying an air compressor for nailing tasks might be tiresome. That's where the palm nailers come with their cordless solution, compact design, and lightweight body. But what's the best palm nailer in this market right now?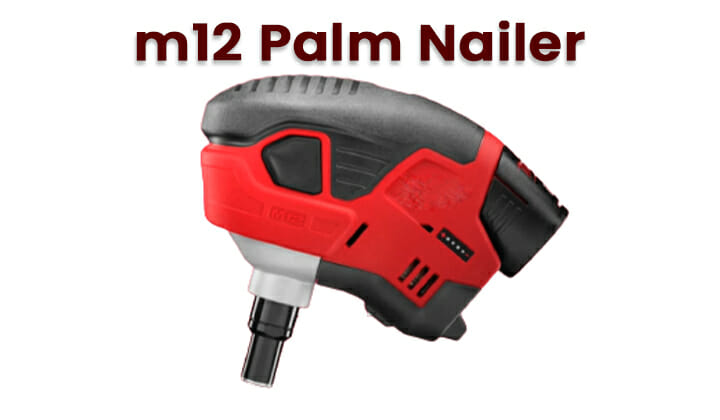 Considering the durability, overall performance, and other advanced features we have found Milwaukee M12 Palm Nailer to be a great deal for you. So, here in this Milwaukee M12 Palm Nailer Review, we are going to cover various aspects and advantages as well as the challenges that you are going to have with this deal.
Milwaukee m12 Palm Nailer Review: What's In It for You
When you are searching for the best palm nailer in the market, you must be looking for its efficient design, ergonomic grip, durability, and performance quality. And with this Milwaukee M12 palm nailer, you are going to have all these advantages including some advanced features. Let's have a look at this in detail.
1. Milwaukee 2458-20 m12 12-Volt Palm Nailer (Tool Only)
Currently, this particular palm nailer is one of the most popular for its advanced features and its durability. Some certain aspects make this palm nailer appealing to many. So, here we will be talking about the things that make this nailer exceptional and why you should choose this one over others. Let's get right into it.
Design
The ergonomic design of this palm nailer helps you to handle it quite easily. With its well-designed grip, it is more comfortable for you to hold it in your palm. And so, you can have better control over it while operating and this palm nailer saves you from hand or arm fatigue of all sorts, thanks to its rubber palm.
Weight
As you will be holding it in your palm, it needs to be lightweight for a certain limit. Usually, the lightest palm nailer weighs about 1lb or 16 ounces. Though many consumers expect their palm nailers to be bulkier than these sorts. Because when the manufacturer focuses more on losing weight, they keep compromising its features. 
But here this Milwaukee M12 weighs about 3.4 pounds which is pretty decent considering all the high-end features you are going to have with this one. Much of the weight comes from its solid metal body and metallic tip. Besides, the rechargeable 12-V battery plays a vital role here too.
Battery
As you know, this palm nailer runs on a 12-V lithium-ion battery which works pretty well and generates 2.2ft/lbs power which is enough for your nailing tasks. Also, the durability of the battery is quite satisfactory. With the 30mintues charge, you can quickly charge your battery and go back to work.
Power
When people replace their pneumatic nailers with a palm nailer, the first thing they notice is the reduced strength. But Milwaukee M12 palm nailer generates enough power to do all sorts of nailing tasks. Read more about a palm nailer and a nail gun.
From DIY projects to business purposes, this particular palm nailer works just fine. Also, the compatibility of the nailer is quite great as it allows to accommodate 6D to 16D nails.
Advanced Features
You will find a LED light that will help to work on low-light workspaces. Besides, when you will be working in tight spaces, you need extra lights as most tight spaces are quite dark. Also, there is an onboard fuel gauge and only the high-end palm nailer offers this feature.
To help you with the precision, the manufacturer has added a metallic tip feature that will assist you to do the placement of your nailing with accuracy.
Durability
When it comes to its durability, the Milwaukee M12 palm nailer knocks off its other competitor. With an efficient design and solid metallic body, this palm nailer ensures long-lasting consistent performance. 
Also, you are going to have a 5-years warranty which not only assures you of the product's durability but also reflects the manufacturer's confidence in its quality.
Challenges
This might disappoint some consumers who expect powerful nailers like the pneumatic ones in a cordless portable palm nailer form. Similarly, this mini palm nailer is less powerful than the high-end pneumatic ones. 
Besides, there is no vibration or shock absorber with this palm nailer. On the other hand, this palm nailer might come at a higher price than the regular ones. 
What's in the Package
2458-20 Palm Nailer
M12 REDLITHIUM Battery
30minute Charger
Tool Bag
Hand Strap
Frequently Asked Questions (FAQ)
What is the magazine capacity of the Milwaukee M12 palm nailer?
It does not work with magazines. Instead, it works on a fastener which makes it safer than the ones with the magazine.
Can you replace standard nailers with Milwaukee M12 palm nailers?
Although Milwaukee M12 is more powerful than regular palm nailers, you can not replace it with standard nailers. Because the palm nailers are designed for nailing where regular nailers or your mallet can not reach. But they are not strong enough for industrial purposes.
Conclusion
We have tried to mention all the aspects and drawbacks in this Milwaukee M12 palm nailer review in detail. From framing tasks to finishing, this particular palm nailer is second to none. So, you can either stick to your mallet or go for the Milwaukee M12 palm nailer and experience smooth, fast, and safe nailing all at once.