Milwaukee M18 Fuel framing nailers have a separate reputation, thanks to their cordless convenience. Enthusiasts also fall for their ability to fit between studs and solid visibility around the nose.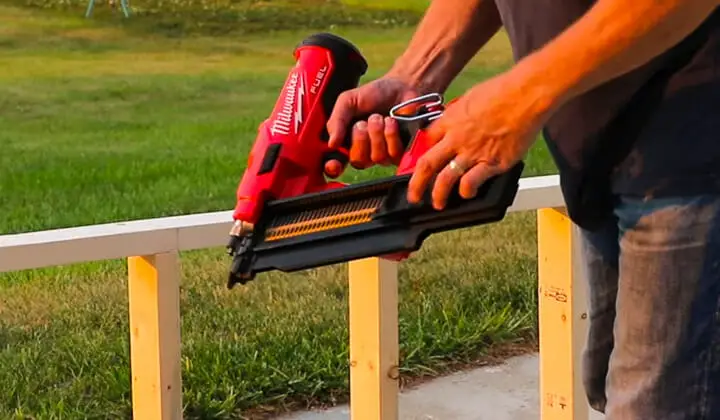 However, Milwaukee's corded nailer is not behind either. It offers more aggressive nose spurs than cordless ones. Our Milwaukee framing nailer review discusses how nailers in Milwaukee's squad stack up against each other.
Best Milwaukee Framing Nailer
Editors Choice
Nice Pick
M18 FUEL 30 Degree Framing Nailer
Milwaukee Pneumatic 3-1/2 in. 21 Degree Full Round Head Framing Nailer
Editors Choice
M18 FUEL 30 Degree Framing Nailer
Nice Pick
Milwaukee Pneumatic 3-1/2 in. 21 Degree Full Round Head Framing Nailer
1. Milwaukee M18 FUEL 30 Degree Framing Nailer
Power Source  
Depending on the source of power, framing nailers are of two types. One, being cordless, has some obvious advantages over its counterpart, the pneumatic nailer.
Pneumatic nailers take a stereotypic air-powered approach that requires air compressors and hoses to work. But as the name suggests, cordless nailers operate on batteries and focus more on the portability side.  
Milwaukee M18 30-degree, thankfully, belongs to the latter category. Thus, it is free of all the problems found on the Milwaukee Pneumatic 3-½-inch 21-degree nailer. We're talking about air compressors that are costly to buy and even costlier to maintain.
Weight and Dimensions
You never know for how long you'll have to work on a particular project. Bulky nailers can cause fatigue and eventually hamper the work pace. Though Milwaukee M18 FUEL 30-degree is not the most lightweight out there, it fits between M18 21-degree and 3-½-inch 21-degree nailers.
The M18 30-degree weighs around 9.6lbs, which increases after inserting batteries. So, it does require more elbow grease as compared to the pneumatic 21-degree nailer. Yet, it comes with a 14.1-inch height and a 4.7-inch width that feels relatively compact in hands. Thus, you are unlikely to get dog-tired operating this nailer.
Maintenance
The maintenance part again boils down to the power source. Pneumatic ones bring along expenses of costly gas cartridges and poor portability of bulky air hoses. Such issues are a far cry from cordless framing nailers like the M18 FUEL 30-degree. Thus, it gets an edge over the 3-½-inch pneumatic one.
Performance
Formerly, pneumatic or corded nailers used to have the upper hand in terms of performance. And cordless ones lagged because of their reliability on batteries. However, they are catching up to the standards, evident from Milwaukee M18 FUEL 30-degree.
With a nitrogen spring mechanism and a Power state brushless motor, it can deliver a stellar performance. It is treated or non-treated. No matter the lumber, it has enough power to sink full round head nails seamlessly. Plus, the firing speed is three nails per second, almost on par with pneumatic nailers.
Nail Collation Angle
Framing nailers are of two types based on the nail collation they accept. The first type is 30-degree that takes nails with an angle of 30° or34°. The one we are discussing belongs to this kind, offering a few advantages of its own.  
30-degree nails come with a paper strip collation that holds up to 88 pins. That is higher than the 77-nails capacity on 20°-22° plastic collated nails. Another advantage is the magazine size that makes room for two strips of fasteners. Hence, you have to reload less often.
Cons
Constantly worrying about the battery backup can be a pain in the neck. Pneumatic nailers are better in that aspect. Furthermore, the paper collation of 30-degree nails can wear out pretty soon under wet and humid conditions.
2. Milwaukee M18 FUEL™ 21 Degree Framing Nailer Kit
No products found.
Power Source   
Milwaukee M18 21-degree is also a cordless nailer. It entirely shares some of its perks with the M18 30-degree. For instance, it does not have to rely on air compressors or hoses. An M18™ REDLITHIUM™ XC5.0 battery pack is enough to power it through hours of nailing.
Best of all, it ships with the battery kit inside. You don't get it with the M18 30-degree though both nailers fall under the same lineup from Milwaukee. Therefore, this 21-degree nailer offers more value than the rest on this list.
Weight and Dimensions
Cordless nailers usually have more heft than their corded counterparts. Considering the added weight of the battery, it is justifiable too. M18 21-degree is no exception either. It weighs a little over 10 pounds, making long work sessions ever so slightly tiresome. 
Anyhow, it is on par with the 30-degree variant in terms of weight and dimensions. So, they both score the same in portability and fall behind their 3-½-inch pneumatic brother.
Maintenance
M18 21-degree is the easiest to maintain among the three. You get the battery, charger, a rafter hook, and a contractor bag inside the package itself. Needless to say, it eliminates the need for gas cartridges and hoses. Also, it has a few extra features.
First of all, it has a tool-free depth adjustment to provide the desired firing depth. It allows you to switch between contact and sequential actuation modes too. So, its adjustability is out of this world. And last but not least, a dry fire lockout prevents both the tool and the surface from getting damaged.
Performance 
The performance is identical on the 21-degree and 30-degree cordless ones. M18 21-degree compromises on neither the nitrogen spring mechanism nor the brushless Power state motor. So, rest assured that it will reach the 3-nails per second speed, competing head-to-head against the pneumatic one.
Nail Collation Angle 
Nail collation is the only significant factor to draw the line between this unit and its sibling. This one has a 21-degree system that accepts nails of 20° to 22°. These nails have a plastic collation, unlike the paper collated 30° ones. You can cramp at most 70 of these nails at a time. Thus, you will have to reload more often.
Cons 
M18 21-degree is the heaviest of the three, making it a bit hard to maneuver around. Moreover, it only accepts plastic collated nails that tend to leave tiny pieces of plastic and make the workplace messy. Note that 30° nailers have no such issues. The battery dependency will take its toll on your workflow as well.
3. Milwaukee Pneumatic 3-1/2 in. 21 Degree Full Round Head Framing Nailer
Power Source  
Unlike the previous two, this one has an air-powered mechanism to shoot nails with more strength. If you can withstand the hassles of air compressors and hoses, it's worth it. Plus, this one does not depend on battery status to deliver optimal performance. You won't have to spend on replacement batteries either.
Weight and Dimensions
As stated earlier, corded nailers are more on the lighter side. Milwaukee Pneumatic 3-½-inch weighs only 7.4lbs, whereas its cordless counterparts weigh 10lbs on average. So, using it or carrying it around is not as intimidating for the most part.  
Other than that, it has a smaller magazine when compared to the M18 30-degree. That allows for sneaking into tight nailing areas with utmost convenience.
Maintenance
As far as maintenance is concerned, it offers nearly as much convenience you get from the M18 21-degree. The only difference is you have to use gas cartridges. Apart from that, everything from dual trigger mode to depth of drive adjustment is pretty smooth sailing.
The depth adjustment is tool-free, letting you alter the firing depth without resetting the airline pressure. Above all, it has a self-cleaning air filter that keeps contaminants far while the adjustable exhaust ports drive air away. 
Performance
You will notice a slight if not considerable performance boost while switching from cordless to corded. Just like most other pneumatic nailers, this one also operates at 70 to 120 PSI. And it should deliver the optimal performance at 90 PSI, at which treated or non-treated lumber is no issue at all.
Nail Collation Angle
Like the M18 21-degree, this one also accepts 21-degree (20°-22°) full round head fasteners. Therefore, most of the upsides M18 21-degree has will also apply to it. Most importantly, 20°-22° fasteners feature plastic collation that is more durable than paper. Besides, they allow the tool to be more compact than 30-degree ones.
Cons
Some obvious drawbacks include the messy nature of plastic collated nails and the hassle of air hoses. Worst of all, you have to buy things like air compressors, air hoses, and gas cartridges on your own.  
Frequently Asked Questions
What nail size should I use with Milwaukee framing nailers?
Regardless of collation angle, Milwaukee M18 framing nailers work best with 2- 3 ½ inches fasteners. On the other hand, you cannot use anything but 3-½ inch nails for their 3-½-inch model.
Which nail head does Milwaukee framing nailers accept?
For the 30-degree variant, you can use both clipped head and full round offset head fasteners. However, use full round head nails only when it comes to the 21-degree models, whether corded or cordless.
Conclusion
Here's one last tip to conclude our Milwaukee framing nailer review. The only nailer to feature a self-cleaning air filter is the 3-½-inch pneumatic unit. Therefore, keeping dirt and debris away will become your duty if you pick any of the others. Use lubricants (if necessary) and wipe clean the air inlet alongside the filter to get a butter-smooth performance.