When cordless brad nailers first came out, people were pretty skeptical if they could replace the pneumatic ones. But fast forward a couple of years, and we got some excellent tools like the 18-gauge brad nailer from Milwaukee. It can even outperform the pneumatic performance with a bonus of cordless convenience.
We are not exaggerating a bit. You can literally achieve a nailing speed of up to 3 nails per second with this battery-powered beast. Yet, it has a zero ramp-up time. Learn more on what it has to offer in our dedicated Milwaukee brad nailer review.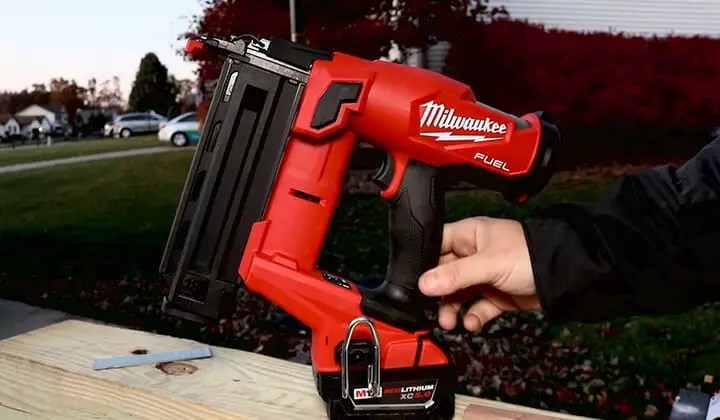 Expert Handpicked Milwaukee Brad Nailer Review  
1. Milwaukee 2746-20 M18 FUEL 18 Gauge Brad Nailer (Tool Only)
Maneuverability
The first thing anyone would want from a cordless nailer is top-class maneuverability. Therefore, a compact footprint alongside lightweight housing is a must. This 18-gauge nailer won't let you down, given it has a cramped design. Hence, it offers excellent portability, paired with a reversible rafter hook.
Performance
Professional remodelers and carpenters need the highest performance that was formerly achievable with corded nailers only. However, the performance Milwaukee 2746-20 M18 delivers is on par, if not better, than pneumatic nailers. The credit goes to its Power state brushless motor that fires up to 3 nails per second.
Best of all, it can retain the proper depth of drive whether the wooden surface is soft or hard. Moreover, the nail holes it leaves are also pretty clean and match the nail heads accordingly. Its advanced nitrogen spring mechanism is the one to thank for delivering such a seamless experience.  
Efficiency
We call a brad nailer efficient if it retains its firing rate for an extended period with a minimum ramp-up time. For those who don't know what ramp-up time is, it stands for the delay between trigger pull and nail fire. Most cordless brad nailers, including Makita, need some ramp-up time to leave proper nail holes.
Surprisingly, the brushless motor and a REDLINK PLUS technology let Milwaukee M18 brad nailer keep its firing rate intact with zero ramp-up time. Hence, it is one of the most efficient out there.
Versatility
For being versatile, brad nailers must bring features like tool-free depth adjustment and dual trigger modes. While depth adjustment provides the required firing depth for all your projects, variable trigger modes help select your pace. You can opt for either the sequential actuation to get a better finish or contact mode to bump-fire nails.
Either way, the M18 Fuel brad nailer won't disappoint since it lets you switch between the trigger modes seamlessly. And as far as depth adjustment is concerned, it requires no additional tools yet does a great job. Therefore, you can tweak its settings anytime as per your project requirements.
Convenience
Things like line of sight, portability, belt hooks, and dry fire lockout work together to offer an enhanced user experience. With Milwaukee 2746-20 M18, you get full independence from the cost and hassles associated with gas cartridges. It comes with a tool-free latch for jam clearing as well.
Other than that, this compact tool offers a clear line of sight to make sure you achieve accurate nail placement each time. The small footprint also provides convenient access to hard-to-reach corners and tight areas. And last but not least, it has a dry fire lockout mechanism to keep itself as well as the surface damage-free.
Cons
Milwaukee 2746-20 M18 is not the most lightweight you'll come across. While pneumatic nailers stay well under 5lbs, it weighs 6.3lbs. Though the weight feels pretty well-spread throughout its body, inserting the battery will only make things worse. Hence, it is likely to cause some fatigue during prolonged usage.
Frequently Asked Questions
How Much Runtime to Expect From the Milwaukee Brad Nailer? 
On 2 hours of battery charge, you can expect the Milwaukee 2746-20 M18 brad nailer to drive as many as 1500 fasteners.
How to Read Actuation Modes From the LED Indicator on Milwaukee 2746-20 m18 Brad Nailer?
If the LED is not flashing and showing the color green, the tool is in sequential actuation mode. And when it starts to blink and flash the green color continuously, the contact actuation mode is on.
Bottom Line
The Milwaukee brad nailer operates on an M18 REDLITHIUM battery pack from its parent company. Using a third-party power source from any infamous generic brand can cause severe damages to its circuits. Besides, this nailer has sealed compressed nitrogen inside. So, do not try to lubricate it with pneumatic tool oil.