Considering the price point, AF601 brings a lot of cool features to the table. Things like dual trigger modes, a built-in air duster, and a 3-year warranty will catch your eyes no matter what. Anyhow, what the specs showcase can't always determine real-life usability. Hence, our Makita AF601 review is here to help you see the bigger picture.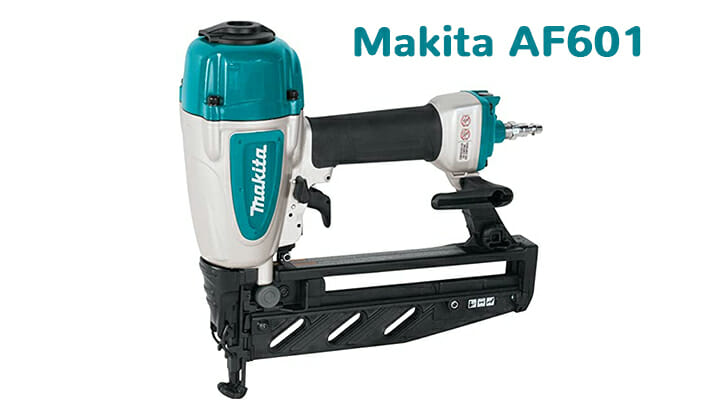 Makita AF601 16 Gauge, 2-1/2″ Straight Finish Nailer
Maneuverability
The portability of a finish nailer relies on two factors, weight and material. The typical material choice for nailers of any sort had long been either stainless steel or aluminum. Despite being sturdy, neither of them had what it takes to keep the weight minimum. That's why a 30% more lightweight magnesium is taking on.
Makita also went with magnesium and pulled it off by keeping the weight at only 3.8lbs. Consequently, AF601 feels so light in the hands that day-long nailing sessions feel like a breeze. Besides, this compact tool comes with a reversible belt hook to make sure it stays near you whenever the need arises.
Performance
Most finish nailers like Dewalt D51257K and Porter Cable FN250C offer almost similar values in terms of driving depth or firing rate. Thus, what draws the line is motor efficiency. Makita AF601 nails it in that aspect, as its highly efficient motor consumes less power yet delivers top-notch performance.
Versatility
Convenient depth of drive adjustment is a must for finish nailers to ensure a pinpoint flush and countersink finish. With AF601, adjusting the depth of drive is a piece of cake. That is because it requires no additional tools for the adjustment. So, you can count on it regardless of project requirements.
Other than that, its powerful motor can drive standard 16GA straight finish nails with a length of 1 to 2-½ inches. Whether it is flooring, trim work, crown molding, or baseboard installation that you want, this tool will never fall flat. Above all, it even lets you switch back and forth between contact and sequential actuation.  
Surface Care
Delicate wooden surfaces are prone to damages while using a finish nailer without no-mar tips. Therefore, Makita provides two no-mar tips inside the package to make sure you get a scratch-free nailing experience. Besides, it comprises housing bumpers for protecting both itself and the work surface from damages.
Convenience
Dirt and debris on the nailer's nose can harm the overall aesthetic of the nailing surface while resulting in faulty nail extraction. It is pretty usual for nailers that require frequent lubrication. However, Makita AF601 handles this situation pretty efficiently by enabling tool-less cleaning for its nose tip.
Best of all, this tool can clear your workspace in a snap since it comes with a built-in air duster. It provides convenient airflow whenever you need it. That is something you don't get to see on even some high-end finish nailers.
Safety
Functions that make a pneumatic nailer safe include good air exhaustion and a nail lockout mechanism. As for air exhaustion, AF601 features a multi-directional air exhaust port. It makes sure the exhaust air always diverts away from your body.
While most brands ditch the lockout system in exchange for a low nail indicator, AF601 held on to it. Whenever the tool is running low on nails, it will stop firing to avoid any internal damage. This feature also reduces the chance of dry fires, keeping the work surface safe.
Cons
One thing that many users will find annoying is how frequently this tool requires oiling. Excess oil can also leave stains on the nailing surface. Furthermore, the rear loading mechanism is a hit and miss though its advent in the market refers to convenient reloading. The nails don't slide down that easily and require some effort. So there's that.
Frequently Asked Questions
1. What is the minimum air delivery required for Makita AF601?
According to Makita, a minimum of 2.7 SCFM air delivery at 90 PSI is required for AF601 to operate at its best form. However, you are free to let it fluctuate between 70 to 120 PSI depending on your air compressor.
2. Can I use Dewalt finish nails with Makita AF601?
Yes, you can as long as they are 16 gauge and have a length between 1 to 2-½ inches. Besides, remember that AF601 only accepts straight finish nails, unlike some models that are okay with angled ones.
Conclusion
Except for a few minor issues, Makita AF601 is a complete package for any woodworking application. It might sometimes feel a bit intimidating to upkeep. But as long as you keep it lubricated before and after use, it won't leave any scope for objections.