This 18-gauge brad nailer is a lightweight tool designed to handle small carpentry and framing works you are likely to encounter within your home.
A pneumatic nailer by design, this effective tool ensures that you have the best machine for any type of carpentry work or cabinet installation in the household. It has been described by many users as a convenient handy tool to have at home.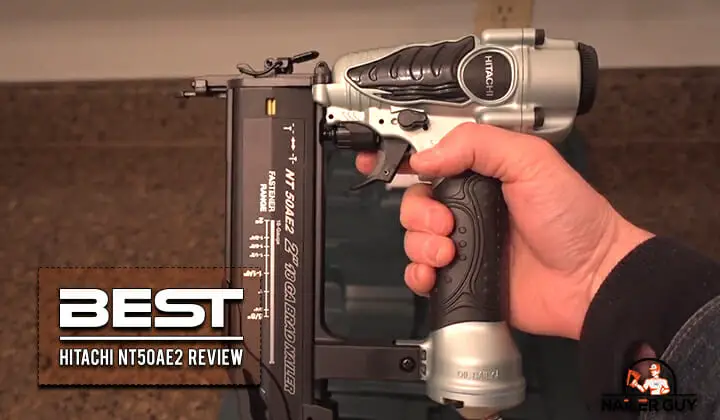 You will also be impressed with the arrays of features that come with the product.
Hitachi NT50AE2 Review
Your nail gun is to ensure that you live a more comfortable life. Hitachi NT50AE2 is one brad nailer that you can count on for numerous construction and carpentry works within the house.
This is the perfect substitute for most heavy-duty framing nailers that come with huge prices. Here are the features of the tool that makes it a top-quality product.
Adjustable Depth
The nailer comes with depth adjustment that makes it versatile to work with numerous surfaces. You can use your nailer on tough surfaces such as maple and oaks. It is also perfect for lighter surfaces – showing the versatility of the product.
The adjustable depth knob is also located at a convenient point – near the nose where you can turn the knob and make the modifications you desire with accuracy.  
Adjustable Exhaust
The product comes with an adjustable exhaust that allows you to aim at directions suited to the work at hand. These particular features make it a favorite for DIY users that encounter different angles and are not comfortable with the fixed exhaust.
Five Year Warranty
The five-year warranty that comes with the product sums up just how much of a top-quality nailer it is. The warranty covers normal defects that arise from poor packaging and other defects made by the manufacturer.
Durable Aluminum Core
HITACHI NT50AE2 was made from a high-quality aluminum core – and this is responsible for the lightweight feel of the product. The material is also responsible for the durability of the brad nailer. It is almost impossible to find more durable brad nailers than this particular tool.
This is another testament to the fact that it is truly a top-quality product.
Dual Firing Mode
It is always best to have options in your firing mode. Nobody wants a brad nailer that has only one firing mode, which may not even be suitable for most carpentry work in their household. This results in having to purchase another tool.
With the HITACHI NT50AE2, you get two firing modes. It comes with continuous and intermittent firing modes.
For the task that requires a high degree of accuracy and attention to detail, the intermittent mode is ideal. It gives you the focus to handle such tasks.
The continuous mode is perfect for tasks that require a little bit of precision but more speed. There are some carpentry works that are needed to do with speed and urgency – and in HITACHI NT50AE2, you have just the brad nailer for the job.
High Capacity Magazine
The benefit of having a high-capacity magazine is that you won't have to suffer the stress of loading and reloading nails frequently. This tool has the capacity to hold up to 100 brad nails; a number that is more than enough to carry out most of the work within the house.
Magazine Indicator 
The brad nailer also comes with a magazine indicator that shows how many nails you have left. The indicator is highly visible and helps you take notice of when your nails are running out. This is another feature of the product aimed at giving you great ease of use.
Pros
It is lightweight – meaning it is easy to carry, handle and use for an extended period of time.
It ensures that little damage is done to your woods, especially light and delicate woods that are often damaged by heavy-duty nailers.
It gives a high degree of accuracy.
It comes with a 5-year warranty
Cons
It is not recommendable to use with large and thick woods/cabinets.
It requires buying an air pump, which comes at an extra cost for you.
Doesn't shoot at any angle, you have to shoot straight.
Conclusion
The Hitachi NT50AE2 is an effective handy tool that can do most basic carpentry works within the home. However, it cannot be used by professionals and contractors. If you are looking for a budget-friendly and effective nailer to use at home, this would be a decent option.