We saw a number of incremental upgrades over the Hitachi NR83A3 since its launch back in 2013. Its latest iteration is undoubtedly a powerhouse, given it can shoot 3 nails every second. Besides, a rugged footprint, adjustable depth of drive, and selective actuation make it a complete package.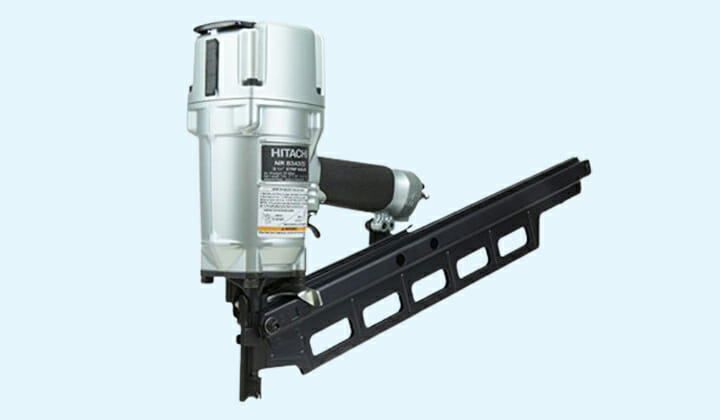 Though it is by no means the most lightweight pneumatic framing nailer in the market, its in-hand feel is excellent. However, there are many options out there that will cost you a lot less. So, does it justify its asking price? Find out in our Hitachi NR83A3 review.
An Overview of Hitachi NR83A3
Hitachi NR83A3 2 Inch to 3-1/4-Inch Plastic Collated Full Round Head Framing Nailer with Tool-Less Depth Adjustment
Adaptability
A framing nailer with adjustable depth of drive is a must to work on depth-varying projects. And with Hitachi NR83A3, you can control the depth of drive with no additional tools whatsoever. Whereas other models might let you adjust, but the process won't be entirely tool-less.
Another feature that adds up to the overall adaptability is selective actuation. It lets you choose the required mode depending on the nature of your project. This feature is not only present on the Hitachi NR83A3 but also ANSI compliant. That means the transition between single and contact actuation will be as swift as it gets. 
Ease of Use
Though framing nailers are ought to be bulky, they don't necessarily have to be tiresome to use. Hitachi NR83A3 is an example of that since it comes with a thick rubber coating on the handle. It provides you a secure yet comfortable grip with little if not zero fatigue over prolonged nailing sessions.
Other features that enhance the user experience include a rear loading mechanism with a 2-piece steel magazine. Unlike typical nail guns with side-loaded magazines, this implementation requires minimal effort to replenish nails. Besides, there's this open nose design that makes extracting jammed nails a piece of cake.  
Performance
In terms of performance, what matters most is the driving speed. The faster, the better. How Hitachi NR83A3 performs in that department is commendable, as it shoots up to 3 nails per second. So, you can complete even the lengthiest of your projects in a fraction of the estimated time.
Most importantly, it won't fall flat in terms of driving depth either. This tool is powerful enough to work on both treated and non-treated lumber. Despite such speed and power, it requires around 70 to 120 PSI to operate. Therefore, you can pick up any regular air compressor and get the job done in no time.
Durability
Though pneumatic nailers are usually sturdy, those from NuMax and Porter-Cable are somewhat weak near the edge. That is because they feature no-mar tips for surface care. On the contrary, Hitachi NR83A3 has a hardened toenail for more durability. The solid pointy toe is less prone to wear, although it may reduce grip over some surfaces.
Weight and Maneuverability
An obvious downside of pneumatic nailers is the hefty footprint. NR83A3 is also a bit heavy, weighing 8.6lbs. However, Hitachi did a great job in weight distribution. In fact, the weight balance on NR83A3 makes it feel almost as light as the 7.3lbs Porter-Cable FR350B. So, maneuvering this beast won't be a pain in the neck.
Frequently Asked Questions
Can I use wire weld 2-½ inches nails on Hitachi NR83A3? 
Although the nail size is within the range of NR83A3, Hitachi prescribes to use plastic collated nails with it. Using wire weld nails can jam the nailer, and thus we don't recommend doing so.
Where else can I use Hitachi NR83A3 other than floor and wall framing? 
Hitachi NR83A3 is versatile to such an extent that you can use it for tasks like truss build-up, roof decking, subflooring, sheathing, and similar renovations.
Wrapping Up
As you can see from the Hitachi NR83A3 review, it is not entirely void of caveats. We can't deny the fact that it's a bit overpriced and somewhat overkill for most carpenters. But if you can afford it, NR83A3 will last you a lifetime. And do use a compressor with 100-120 PSI support to get the most out of this pneumatic beast.