Do you know how nail guns came into being? A group of men who fought in the world war used their experience of using machine guns and got the basis for creating a weapon to drive nails. No wonder that the design and work process of a nailer is similar to the firearms.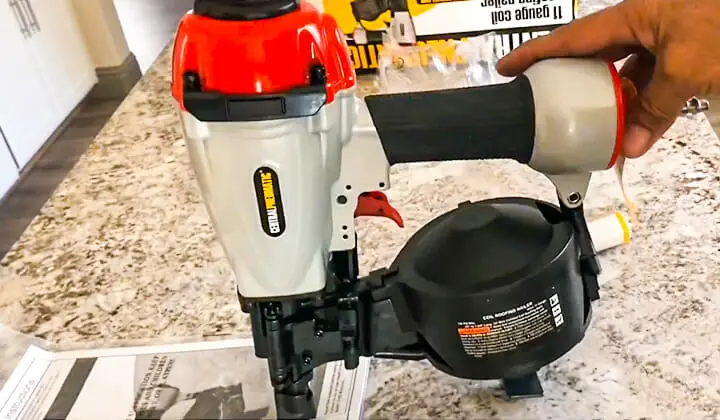 To finish roofing jobs perfectly, you need a perfect nailer for your job. I suggest Harbor Freight 15° coil roofing nailer since it offers more safety, strength, and more accessories! Choose your ideal nailer from this Harbor Freight Roofing Nailer Review, and enjoy your rides to the rooftops!
Find Your Roofing Pal | Harbor Freight Roofing Nailer Review 
Harbor Freight company offers some best coil roofing nailers with premium quality. In this section, two of the best nailers are recapped for your convenience. 
1. Harbor Freight 15° Coil Roofing Nailer
Harbor Freight 15° coil roofing nailer is a reliable tool that can handle all types of asphalt shingles and tar paper. It comes with an ergonomic design to relieve you from fatigue. There are other traits of this nailer, let's know from in this segment.
Fastener and magazine
Each of the nailers works with its particular nail gauge size and nail lengths. The broader the accepted nail length range is, the more jobs you can do with your nail gun. This nailer accepts 11 gauge roofing nails with lengths ranging from 3/4 inch to 1-3/4 inches.
Magazine stores the fasteners to save your time. A magazine with a large capacity and easy reloading option is the best one. This nailer comes with a magazine that is angeled to 15° for fast reloading and holds up to 120 nails.
Power Source 
Usually, a nailer can have three power sources: air compressor, battery, and electricity. Among them, the pneumatic or air nailer is more popular. It's inexpensive and provides more strength to shoot nails. 
Although this type of nail gun is not cordless, which is inconvenient and a bit risky for roofing jobs, this coil roofing nailer of Harbor Freight brand is also an air nailer. 
Depth Adjustment 
The depth control mechanism automatically adjusts different lengths of nails according to your needs. You can control how deep the pin will be placed on the workpiece by the depth adjustment feature. Luckily, this adjustable depth of drive control mechanism exists on this nail gun.
Firing Mode
Roofing nailers typically have two firing modes, single action or sequential mode and bump or contact modes. In sequential mode, one nail will be shooted per trigger pulling. Here is a comprehensive guide that can help you in this regard.
But in bump mode, your nail gun will only drive nails if the head of the tool comes in contact with the work surface after pulling the trigger. This model of the nailer comes with both of the firing modes for better functionality. You can easily switch between these two firing mechanisms fast.
Safety features
This rugged nailer has hardened steel for safety purposes and carbide insert wear guards on all critical points. It ensures durability and longer life of your tool. Always read the user manual and follow the instructions properly. 
Accessories
You will get extra accessories along with the nailer body for emergency or regular uses in many cases. Thankfully, this Harbor Freight nail gun is one of them. You will get hex wrenches and a sequential trigger conversion kit with the nailer.
Price 
Price matters a lot, especially if you are on a low budget. But you should go for the best nailers, even if they cost a fortune. If you get a low-quality item at a low price, it will stop working soon, and things will cost more in the long run. This nailer is expensive than the latter. But its quality and benefits outweigh the price.
2. Harbor Freight 11 Gauge Coil Roofing Air Nailer
Harbor Freight introduces another coil roofing nailer that can drive nails fast and hard on tar paper and all kinds of roofing materials. Let's see what other aspects this nail gun has.
Fastener and magazine
To cover all kinds of roof jobs, you need a nail gun that supports the full range of roofing nailer lengths. This tool also works with 11 gauge nails with measurements betwixt 3/4 inch and 1-3/4 inch, similar to the previous nailer. Besides, the magazine can hold the same amount of nails and the magazine angle is 15° to refill quickly.
Power Source 
Air nailers can shoot nails better and cheaper than others. That's why most people go for them. This model of the nailer is no different. It is powered by compressed air. This tool requires working pressure of 70-120 psi which can be achieved by any inexpensive ai compressor.
Depth Adjustment 
On per with the first nail gun, this nailer can also control the desired depth of the fasteners on the work surface by its depth adjustment method. The depth controlling wheel is small and located near the nose tip, check and set the depth you want very carefully.
Firing Mode
Resembling the other nailer, this one also features both the sequential and bump modes. Use the modes appropriately for better results. 
When you are doing works that require shorter nails, such as boarding, the bump mode is recommended. And for longer nails, the sequential mode is better since they are more prone to be misplaced.
Safety features
Just like the last nail gun, this nailer has a protective feature in its tool body. It has steel contact safety with dual carbide inserts that ensures minor wear and tear.
Even though the nailer is safe from damage, it may cause fatal harm to you! This nail gun can expose you to chemicals, including the carcinogenic material Lead, which can also cause congenital disabilities or other reproductive harm. This is why it's crucial to use protective covers to not be exposed to those elements.
Accessories
You will also get some accessories with this nailer, which are not entirely the same as the first nail gun. There are hex wrenches, safety goggles, and a bottle of oil to lubricate inside the nailer to prevent rust and corrosion. 
Price 
As this item is a clearance item, it cost lesser than the actual price. The actual price is also less than the previous nail gun. However, this tool is not available in all states.
Frequently Asked Questions (FAQ) 
1. How to use a roofing nailer as a newbie?
Before beginning any task, wear eye and hand protection first. Set the firing mode and test-fire the nailer a few times to check if the tool is good to go. Adjust the depth of the nails. Always lock the trigger and unplug the power source when you are not working. 
2. Do I need to lubricate my roofing nailer?
Yes, a roofing nail gun requires regular lubrication. If you don't lubricate your tool regularly, the parts inside can get corroded fast. As a consequence, it will form rust. It will also keep jamming a lot for the lack of lubrication.
3. Between roofing nailer vs. framing nailer, which one should I buy?
It depends on the type of your work. A roofing nailer is for medium-duty roofing works such as installing shingles. But framing nailers deal with heavy-duty jobs. Buy the one that matches your job, but having both of them will be better.
Final Verdict
Both of the nailers offer almost the same work results and productivity. That's why I recommend you buy the 15° coil roofing nailer. Enjoy using it for decades and its proper kit, even if it's pricey. But if you need a more reasonable option, make sure to use gloves and avoid any direct contact to be safe from its carcinogenic materials.