Since this is the age of bleeding-edge technology, thousands of gadgets are invented to make our work easier and save time. It's a blessing to have these machines. We need to use pins and nails in almost everything we make. But hammering the pins is not an easy task.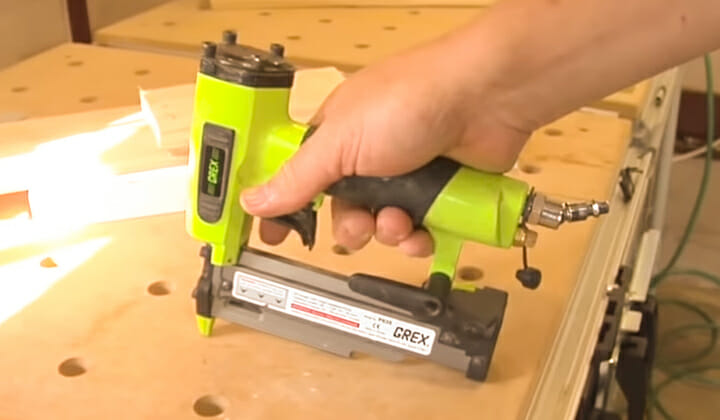 To do this job of pinning swiftly and correctly without destroying the workpiece or the fastener, a pin nailer is a must. But using a low-quality nailer is not safe at all, you should buy a product from top brands. With this Grex pin nailer review, you will get to know premium nailers of the top brand Grex. Let's get acquainted!
Editors Choice
Best Buy
Grex P635 23 Gauge 1-3/8-Inch Length Headless Pinner
Grex P630 3/8'' to 1-3/16'' 23 GA Pin Nailer
Editors Choice
Grex P635 23 Gauge 1-3/8-Inch Length Headless Pinner
Best Buy
Grex P630 3/8'' to 1-3/16'' 23 GA Pin Nailer
Way to Find the Best Nailer with Grex Pin Nailer Review 
Even if you are a pro, you need to research thoroughly about the things you are buying unless you are okay with a shabby product. But the internet can confuse you with contradictory information. To assist you, we have gathered authentic data about the two best pin nailers in this section.
1. Grex P635 Pin Nailer Review
Fastener Size
The first few things you need to notice about a good pin nailer are which gauge pin it is for and if it accepts the widest possible range of pin sizes. The wider the range is, the more types of projects you can be working on.
Grex P365 nailer is for 23 gauge pins, and the fastener range it welcomes is from 38 to 138 inches.
Magazine Capacity 
Magazine stores fasteners for you. When you have to drive a lot of nails in a row, you won't have to refill pins one by one. Reloading is time-consuming and can affect your workflow. If you buy a nailer with a larger magazine, it can hold enough pins for medium-scale works. 
For a decent workflow, your magazine should be able to hold at least 100 micro pins. This model of the Grex nailer can also hold up to 100 pin nails.
Depth Control 
When you are working with pins with different lengths or you want the same pin to drive into different lengths of your workpiece, you need a nail gun with a depth adjustment feature. Sadly, this Grex P635 model doesn't have depth in feature.
If you are buying nailers for different types of works including delicate or detailing work, you better avoid buying this nailer as it can damage your works. But if you are buying it for a specific job or normal usage, you can go for this pin nailer.
Power Source
In the case of power sources, pin nailers are two types, Electric, and pneumatic. Both of them have their advantages and drawbacks. Most of the nailers are generally pneumatic or air-powered. They are cheaper, don't need electricity, and have no hassle with cords.  
Being the best cordless pin nailer, Grex P635 is also pneumatic, needs only 70 to 120 psi operating pressure.  
Nose & Handle Design 
A slender nose design is a must for reaching tight corners where an ergonomic handle design reduces hand fatigue and helps you to work for a long time.
Safety Feature 
Grex P365 comes with a double trigger feature that does a good job of preventing accidental firing. The rear exhaust of the nailer keeps the noise minimum protecting your ear and disturbing others. A removable mar tip is provided that prevents damaging your finished projects or the nose tip. 
Warranty, Durability, and Price
The warranty of a product certifies its durability. The more durable it is, the longer the warranty period will be. Usually, durable products are expensive, but the workability is worth that money.
You will get 7 years of warranty with this pin nailer, so there's no question about its sturdiness. It is also more expensive than the other pin nailer.
2. Grex p630 3/8" to 1-3/16" 23 GA Pin Nailer
Fastener Size
Grex P630 is also a nailer for 23 gauge pins which is as small as a needle. But this nailer doesn't accept all the pin lengths the previous nailer can work with. The range is a bit compact, from 38 to 1316 inches.
Magazine Capacity 
The nail capacity of this pin nailer magazine is 1 strip, which is almost 100 pins just like the above pin nailer.
Depth Adjustment 
Just like the previous model, this one doesn't have the depth control feature too. But for the patented design of both of the models, different lengths of fasteners can be used. Although driving length cannot be adjusted.
As depth controlling is a very crucial feature, if you want to work with different materials or different sizes of pins, you must buy a nail gun that has this option.
Power Source
This model of pin nailer is also powered by compressed air. As it requires only 60-100 psi pressure, there's no need for a costly air compressor.
Nose & Grip Design 
To reach tight corners, the nose of the nailer must be narrow. And to relieve you from hand fatigue, the handle should be comfy. This Grex P630 has a slim nose and soft grip for better help with these problems.
Safety Feature 
For a safer experience, this model comes with a double trigger feature, removable nose cover, and sideloading option. These aspects help your tool from accidental fire, clear jams, and prevent fasteners from falling. 
Price and Warranty 
Grex P630 is the best pin nailer for the money as it is inexpensive enough. You will get a one-year warranty with it. Since this model is the older version, it's not built with upgraded materials like the previous nailer, which makes it less durable.
Frequently Asked Questions (FAQ)
1. What is the difference between pin nailer and finish nailer?
Between pin nailer vs finish nailer, the differences they have are in their trigger modes and magazine capacity. Typically, the pin nailer has only one trigger mode and the magazine capacity is higher. Contrarily, the finish nailer has multiple modes and lesser magazine capacity. 
2. Can there be multiple triggers in a pin nailer?
Yes, for safety reasons some lavish pin nailers have another trigger that needs to be pulled in before you can shoot with the main trigger.
Final Verdict
Since both of the product here is almost identical, you may be wondering which one is the best choice. From the Grex P635 review, we can say this is the best choice if you are a professional and want to use it roughly for a very long time. You can also grab the other model for ordinary tasks. The choice is yours!