Founded back in 1905, Freeman has been delivering us with remarkable products and tools for over a decade. And their newest nail gun, the PFR2190, is arguably the best nail gun they have come up with till this date. So, if you want excellent performance, brilliant longevity, and efficiency, this is the nail gun for you!
Our article, the Freeman PFR2190 review, has been completely focused on giving all the facts that you need to know about the product. And for that, the article comes with a detailed section that tells you all the features that this item holds.
In addition to that, the pros and cons section has been included, which gives you a much clearer idea regarding the product. So, without further ado, let's get started.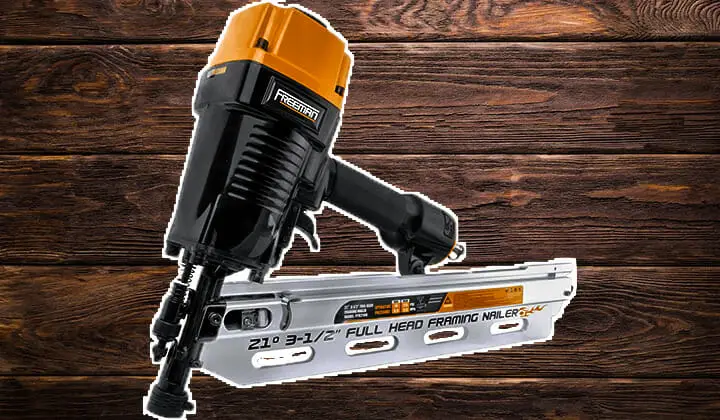 Overview
First and foremost, the PFR2190 comes with a complete set of 21-degree collated full-head framing nails. Thus, it keeps the gun loaded for work all the time. Plus, the lightweight and compact build of the nail gun gives you exceptional mobility, allowing you superior reach as well as versatility.
Also, due to its compact structure, storing the tool in your garage, workshop, car-trunk is a much more effortless task. Along with all of these, it comes with a reliable and longlasting body, making it a great one-time investment.
And you can shift between the single-shot or quick-fire function quite effortlessly because of its quick and innovative interchangeable trigger system. Furthermore, unlike conventional nail guns that have limited functionality, this one comes with great features that provide the flexibility to do all kinds of work.
In addition to all these, the product comes with outstanding ergonomics that offer you a comfortable grip. Also, due to the design, the tool provides you superior stability and thus, ensuring you get optimum results every time you use it.
Key Features
Here we have the most important features of the Freeman nailer;
Versatility
The frame gun comes with a tool-free finger depth feature and no-mar tips. These offer you a phenomenal sturdiness and hence, enable you to do all kinds of work starting from wall-sheathing, framing, subfloor installations, pallet building, assembling woodbox, fencing, side installations, and many more.
Ergo, whatever job you have at hand, this one can do it!
Sturdiness
A weak frame gun can be dangerous and can prevent you from getting your job done nicely. However, with Freeman's product, this is never an issue! The tool is made of magnesium, and this gives it the added strength and longevity to perform rigorous operations without you having to worry about it breaking.
Nails
On purchasing the framing gun, you get a whole set of 21-degree collated full-head nails. Hence you can keep the magazine loaded and ready for you. If you are wondering about the range of nails this gun is compatible with, then we have some great news for you!
The nail gun is compatible with 20-degree to 22-degree nails, and the magazine can hold 2 to 3.5-inch nails. And we assure you that you can buy an abundant amount of such nails from any supermarket's tool section.
Others
Well, this framing nailer comes with a few more exceptional features. One of them is its lightweight and compact build. Due to these, maneuvering the item in the way you want has been made simple and easy. Therefore, it lets you get your job done with minimum inconvenience.
Besides, its compact dimensions let's you stash the item anywhere you want in your garage, workshop, etc. with minimum effort. Another notable feature is that this tool has is its swift-substitutable trigger. And therefore, it permits you to change between the quick-fire mode and single-shot mode with exceptional efficiency.
Pros
Build to provide exceptional performance and efficiency
Comfortable and stable handle gives you a steadier working experience
As it is made from a durable material, it is a great one-time investment
The magazine can hold up to 20 to 22-degree and 2 to 3.5-inch nails
Cons
The O-rings need constant lubrication for the tool to work properly
Frequently Asked Questions (FAQs)
Below are some of the most commonly asked queries regarding the Freeman nailer;
Q: What is the minimum PSI pressure?
Ans: The minimum pressure that this gun requires to function is 70 PSI. So, any compressor that is capable of exerting 70 PSI or more can be used to operate the item.
Q: Does the one come with a spike tip for toenailing?
Ans: It does! When the rubber protector comes off when the compressor clamp is removed. Thus, it reveals the spike tips.
Q: What is the maximum diameter that the nail gun is compatible with?
Ans: Well, the PFR2190 requires nails within a range of 113 to 131 inches.
Q: How do I unjam the item if a nail gets stuck?
Ans: Begin by detaching the air hose. After that, use a needle nosed-plier to dig out the jammed nail.
Final Words
If you are looking for a versatile framing gun that offers top-notch service and performance, optimum efficiency, and much more, then this product is a perfect option for you!
I hope that our Freeman PFR2190 review could help you out. If you have any queries, let us know down below.
You May Also Review