Freeman PCN65 is the best investment to make your siding projects stand out. No matter how bold this claim sounds, it eventually turns out to be true. Especially if you have a cement siding project in hand, it will deliver a stellar performance. In this Freeman PCN65 review, we describe how this 15-degree coil siding nailer simply nails it.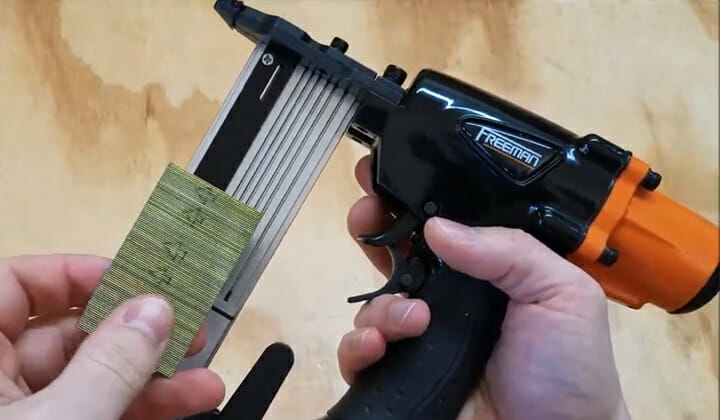 Freeman PCN65 Pneumatic 15 Degree 2-1/2″ Coil Siding Nailer Ergonomic and Lightweight Nail Gun 
Build Quality
With its rugged yet lightweight nature, magnesium is slowly taking on materials like steel and aluminum. It is also evident from popular nailers in the market. Luckily, Freeman PCN65, with its magnesium body, catches up on that trend too. As a result, it offers excellent durability no matter the working condition.
At 5.5lbs, it is more on the heavier side, whereas rivals like B&C Eagle CN65SP and Metabo HPT NV65AH2 weigh below 5lbs. Yet, the extra weight is somewhat justifiable as it features a durable anodized aluminum cylinder. Plus, its one-piece drive blade is sturdy enough to operate flawlessly throughout the years to come. 
Performance
Most siding nailers like Metabo HPT NV65AH2 have a magazine capacity of 200 to 300 nails. On the contrary, the magazine capacity of Freeman PCN65 can go all the way up to 400 fasteners. Now, pair that number with its bump fire trigger, and a single reload will get you through a chunk of your projects.
Versatility
Like any other pneumatic siding nailer, the operating pressure of Freeman PCN65 is 70 to 110 PSI. Hence, you can connect any of your static or portable air compressors to get the best results. Besides, this versatile tool can simultaneously work on siding, roof and sheathing, fencing, and even cedar shingles.  
Other than that, it is compatible with a wide range of nails regardless of the type of collation. Although the angle of the fasteners has to be 15-degree, you can swap 1-¼ to 2-½-inch plastic collated nails with the 1-¾ to 2-½-inch wire collated ones. But you don't get support for 16-degree siding nails, unlike Metabo HPT NV65AH2.
Safety
Freeman PCN65 brings several safety measures, such as trigger lock, no-mar tip, 360° adjustable exhaust ports, and anti-dust cap. The trigger lock avoids misfires while the exhaust ports direct air away from your face, keeping you safe.  
At the same time, the no-mar tip saves work surfaces from dents, letting the anti-dust cap stop debris from damaging the tool. Note that competitors like Metabo HPT NV65AH2 try to get away with no-mar tips and air deflectors only.  
Ease of Use
First of all, Freeman PCN65 comes with a traditional side-loading mechanism for easy and quick reloading. Though many brands nowadays have bottom or rear-loading magazines, a side-load system is a more convenient approach.  
Secondly, the depth of drive adjustment on this tool is entirely tool-free. All you have to do is use your fingers to achieve the perfect firing depth for your siding projects. Moreover, its comfortable handle reduces fatigue and puts you in control. Lastly, there is a belt hook to carry the tool while keeping your hands free.
Cons
One drawback you have probably noticed is the weight of this unit. Although it has commendable ergonomics, there is still scope for improvements. Besides, there could have been an option for easy switching between trigger modes. Although it's not that big of an issue, rivals like Metabo HPT NV65AH2 are offering it.
Frequently Asked Questions
Can I use the Freeman PCN65 coil siding nailer for roofing? 
Other than siding jobs, PCN65 can tackle cedar shingles, sheathing, fencing, and also roofing. So, the answer is a resounding yes.
Is it okay to use brad nails for siding? 
I'm afraid not. Aside from the infamous holding power, brad nails tend to leave more than one hole for each driving. As a result, they are not the ideal choice for regular siding, let alone hard-cement siding.
Bottom Line
From our Freeman PCN65 review, one thing is clear for sure. That is, Freeman has made no compromises whatsoever when it comes to the safety side of things. In fact, they have included a pair of safety goggles inside the package. And they are of pretty good quality, which we do recommend you to use for safety purposes.