Whether it's for a DIY project at home or for professional use, we all know that owning a good-quality nail gun will always help you get products with a better finish. Nail guns that are not strong enough might result in wonky holes and scratches on your wood or whatever material you're working with.
A nail gun that is loved by all for being the most powerful and easy to use is the DeWalt DWFP 12231. This is one of the best nail guns that you'll get in the market.
And so, in this DeWalt DWFP 12231 review, we are going to discuss all the features and functions of this tool so that you can get familiar with the product before your purchase.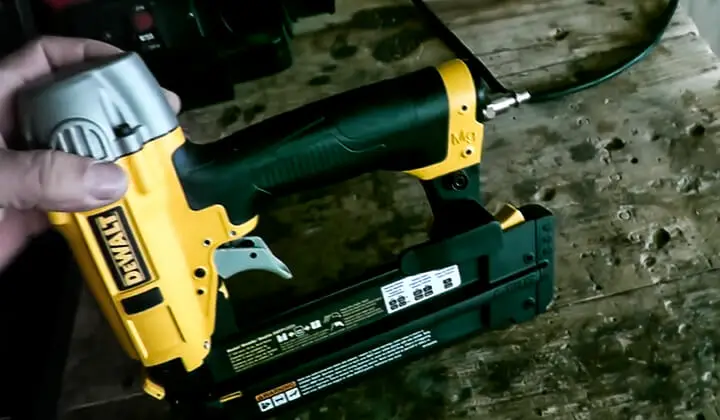 Overview
Not only is DeWalt known for making powerful nail guns, but the brand is also known for making nail guns that last ages. Forget about replacements, you'll rarely have to take this tool out for maintenance.
This nail gun operates on a pneumatic power source and is powerful enough to drive 18 gauge nails that are 5/8-2 inches in size. You get a 100 nail working capacity that you can use smoothly with an ergonomic sequential style trigger.
Removing the nail is also made easy thanks to its tool free jam release. This feature works great if you're working with wood, as you won't have to worry about the material chipping.
With this tool, you're never limited to using the nail gun only in one style. You can customize the type of nail you want to use along with the depth you want the nail to penetrate.
So, that you are not bombarded with wood chips and dust particles while using this tool, there is a highly functional rear exhaust. This part moves all the contaminants away from your face so that you can see what you're doing without any distractions.
Available in a lightweight frame, you won't have trouble carrying this tool from one place to another. If you are someone who has to work with nail guns for hours, this is the best option for you. The tool also comes with a rubber grip that is easy to hold on to and gives you more control.
To make storage easier for you, this product comes with belt hooks so that you can hand the nail gun at a convenient place.
Key Features
Here we have the most commonly asked queries regarding the DeWalt DWFP;
Lightweight
Weighing just 5.3 pounds, you'll be able to carry this product around easily. Working with the tool for long hours is also easy as you won't face fatigue any time soon.
Powerful
This pneumatic power tool can drive 18 gauge nails that are 5/5-2 inches smoothly into any material.
Sturdy
The hard-but-light frame gives you a product that is durable and needs no maintenance or oiling.
Ergonomic Design
Made with a rubber handle that is easy to grip, you get great control of the tool.
Safe
All kinds of contaminants, like dust particles that fly off, are removed away from your face and direction of work. This gives you a clear view of your work while keeping you safe.
Pros
Easy to use
Easy to store
Comes with a rubber grip
Can be used with any nail
Nail depth can be customized
Gets all the contaminants away from your face
Lightweight but sturdy frame
Affordable
Needs no maintenance; maintenance free motor
Powerful
Cons
A few customers faced some leakage from the product
Frequently Asked Questions (FAQs)
To help you understand this product better, we have answered some of the most commonly asked questions from customers.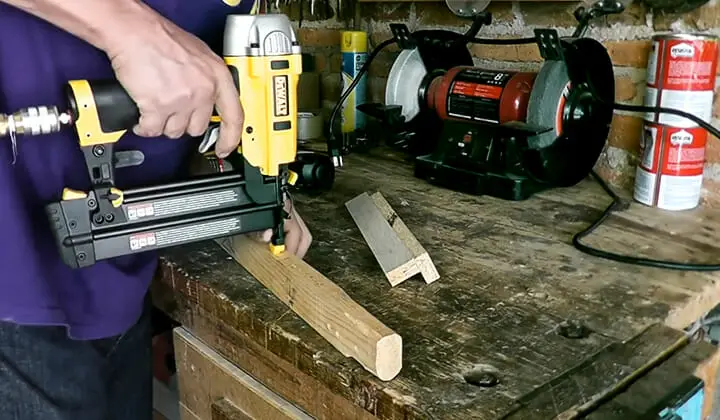 Q: What is the voltage on the DeWalt nail gun?
Ans: The voltage on this tool is 765kV.
Q: What other accessories do I need to purchase with the DWFP 12231?
Ans: As this is a pneumatic tool, you'll need a good-quality air compressor to operate this machine. No batteries are required for this model.
Q: Is a storage case included with the purchase?
Ans: Yes, you get a DeWalt high-quality hard-plastic case that you can store this tool in. The case is quite sturdy and can be carried easily, as well.
Q: Does the product require oiling?
Ans: No oiling is needed with this model.
Q: How is the DeWalt DWFP 12231 for making furniture?
Ans: This thing works great with wood. You'll face no chipping, and the nails will go through like butter. This can be a great option to work with.
Final Words
Finding a nail gun that fits all your needs can be difficult. That is why this model from DeWalt is so popular amongst the crowd.
We hope this Dewalt dwfp12231 review has shown you just how good of a product this is. It's not often that you come around with an affordable nail gun that works great for all kinds of projects. So don't wait around anymore and get your hands on this powerful tool.
You May Also Review