This angled cordless finish nailer is a lightweight tool that would be perfect for your carpentry work ranging from window and door casing to crown molding. DEWALT DCN660D1 comes with an abundance of top-quality features that makes it one of the best on the market.
Cordless finish nailers have always been viewed as an upgrade to the early pneumatic nailers while the battery-powered option is even a better option than the gas fuel cell options. These series of upgrades are embedded in the workings of DEWALT DCN660D1 to ensure that you have an effective tool.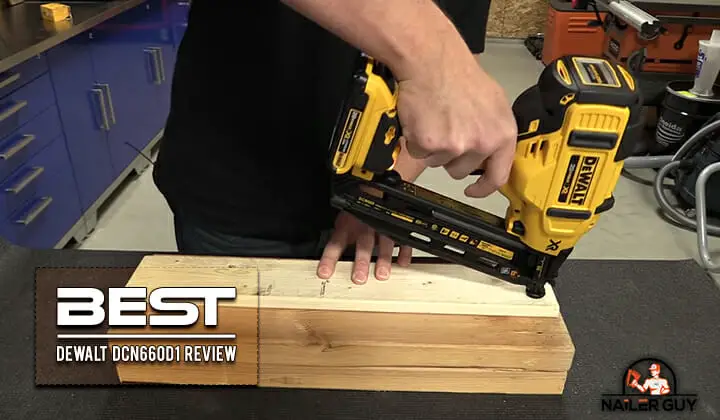 Dewalt DCN660D1 Review
Most cordless finish nailers come in either 16 gauge or 15 gauge with either a straight or angled configuration. DEWALT DCN660D1 is a 16 gauge model with angled configurations.
It has the ability to shoot up to 800 nails after being fully charged – this is a large amount that is sufficient for most finish carpenters and DIY users. Here are the features of the product that makes it a standout option among the cordless finish nailers.
Increased Runtime
The ability to maximize runtime is one of the biggest selling points of this product. This is possible due to the brushless motor that comes with the tool. The motor also is also responsible for the durability of the tool.
Depth Adjustment
One feature that a lot of professional contractors lookout for is adjustable depth. Having a finish nailer that allows you to change the driving depth to suit your needs gives you everything you need for precision and consistency.
DEWALT DCN660D1 comes with a tool-free depth adjustment that makes for more comfortable use as well as proper countersinking of nails.
Large Magazine Capacity
The larger, the better – and this has never been truer than when it comes to finish nailers. No professional contractor or finish carpenter wants to spend hours loading and reloading nails into the magazine – it is strenuous and borderline frustrating.
With DEWALT DCN660D1 you never have to worry about this. The finish nailer has a magazine with a capacity to hold up to 11o nailers. This is another reason why many professionals and experienced users choose this.
Jam Release
When it comes to finish nailers, jamming is a menace that you just have to deal with. What you want is a tool that has provisions to deal with this and this product has all it needs for jam clearing.
The tool-free jam release feature ensures that nail jams are quickly, easily, and effortlessly cleared.
Ease of Use
The tool has been integrated with a tool-free stall release lever that gives you convenience and comfort whenever you are making use of the machine.
Multi-functional LED Lights 
The finish nailer comes with a bright and visible multi-functional light that comes with various uses. It helps to illuminate dark working spaces and also gives you a notification of the battery status.
This feature is the perfect tool for diagnostics you need to keep your battery in good shape.
Dual Options for Firing
The finish nailer has one of the most sophisticated and easy-to-use firing mode switches. With just a simple flip of a switch, you can choose between sequential and bump firing mode.
The sequential mode is more adept for use in operations that require a high degree of accuracy while the bump mode is suitable for use in carpentry that requires fast production of nails.
Increased Protection
DEWALT DCN660D1 comes with a rubber over-mold that has been put in place to give protection to the tool as well as finishes that you are working on. Most parts of the product are covered.
PROS
It comes with a 3-year limited warranty as well as a 90-day return policy and 1-year free service.
The tool is lightweight and easy to handle within the workplace.
The depth adjustment makes for quick finishing.
It doesn't damage the finishes.
Comes with a battery and charger on purchase – no need for extra bucks to be spent on battery and charger.
Easy to use in tight spaces and can be used in different orientations. 
CONS
The LED light is not placed on top of the tool to allow for better direction to the point of contact.
Conclusion
The tool is a solid option and is definitely one of the best finish nailers presently. This is one tool that every professional contractor or finish carpenter should have in their arsenal.
There is a lot of features to love and you will be getting great value for money.