Dewalt is a well-known brand in the tool industry, offering innovative solutions to carpenters and builders. Dewalt D51257K finish nailer is a much affordable listing as compared to their usual charges. Yet, they have cramped most if not all of the features from high-end nail guns into it.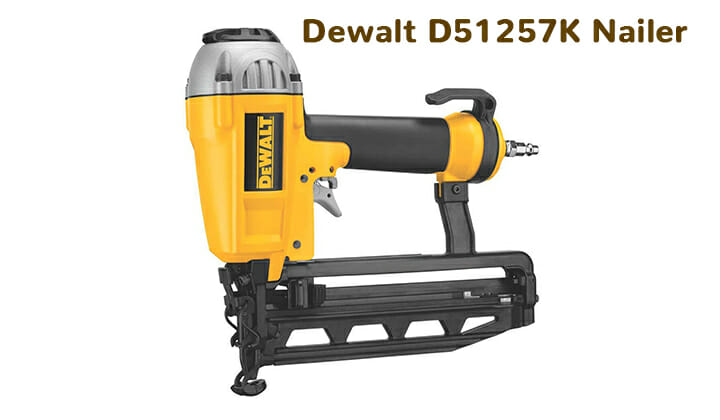 With second to none portability and seamless adjustment features, this 16GA pneumatic finish nailer sure has caliber. But a purchase decision depends on a lot more than just that. Our Dewalt D51257K review is here to give an extensive overview.
DEWALT Finish Nailer, 16GA, 1-Inch to 2-1/2-Inch (D51257K)
Specifications
Application of nail guns: Finishing
Pneumatic nail gun
Source of power: compressed air
Weight: 3.85 lbs
Height of unit: 10.6 inches
Length of unit: 11.8 inches
Width of unit: 3.5 in
Intended color: Yellow
Type of loading: strip
Collation of fasteners: glue
Tool-free depth adjustment of fasteners
3-1/4 inch maximum fastener size
The angle of the magazine: straight
There is no air inlet
Size minimum for fasteners: 1 inch
Diameter of finishing nails: 16 gauge
100 nails per magazine
Construction: Heavy-duty
The operating pressure is 70-120 PSI
Service contract: 1 year. 90 days money-back guarantee
Portability
Since you have to carry bulky air hoses and a compressor along, the weight of a finish nailer should remain well under 5lbs. That way, it is a lot easier to maneuver around while using minimum elbow grease. 
While most nailers come with either stainless steel or aluminum construction, Dewalt D51257K features magnesium. As this material weighs up to 30% less than aluminum, Dewalt has managed to keep its weight capped at only 3.9lbs. Thus, it is a breath of fresh air amid boisterous nailers, offering excellent maneuverability and zero fatigue.
Adjustability
Considering the ever so variable depth of drive at different projects, a 16 gauge finish nailer has to offer as much adjustability as possible. Luckily, you can adjust the nailing depth on Dewalt D51257K according to project needs. You also get a sequential action trigger on it for the best results regardless of the surface type.
Surface Care
Finish nailers usually have a sharp nose tip for better grip over the nailing surface. However, it can put dents and dings if the surface is softwood or something more vulnerable. As a remedy to this dilemma, Dewalt D51257K features a low-profile no-mar pad. It provides a firm grip while causing no harm to the aesthetic of the surface. Moreover, a sealed lube dual tech unit enables oil-free operation and oil lubrication.
Ease of Use
It's a pain in the neck to bring additional tools only to alter the depth of drive or clear a jam. With that in mind, Dewalt has made these functions on D51257K independent of extra tools. Whether it's adjusting the nailing depth or removing a jammed nail, things are pretty smooth sailing with D51257K.
Other than that, it comes with a carrying case to save space in your tool chest. It even features an adjustable belt hook that lets you carry it while keeping your hands free. Above all, the motor on this one uses a sealed lube dual technology. Hence, you won't have to worry about oiling it now and then.
Performance
Moving on to the performance side of things, one has to keep operating pressure in mind. For D51257K, operating pressure 70 to 120 PSI, which is pretty much compatible with any compressor out there. Whether the compressor is stationary or portable, this tool can finish nailing in a breeze, given the right amount of pressure.
Cons
Though Dewalt D51257K is void of any major flaws, it has one tiny drawback. Most of the parts except a few on this pneumatic nailer have a polycarbonate build. As a result, it may get damaged if it somehow drops from a few meters of height.
Frequently Asked Questions
1. What is the magazine size of Dewalt D51257K?
The strip-loading nail magazine on Dewalt D51257K can hold up to 100 finishing nails at a time.
2. Which collation does Dewalt D51257K accept? 
Dewalt D51257K accepts plastic collated finishing nails with a nail diameter of 16 Gauge. Make sure you don't try to load wire collated nails since the loading type is strip, and it only supports fasteners held with plastic strips.
3. Can I use 3-¼-inch fasteners with Dewalt D51257K?
Dewalt recommends using 16-gauge nails with a length between 1-inch to 2-½ inches. However, D51257K does support 3-¼-inch fasteners which means the answer to this question is a resounding yes. Just make sure you don't mess up with the diameter.
Wrapping Up
Dewalt D51257K is undoubtedly an unmatched choice at around 150 bucks, considering it has features of many expensive ones. The plastic and magnesium construction might seem a bit fragile. But trust us. You don't want to complain about it at this price since Dewalt even provides a carrying case for added safety.