A well-worked-up project will only look good when the siding is properly installed. Woodworks are somewhat like hair-cuts. Hair-cut goes ugly if the sides are not properly trimmed and so does wood piecework. Choosing a great siding nailer is a step ahead to a great finish to your work.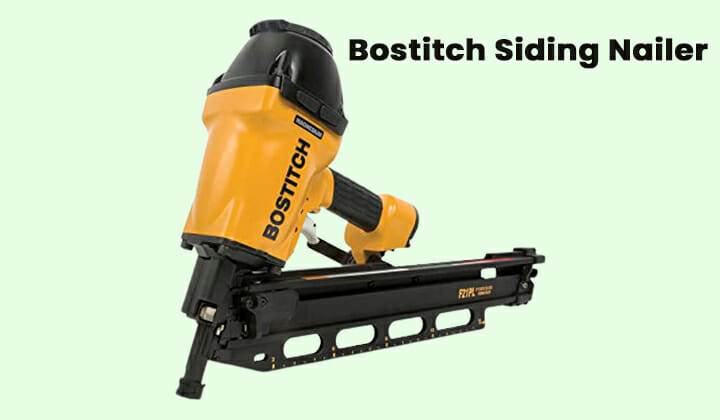 The BOSTITCH siding nailer is one of the best siding nailers you can get in the market at such a good price. Have a look!
BOSTITCH Coil Siding Nailer, 1-1-1/4-Inch to 2-1/2-Inch (N66C)
Why you should buy it?
When it comes to quality, brands can hardly beat BOSTITCH. The BOSTITCH N66C-1 is an award-keeping siding nail gun. It comes with all the super enigmatic features that keep the experienced rendering. Let's talk you through some of their cool and exceptional features!
Dimension
The BOSTITCH siding nail gun is about 11.25 inches in length, 3.25 inches in width, and 12 inches in height. It is a very powerful and light-weighted tool that comes in handy in many small indoor outdoor works. 
Flexibility
Chose this BOSTITCH N66C-1 after taking a look at the flexibility that it comes with. The BOSTITCH N66C-1 can deal with various types of projects that consist of materials from softwood to steel.
This includes light-gauge steel, fencing, clapboard, and cement. The lightweight does not come in the way of providing extraordinary power.
Magazine
It comes with a canister loading type magazine. The nail gun has a 350 fasteners magazine capacity, a standard range to look for, that allows you to shoot store up and shoot lots without the hassle to reload frequently. 
Fastener Type
Users can use both 15-degree wire and plastic inserted nails. This BOSTITCH nailer can use 1-1/4″to 2-1/2″ nails with 0.080 inches to 0.092-inch depth per nail. The user has the flexibility to use either contact or sequential nailing option. This helps to improve the user's efficiency.
Operating Pressure
Despite the fact that it is made of aluminum and so its' lightweight, 4.9 pounds the BOSTITCH N66C is very much efficient operating under 70 to 120 PSI giving you enough force to slide. 
It has a driving power of 515 in/lbs. The user has the compatibility option for air compressors, most ones. It is constructed with durable die-cast aluminum.
Adjustable
This BOSTITCH nail gun comes with a tool-free adjustment and a very easy depth adjustment guide for the user to easily adjust the nail drive depth.  
Exhaust
The exhaust of a nailer is best if out of your face while you are working on your workpiece. The adjustable exhaust helps to steer air away from the face and the tool being used. 
Extras
The BOSTITCH N66C works with a simple twist and lock mechanism. The soft rubber at the nose also makes it easier to prevent damage to the sensitive material.
Warranty
A product that comes with a warranty gives you assurance of quality. The air-powered BOSTITCH NCC6 comes with a limited 1-year warranty. The contact and sequential nail, each unit is backed up with a 7-year warranty. 
No?
There are no major drawbacks to this product. We think at such an affordable price the user can overlook the fact that the trigger needs to be switched out while changing firing modes when you can easily move from one to another in a push-button model. Otherwise, it is one of the best siding nailers. 
Frequently Asked Questions
1. Which one should I use? Plastic or wire-led nails?
Wired ones are tougher, heavier, and sturdier than plastic ones. If you are looking forward to doing projects like lime fencing, farming wired ones is a better choice. Plastic nail is a better option for face nailing.
2. What do you mean by a 15-degree fastener?
It basically means that the nail will be driven in 15 degrees. These are better for less corrosion. 
3. Where is it manufactured?
It is manufactured in the USA.
Final Verdict
You cannot get a product like the BOSTITCH siding nailer at such an affordable price with all these features. If you are looking for an easy tool that comes with a sturdy design and that doesn't jam easily, then the BOSTITCH siding nailer is definitely your choice.
The option for both wire weld and plastic fasteners, airpower source, soft rubber nose, and all the other great features make it a great option for people who are looking for a quality product.