If you are looking for a heavy-duty nail gun that also offers extraordinary performance, gets your job done efficiently, and has numerous other features, then you have come to the right place.
Bostitch is one of the best when you are looking for a top-notch nail gun, and with the RN46, it's safe to say that you'll get that performance!
In this Bostitch RN46 review, we will be talking about everything about this product elaborately. All the good and the bad will be pointed out here so that you could decide whether or not this item will be suitable for your gear or not.
So, let's move on to the good part.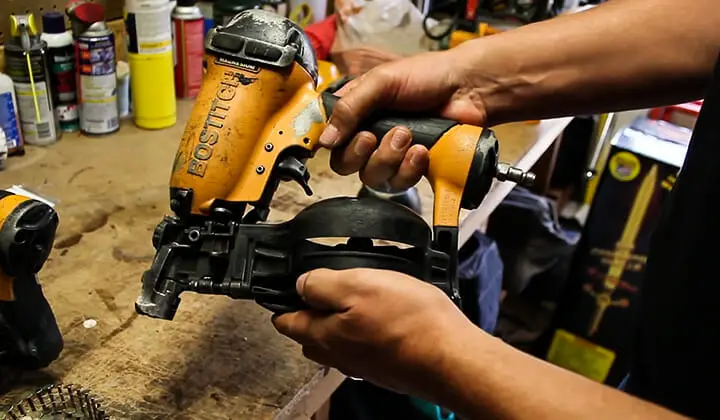 Overview
Unlike conventional nail guns, this one comes with a lockout mechanism, which prevents the machine from firing when the magazine is empty. Thus, preventing any harm done to the device as well as to you. In addition to that, the durability of the item is unparalleled. 
And hence, you won't have to worry about the integrity of your project as well as about the breaking point of the tool. Plus, it comes with plenty of other features that will grant you remarkable accuracy and extraordinary efficiency. Moreover, the gun is a fast operating gun.
Meaning you can finish your job with optimum efficiency and outstanding results in the smallest time frame. Besides, it is manufactured with functionalities to be extremely user-friendly. So, you get all your work done with little or no complication in your way.
Plus, carrying the item around won't require effort or eat-up space. It has compact dimensions that let you stash the item inside your car trunk, garage, workshop, or carrying case. Along with that, the featherweight feature of the tool makes carrying it a much easier task.
In addition to the effortless mobility, the lightweight feature and compact build give you the superior reach as well as enables you to maneuver the item into those tough spots with ease. 
Key Features
Below are the key features of the Bostitch RN46;
Durable
When making the tips for the nailer, manufacturers decided to give you the best. And that is why they made the tips with aluminum as well as carbide. Hence, it gives the tips outstanding durability and long-lasting features. Also, due to this feature, you can do more heavy-duty tasks. 
Mobility
The RN46 is lightweight. Weighing only 5.8-pounds makes maneuvering the item exceptionally easy. And when this is combined with its compact dimensions, maneuvering it is as effortless as walking in the park. Thus, letting you do all kinds of accurate and complicated work easily.
Features
Because of its adjustable depth control feature, the tool has remarkable accuracy. However, that is not all. The over-mold grip ensures a comfortable grip and allows you to do your work without putting much energy into it. And the wear guards and skid pads prevent any damage to the device. 
Furthermore, due to the side-loaded canister, you get quick and swift loading. Besides, the shingle guide enables you to choose the proper shingle spacing. Lastly, the lockout mechanism prevents the gun from firing when it is empty. 
And we assure you that all these features are guaranteed to enhance your working skills to the next level.
Nail Size & Required PSI
The required PSI for the nail gun is 70 to 120 PSI. So, any air compressor that is capable of exerting such pressure should be enough to operate the gun. Also, the gun is compatible with ¾ inch nails up to 1-3/4 inch nails. 
Moreover, finding a device that is capable of exerting such pressure and a nail of such dimensions is easy. And we are sure that you will find them in the nearest hardware store or the hardware section in any supermarket. 
Pros
The device offers exceptional performance and accuracy
The durable build makes it a good longtime investment
Comes with numerous features to make your work much easier
Light and compact build provides you with exceptional mobility
Cons
The machine is quite expensive
Frequently Asked Questions (FAQs)
Here are the most commonly asked queries regarding the nailer;
Q: What additional accessories are needed with the item?
Ans: No, there is no need to purchase anything extra for this.
Q: Will it shoot 1-1/4 nails?
Ans: The gun is compatible and can shoot nails ranging from ¾ inch to 1-3/4 inch nails. And any nail that is within this range, the nail gun will easily be able to shoot it. So, a 1-1/4 nail is perfectly compatible with the gun. 
Q: Does it require inline oilers?
Ans: Well, it is entirely up to the users. However, we suggest that you do not use any inline oilers.
Final Words
Finding the right nail gun is like finding a needle in a haystack. However, the RN46 is one of a kind, and with its exceptional features, performance, efficiency, ergonomics, and user-friendliness, the item is going to become your favorite after a single-use.
We'd be glad to know if you liked our Bostitch RN46 review and that if we were able to help you understand whether the product is worth your money or not.
You May Also Review