People say that don't judge a book by its cover, but if you mess up the siding job of your house, judging it by its surface is what people will do. A good siding job is important not only for aesthetic values but also protects or shields your house.
To do a good siding job, you will need a good siding nailer that can do an effective and efficient job of nailing sidings without leaving marks. To find out about the best siding nailer, read this BOSTITCH N66C review, so you know exactly why you need this tool in your possession.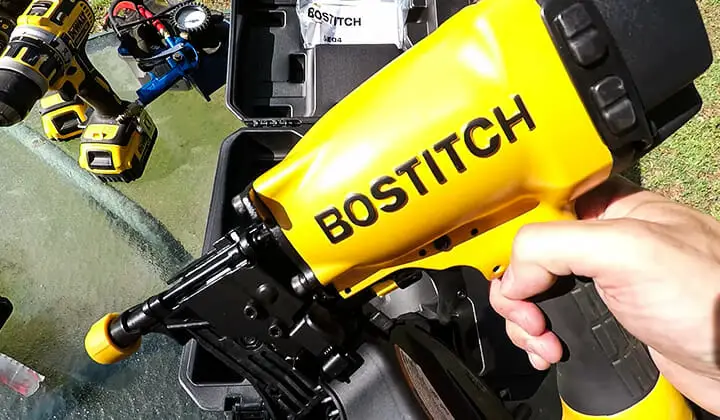 Overview
For more than a couple of decades, BOSTITCH has been making and providing innovative and high-quality fasteners and fastening products to be used in home improvement, industries, and construction sites. The BOSTITCH N66C coil siding nailer is one of their best products.
One of its interesting features is an adjustable depth guide, which enables you to drive every nail with precision easily and conveniently. It has a driving power of 515 in/lbs, which ensures that nails penetrate even light-gauge steel.
Regardless of its massive power, it is very lightweight due to aluminum built, weighing only 4.9lbs, which means you can work longer without getting tired.
You can work on a range of materials with this one tool. From soft materials such as plywood, wood to fencing, and even light-gauge steel, this tool can drive nails on such materials without leaving any marks thanks to its soft rubber foot.
Furthermore, you can adjust the exhaust without any tool to direct the exhaust away from you. This tool also comes with huge magazine storage of 300 nails. You can employ this device for driving plastic inserted nails.
Versatile
The best feature of this tool is its versatility; you can use this on multiple siding materials. For instance, whether it is light-gauge steel, softwood, fence, or clapboard, this tool is capable of working on all of it.
Lightweight and Durable
This tool is very lightweight compared to the punch it delivers. It weighs only 4.9lbs because of aluminum and magnesium used to make the housing of this device. Hence, it is easy to carry around and use for a long time without getting weary of it.
Regardless of its lightweight, it is very durable because of the aluminum and magnesium housing. Hence, it can handle all the wear and tear of your job site.
Powerful
This one is a powerful pneumatic nailer. It comes with a driving power of 515in/lbs, and the operating pressure ranges from 70-120 PSI.
Prevents Damage
It comes with a rubber foot, which ensures that no mark or damage will be made when you use this tool on soft materials like plywood.
Convenient
It has an adjustable depth guide, which allows you to adjust the depth of the nail drive based on the siding material and drive the nail with precision.
Features Tool-Free Adjustable Exhaust
You can also adjust the exhaust system so that you can direct exhaust away from you in any direction.
Has Large Capacity
This nailer has a magazine capacity of 300 nails and is able to drive plastic inserted coil nails easily. You are able to use any nails of length ranging from 1-1-1/4-inch to 2-1/2-inch.
Pros
Is very versatile
Lightweight (weighs 4.7lbs)
Tool-free adjustable exhaust
Has a rubber foot to prevent marks or damage to soft materials
Cons
Does not switch fire mechanism automatically
Drive may freeze at times
May jam if nails of other brands are used
Frequently Asked Questions
Below are some of the most commonly asked queries regarding the nailer:
Q: Can I use this siding nailer as a fencing nailer?
Ans: Of course, you can. However, it will work if you are building the fence and not trying to attach the wire fence element to the wooden fence. For that task, you need a staple gun for a better and more effective result.
Q: Would it be possible to use this nailer for framing or roofing purposes?
Ans: No, you cannot use this nailer for either roofing or framing materials. For framing, you will need a bigger gun; besides siding, you can use this gun to hang plywood. And for roofing, you need a roofing gun as this gun is not suitable for that purpose.
Q: Can I use this nailer to drive nails through cement, as stated in the product specification?
Ans: No. You can use this nailer to penetrate nails through fiber cement siding and not actual cement walls.
Final Words
BOSTITCH N66C is lightweight, durable, has a magazine capacity of 300 nails, a tool-free adjustable exhaust system, etc.
You can hardly go wrong with this tool because it provides a plethora of features at a very affordable price and provides great value for money. This is one nailer that should be on your side for every siding job. 
You May Also Review