Whether you are a professional who works with wood or just someone who has a hobby to incorporate wood into their DIY project, a finish nailer can benefit you in various ways. Using a finish nailer, you can significantly improve the outlook of your work by adding more precision to it.
Since the market is overflowing with finish nailers, it can be tempting to just buy the one you see first. However, we would always advise you to go for the best product out there, which in this case, is the Bostitch Finish nailer.
Keep reading our Bostitch N62FNK 2 review to know why we love this product so much.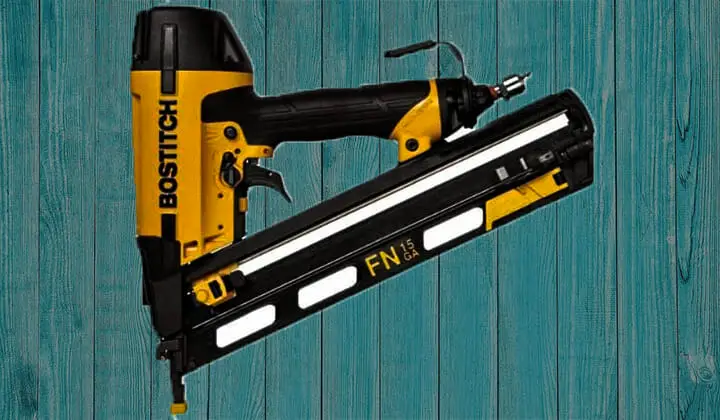 Overview of BOSTITCH N62FNK 2 Finish Nailer
The Bostitch finish nailer is an easy-to-use nailer that will help you give a professional finish to all your projects. It is quite a remarkable device that is different from other competitors due to its several unique features.
With the help of the adjustable depth setting of this model, you can work with even the most difficult surfaces. The oil-free operation system of the model also makes it a hassle-free choice. On top of that, the integrated air blower, the rear exhaust, and the LED work light make it really convenient for the users.
Along with all these, the machine is really lightweight at 3.8 pounds, offering you ease of use. The magazine has an extended capacity, so you do not have to load and unload it too often, and can be easily removed in case of a jam.
Lightweight
While working on a project for a long time, the last thing you would want is to have to use a machine that is so heavy that it puts a lot of extra strain on your arms. Luckily, this finish nailer does not belong to that category. At only 3.8 pounds, this is a particularly light device that does not put any extra pressure on your muscles.
Adjustable Depth Settings
Some nailers cannot be used on all sorts of surfaces, mostly hardwood. This is mostly because those devices drive the nail at the same depth each time, no matter what the surface. However, this model has settings that can adjust the depth of the nails, making this a perfect choice for all kinds of surfaces.
Magazine Capacity
One of the best things about this product is that it can hold up to 130 nails ranging from 1.25 to 2.50 inches in length. You can keep working for about 1 or 2 hours before reloading it again, which makes it convenient. Besides, the magazine is easily removable.
Therefore, if any jam is created, you can simply remove the magazine, clear it, reload it, and then begin working again.
Oil-Free Operation
Nailers that operate with oil usually end up making the workplace quite messy. Due to the oil-free compressor of this particular product, you do not have to face such a problem and be free from maintenance hazards.
Unique Design
Last but not least, this model definitely has some unique features which make it one of the best choices in the market. First of all, The LED work light that comes along with it helps to see in dark spaces and nighttime much easier, something that is very important for safety measures.
The model is also equipped with an air blower and a very quiet rear exhaust, which blows away all sorts of debris from the work station, giving you a clear surface. This definitely helps in keeping the whole nailing process as accurate as possible.
Pros
Does not put any extra strain on muscles due to being lightweight
Durable
Features like LED work light and air blower make it unique
Extended magazine capacity prevents the hassle of reloading continuously
Easy and convenient to use
Cons
Frequently Asked Questions
Here we have the most commonly asked queries regarding the Bostitch nailer:
Q: What is the angle of the nails?
Ans: The exact angle of the nails is 25 degrees. And the nails are 1.25 to 2.5 inches in length.
Q: Can I use it on any sort of wood?
Ans: This model is powerful enough due to its many features to be used on any kind of wood.
Q: Is it durable?
Ans: The model has a magnesium body, which makes it very durable and lightweight. Users have reported being using it for as long as 10 years.
Q: Can it be used to perfect woodwork?
Ans: Since this model has adjustable depth settings, using it to perfect your woodwork is very easy.
Q: How should I clear jams?
Ans: To clear the jams, all you need to do is remove the magazines, unload the nails, and then reload them.
Final Words
No matter what kind of wood you are working with, or for what project, this Bostitch finish nailer can definitely help you tremendously. We hope that after reading this Bostitch N62FNK 2 review, you can assess for yourself how great this model is for your various needs, and give it a try. And we promise you will not be disappointed!
You May Also Review