Wondering what is so unique about the Bostitch LPF21PL and Bostitch's other products? As a matter of fact, if you are wondering, what is the difference between this one and all the other framing nailers, then our Bostitch LPF21PL review is the one for you.
If you are okay with spending good bucks but are not willing to compromise with exceptional performance, excellent efficiency, brilliant functionality, and many more superb features, then this device is the perfect item for you!
And if you still need reassurance, our article shall provide you everything to need to know about the product. By the end of this article, we are confident that you will want this product in your arsenal.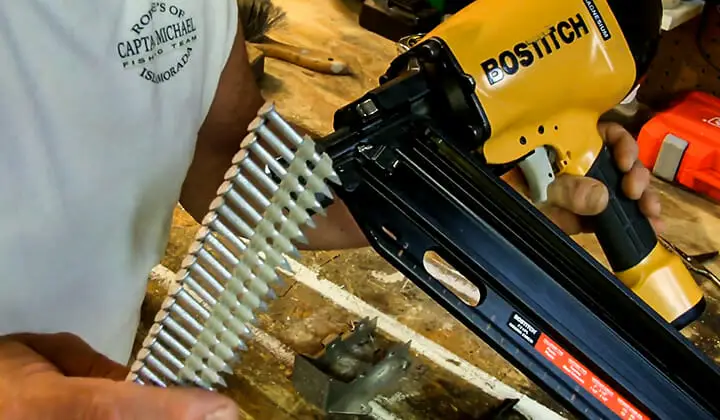 Overview of BOSTITCH LPF21PL
The mobility of the item is epic! It was designed in such a way to provide you superb mobility. Thus, it allows you to reach those tight spots that conventional frame nailers are incapable of. Also, it is light and has compact dimensions. These features increase the mobility factor of the tool even further.
Furthermore, due to the compact dimensions, storing the item is like child's play. Next, when we are talking about the design, the comfortable grip has to be mentioned. And due to that, you would need to put in less effort while handling the item and focus more on your work.
Featurewise, the item is packed with a lot of them. It comes with a mechanism that enhances the accuracy of the item and lets you do all kinds of complex projects with ease. Moreover, it comes with a system that lets you shift between modes with ease and hence, allows you to do your work without any issue.
And having exceptional flexibility does not mean that this masterpiece lacks in power. The nailer is capable of generating extraordinary force when nailing, ensuring that the nail firmly penetrates through the projects and gives you the results you desire.
Key Features
The key features of the product are as follows;
Mobility
When it comes to mobility and reach, only a few nailers can match the LPF21PL. It was designed with a low-profile that enables the device to reach tight spots and in-between rafters. Plus, it weighs only 9.5-pounds, which is extremely light. And ergo, will give you superior reach.
Besides, due to its compact dimensions that lets you easily store the device anywhere, its compact dimensions offer effortless maneuvering as well as enhances the reach even further.
Power
Though it is small and compact, do not mistake it for being weak! The device is capable of exerting immense pressure (840 inch-pounds of pressure to be exact). So, when you are using this item, you can be confident that once you nail something using this, it is not coming off anytime soon.
Accuracy
Generally, one issue that robust framing nailers have is that they lack accuracy. But that is not the case with the LPF21PL. The low-profile design provides you with remarkable accuracy.
And to top it off, the nailer comes with a tool-free depth drive adjustment, which enables you to pick suitable depths and, therefore, increases the accuracy of your work even further.
Other Features
If that is not enough, it comes with numerous other features. One of them is the tool-free selectable trigger. This feature is responsible for allowing you to efficiently change between the single-drive and the multi-drive modes. Also, when making the nailer, manufacturers made sure to give the device user-friendly attributes.
That is why it is made with an over-mold grip to provide you a superior and comfortable grip for a more effortless working experience. Lastly, it comes with a pre-installed air filter, which protects the engine from harmful contaminants.
Pros
Provides exceptional durability, accuracy, performance along with efficiency
Along with superb storage, the mobility and reach of the item is off the charts
Comes with an air filter to protect the engine
User-friendly and comfortable design
Cons
Price of the product can be quite hefty
Frequently Asked Questions
Below are some of the most commonly asked queries regarding the Bostitch nailer:
Q: What is the nail specifications for the nailer?
Ans: The gun is capable of shooting nails that are 113 inches to 148 inches thick in diameter and 2-inches to 3-1/4 inches in length. So, for any nail that is within this range, the nailer will have no problem in shooting it.
Q: Are no-mar tips included with the set?
Ans: Yes, they are provided on the day of purchase.
Q: Is it an electric or pneumatic frame nailer?
Ans: Well, this robust yet light device is a pneumatic frame nailer.  
Q: What would be the operating PSI for the device?
Ans: The operating PSI for the device is 70 to 90 PSI. And finding a compressor in any supermarket's hardware section or any hardware store is an easy task.
Final Words
Powerful yet versatile, compact as well as light, the product is one of a kind and is packed with other numerous and unique features. Hence, we guarantee the item will sweep you off your feet right after your first use.
You May Also Review
BOSTITCH N62FNK 2 Finish Nailer Review