A carpenter who hasn't heard of Bostitch is hard to come by. From regular plain shank nails to high-end pneumatic tools, this brand has it all. But how well did such experience reflect through the likes of its finish nailers? Our Bostitch FN1664K review is all about that.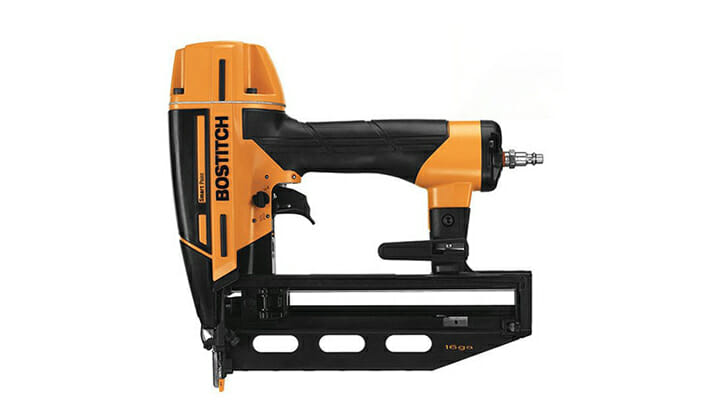 With swivel air fitting and 285 in-lbs driving power, it delivers stellar performance in almost every woodworking application. It is also the easiest to maintain, given there's no need for oiling. Check out the full review to see if it is worth buying.
Bostitch FN1664K Review | 16-Gauge Straight Finish Nailer
Maneuverability
For a finish nailer to be highly portable, there's nothing more important than lightweight housing. Anywhere between 3.5 to 4 pounds is an ideal weight that brands like Dewalt, Porter-Cable, and Makita maintain strictly.
Bostitch has also opted for a magnesium housing for the portability of FN1664K to be on par with popular options. As it weighs around only 3.9lbs, you won't need as much elbow grease to haul it around the job site. Additionally, thanks to the swivel air fitting with a filtered air inlet, it sees a significant boost in maneuverability.
Maintenance
Lubrication has long been inevitable for pneumatic nailers to operate seamlessly. But an obvious trade-off is the risk of getting oil stains on the nailing surface. With Bostitch FN1664K, there remain no risks as such since it features an oil-free engine. Therefore, you won't have to worry about oiling it now and then.
Adjustability
For adjustability, the bare minimum you can get on most finish nailers is the depth of drive control. Though it helps in project diversification, it cannot fill in the void of dual actuation modes. Luckily, Bostitch FN1664K brings additional options such as a selectable trigger system and Dial-A-Depth.
The Dial-A-Depth control lets you make countersinking adjustments in a breeze. And the selectable trigger system offers easy switching between sequential and contact actuation. Hence, this tool can adapt to different woodworking applications such as trim job, crown molding, cabinetry, and whatnot.
Performance
Factors used to measure nailer performance include driving depth, firing rate, and motor efficiency. Driving power is also an indicator as it is directly related to how deep a nailer drives the nails. For Bostitch FN1664K, that value is around 285 in-lbs, meaning that it won't fall flat while penetrating nails deep into surfaces.
Ease of Use
It is the attention to tiny details that either makes or breaks the overall usability of a nailer. Things like comfortable grip, good weight balance, and belt hooks are not less important than performance or safety. 
With that said, Bostitch FN1664K has an over-mold grip on the handle to give you a fatigue-free experience. Its belt hook also comes with an integrated pencil sharpener for added convenience on job sites.  
Safety
Popular safety measures are a nail lockout mechanism, multi-directional air exhaust ports, and no-mar tips. While nail lockout helps avoid dry-fire and protect surfaces, exhaust ports drive exhaust air from the user. And no-mar tips come in handy to avert dents on the surface.  
Bostitch FN1664K doesn't miss out on any of these to provide you with a safe and surface-friendly nailing experience. On top of that, it comes with a trigger lockout mode as well. What it does is avoid accidental firing to ensure you can work safely even in occupied places. 
Cons
Although nailing with Bostitch FN1664K is easy-going for the most part, it has one tradeoff. Our unit kept getting jammed for no valid reasons. Bostitch could have gone with a more conventional way of dealing with it by including a lubrication process. Instead, they offered a quick-release nosepiece that isn't the ideal remedy, to be honest.
Frequently Asked Questions
Which fasteners should I use with the Bostitch FN1664K?
The recommended fasteners with Bostitch FN1664K are the 16 Gauge straight finish nails. For the length, they should be within 1.25 to 2.5 inches for the best results.
What is the operating pressure of the Bostitch FN1664K finish nailer?
Just like any other pneumatic finish nailer, the operating pressure required for Bostitch FN1664K is 70 to 120 PSI. However, a 90 PSI delivery from the compressor is most likely to bring out its optimal performance.
Verdict
In terms of after-sales service, Bostitch FN1664K gets the better of all other finish nailers in the market. That is because it comes backed up with a manufacturer's warranty of up to 7 years. Therefore, it is definitely worth a few extra bucks if you can look past a small handful of caveats.