Framing is type of work that takes a lot of time and effort o or better still, carpentry and construction work in the home. This is even made worse without the right set of tools and in Bostitch F21PL you can have one of the best framing nailer in the market.
If you are involved in construction or carpentry that requires a lot of power, then having a Bostitch F21PL puts you a step closer to achieving your goals. While this tool is mostly used by professional contractors, the product can easily be used by DIY users as well as hobbyists.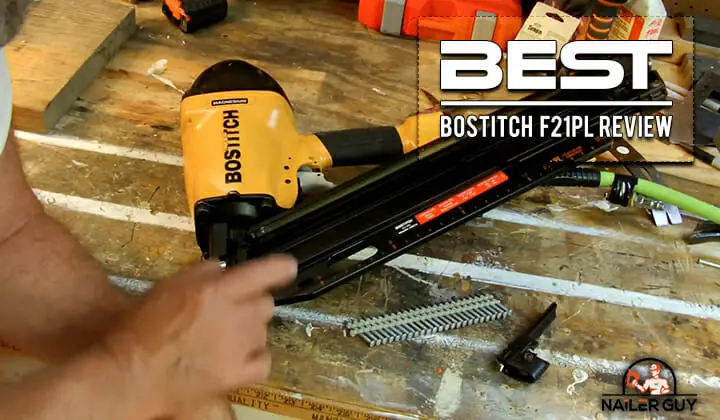 Bostitch F21PL REVIEW
This is a round head framing nailer as well as being a metal connector – the first testament to the versatility qualities of this product. There are many things to like about the product, which makes it perfect for your sheathing, framing, exterior decking, strapping, and many other similar jobs.
Here are the features of this tool that make it a top choice among professional contractors and DIYers.
Lightweight and Durable Build
Having a nailer that is both lightweight and durable is one important feature to look out for, and in Bostitch F21PL, you have a tool strong enough to withstand the rigors of busy construction sites while being easy to hold, carry and handle.
The nailer is housed by top-quality magnesium that is responsible for the above.
Power
This is a powerful tool with the ability to deliver the driving power required for a wide range of uses such as fastening wood, trusses, fencing, framing, and joist hanging. It has the capability to deliver up to 1050 lbs. in power – which translates to a huge amount of power.
This gives the nailer a lot of penetrating power necessary for most working surfaces you will encounter at the site. For optimal and effective performance, this tool requires an air compressor to operate. This pneumatic framing tool can drive in nails on working surfaces such as hardwood and thin metallic sheets. 
Patent Push Button
The product comes with a unique patented push button that has been designed to allow for adjustable depth. Each framing work would require a different depth for effective work and with just the push of a button, this product lets you make the settings to the desired depth.
You will encounter different materials or surfaces with different depths. The density of working surfaces also differs. The push-button gives a fast and adjustable means to reach the required depth.
This feature is one of the major reasons why many contractors choose Bostitch F21PL.
2-in-1 Nose Piece
This tool includes a two quick changeable 2-in-1 nose piece that helps to switch from a framing tool to a metal connector. This is a huge selling point and another testament to the versatility of the product.
This feature is why the tool is useful while working with metal brackets especially in joist hanging.
Magazine Capacity
This tool has a reasonable amount of magazine capacity that lets you keep enough nails that you don't have to reload many times. You can hold up to 60 plastic collated nails or wire collated nails in the magazine of this tool.
Ease of Use
There are many features that come with the tool that constitutes to its great ease of use. The anti-skid rubber grip of the product ensures that your hands don't suffer from fatigue especially with extended use. The tool is easy to use and quite comfortable to handle.
The anti-jam mechanism of this nailer is another feature that ensures that using this tool comes with ease. This mechanism corrects and clears any jamming in a matter of seconds, ensuring you don't waste extra time to unjam the nailer yourself.
The location of the point of contact between the air connector and the unit is at the bottom. This is a smart choice by the manufacturers that ensures that your fittings won't get tangled with the air compressors.
Pros
It is easy to use, handle and carry on-site due to its lightweight.
The ease in switching between nail sizes is another extra bonus that users love. 
Comes with great safety and adjustment features.
The magazine is slanted to give you a clear view while nailing.
Can work in tight angles.
Cons
The trigger is sensitive and would need you to add a little force before firing.
The high amount of power makes it a bit noisy when firing.
You will have to buy air compressors
Conclusion
This is a versatile, durable, and powerful nailing option for you – it offers a lot of great features and can work effectively on many working surfaces. The pros clearly outweigh the cons making Bostitch F21PL a recommendable choice to contractors and hobbyists alike.
Also read-BOSTITCH N62FNK 2 Finish Nailer Review