Wondering which nail gun is the best in the market? Introducing the Bostitch BTFP12233! Our article, the Bostitch BTFP12233 review, has been written entirely to show you why we claim that this tool will change your working experience entirely.
We have thoroughly scrutinized the product, and only after doing that, we have provided you a detailed review regarding all the pieces of information that you would need. Plus, we have also provided a pros and cons section, which should clear out any of the doubts you might have regarding the item.
And we urge you to read forward as this item's exceptional performance, design, and usability shall get you mesmerized.
BOSTITCH BTFP12233 Review
In the case of comfortable design and grips, this is a masterpiece! It comes with a user-friendly design that is easy to grip and reduces the chance of you dropping the item when using it. Plus, it is light and has a compact build. Thus, providing you with exceptional mobility and can be stored anywhere on your premises.
Plus, it comes with numerous features that make using the item a much more convenient job. Furthermore, if you are planning to make home improvements, then this is the right item for you. In addition to that, the gun is more than capable of doing heavy-duty tasks. Hence, making it a very flexible nail gun.
And if you are planning to remove nails, it comes with a tool-free mechanism that allows you to remove jammed nails without any complications.
Along with all these, the precision of the item is off the charts. It comes with a dial-a-depth feature that provides you the accuracy you would need during a project and thus gives the staggering and attractive results that you would want from your work.
Moreover, with this one, there is no need to buy supplementary stuff like casings, air fittings, no-mar tips. This is because all the necessary products will be provided on the day of purchase and thus, reducing the expense even further.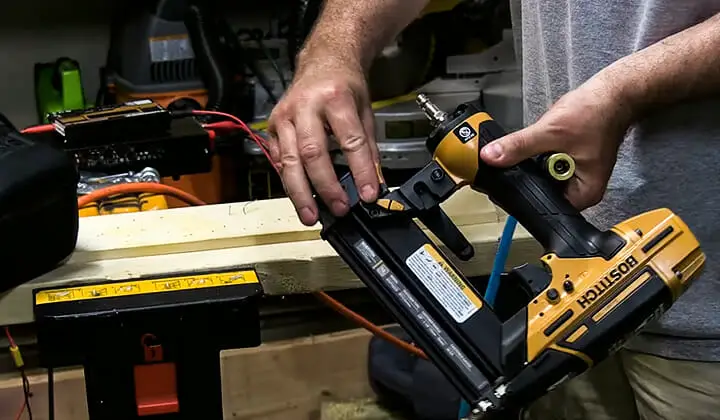 Key Features
Below are the most important features of the Bostitch nailer;
Convenience
Need a nail gun that can work on cabins, panels, and much more, then this is the one for you. And the trigger system enables you to swiftly change between triggering or countersinking with ease. When all these are combined with its easy-to-use design, it makes the tool a must-have item.
Mobility
This is one of the most important features that this item has. It is lightweight (weighs approximately 5.16 pounds), and this makes maneuvering the item a much more effortless task. In addition to that, its compact dimensions provide you with effortless storage along with superb reach.
So, if you are working in a tight spot, you don't have to worry if the BTFP12233 will reach it or not.
Precision
When it comes to precision, only a few nail guns can match it! It comes with a dial-a-depth mechanism that provides you with exceptional accuracy. Besides, when this is combined with the smart point-technology that reduces the need for external actuation and gives it a smaller nose, it makes it a must-have item.
Removing Nails
Removing nails can be a difficult task, and there is a good chance that you would be needing another device or tool for that. However, with this one, there is no need for you to be worried about this. It comes with a tool-free jam release system, that enables you to remove jammed nails without any effort.
Nail Length
This item is a perfect choice if you are planning to work on projects that require superior accuracy. And its 5/8 to 2-1/8-inch provides you the accuracy to give your work the looks it deserves.
Prices
The best feature out of all these is the price. You can enjoy extraordinary accuracy, superb efficiency, and numerous other features at a very reasonable price. And that is not all. When purchased, you get a carrying case, air fittings, no-mar tips. Thus, it increases the lucrative aspect of the item even further.
Pros
Provides pinpoint accuracy
All the necessary products are provided on the day of purchase
The no-jam feature prevents your work from coming to a holt
Can be bought at a reasonable pricing
Cons
Doesn't come with a very durable build
Frequently Asked Questions (FAQs)
Here are the most commonly asked queries regarding the Bostitch nailer;
Q: Does the trigger start the gun?
Ans: No, the trigger does not start the gun. Nail gun safety is an essential matter to take into account.
This gun comes with a safety feature that prevents it from activating without the nose of the nailer properly depressed. Once that is done, you press the trigger, and the gun starts working.
Q: What is the minimum PSI required to operate the gun?
Ans: The gun has a minimum PSI of 70 and a maximum PSI of 120. So, a compressor that is within this range should be able to operate the nailer without any complications.
Q: Can the nailer use different lengths?
Ans: Well, the nailer is only compatible with 18 gauge 5/8 to 2-1/8 inch brad nails. So, as long as you are within this range, you are good to go.
Q: Is the gun accurate enough to be used on moldings?
Ans: Yes, it is!
Final Words
Excellent accuracy, optimum performance, high efficiency, and user-friendly ergonomics make this a one-of-a-kind nail gun. And if you want to up your "frame nailing" game, then this is an amazing choice!
You May Also Review
BOSTITCH N66C Coil Siding Nailer Review