Siding job is an art that must go right. Working with sidings may not bring you verbal appreciation. But if you fail to provide that touch of expertise, the results won't fail at all to demoralize you.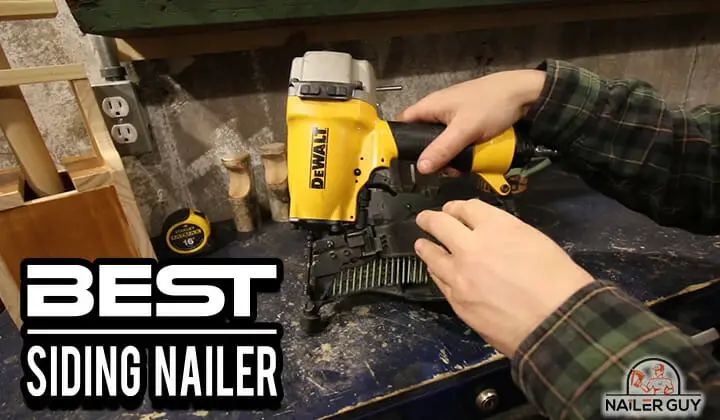 If you are a novice or a professional the following sections aren't beating in the bush. We take every detail seriously and embedded the research results finely into both buying guides and reviews to follow. I hope you'll find your best siding nailer anywhere out there.
Best Siding Nailers
Editors Choice
Best Buy
Nice Pick
BOSTITCH Coil Siding Nailer, 1-1-1/4-Inch to 2-1/2-Inch (N66C)
Freeman PCN65 Pneumatic 15 Degree 2-1/2" Coil Siding Nailer with Adjustable Metal Belt Hook
Makita AN611 2-1/2" Siding Coil Nailer
Editors Choice
BOSTITCH Coil Siding Nailer, 1-1-1/4-Inch to 2-1/2-Inch (N66C)
Best Buy
Freeman PCN65 Pneumatic 15 Degree 2-1/2" Coil Siding Nailer with Adjustable Metal Belt Hook
Nice Pick
Makita AN611 2-1/2" Siding Coil Nailer
Some of the best among the bests siding nailers are picked out for you. Let's dig in.
1. BOSTITCH Coil Siding Nailer, 1-1-1/4-Inch to 2-1/2-Inch (N66C)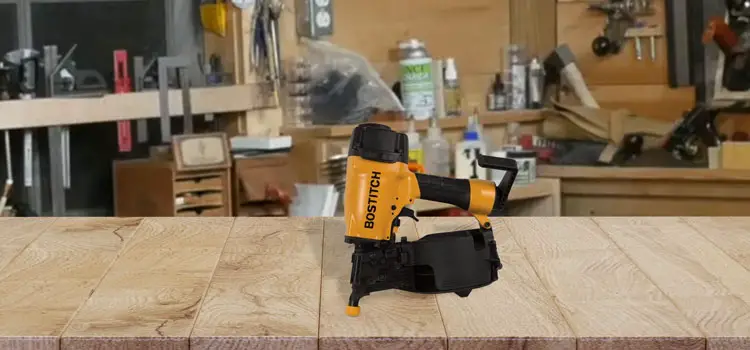 Why choose it?
N66C-1 is quite the solution to every siding task you intend. This USA-made coil siding nailer has both precision and power to deliver. The addition of aluminum housing makes it one of the most suitable choices for working with a handsome duty cycle. Durability is thus another noteworthy feature of it.
This reliable tool has been equipped with a healthy magazine. It stores at least 300 nails ranging from 1.25 inches to 2.5 inches in dimension.
The adjustability of nail depth is another feature that puts the product ahead of others. Whether you are a DIYer or a professional, depth of nails is always the most crucial factor for sidings. You can change the depth of this tool quite easier than others.
If you opt to be its user, exhaust dirt and debris are not going to be something that taunts you. All it happens due to the adjustable exhaust. This is also a tool-free feature which makes it more convenient.
The higher performance of nailers is dependent on the tip to a great extent. This siding nailer of Bostitch comes up with soft rubber protected foot that not only prevents ruining of the material but also smoothens the spot under operation.
The 15 degrees angled siding nailer has got both single and bump firing modes. Though it doesn't feature an automated switch i.e. you need to change the modes manually, both the modes work with great swiftness. Besides, a manual switch is often advantageous while you are working with a particular task for longer periods
What puts it behind?
The siding nailer is powerful but just falls short while driving 2.5 inches nails as advertised. That is until you keep nails below or at best equal to 2 inches, the penetrator will offer faithfulness as per the experiences of the users.
The nail jamming issue is not entirely coped up by Bostitch in the case of this nail gun. Some users claim it, but none claim it to be frequent trouble.
2. Freeman PCN65 Coil Siding Fencing Nailer Ergonomic & Lightweight Pneumatic Nail Gun with Depth Adjust & Side Load Magazine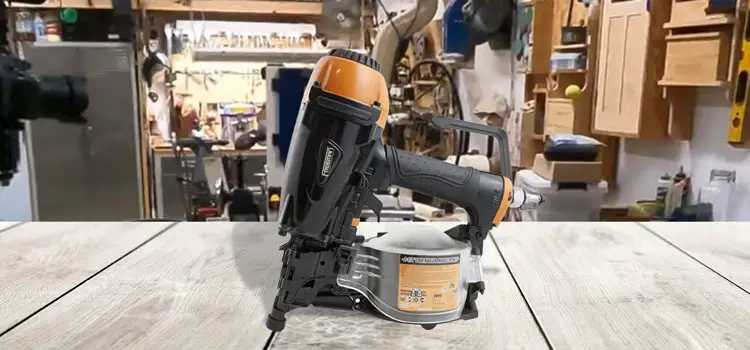 Why choose it?
A number of aspects are covered by Freeman handing over this particular nailer. Considering from construction, through features to price this siding nailer comes up the top for any budget customer.
PCN65, a siding as well as fencing nailer, includes lightweight magnesium constructed body along with a comfy ergonomic handle. Both the criteria for a nailer to become handy as hell are, thus, incorporated in it.
To bring up safety into the equation no-mar tip is installed which takes care of the material under operation. Adding the safety lock with a trigger this 7lbs fencing nailer marks another milestone ahead.
To keep an eye on the nail count a transparent bucket is attached to the nailer. Talking of the nails, you are allowed to use both plastic and wire collated ones. Both types of nails can be used up to 2.5 inches but there's a difference in the lower limit of the nail size. Plastic collated nails have the least size of 1.25 inches whereas the wire collated ones begin from 1.75 inches.
The nail driving depth is customizable. So, every project can be handled with this nailer the way its materials deserve to be handled without any essence of fatigue. And what a relief comes with this 15 degree angled nailer when Freeman provides a 7 years long warranty with it.
What puts it behind?
Double and no firing causes the most trouble while nailing since the single shot is what a nailer is built for. PCN65 is, though, aloof from no firing double fire takes place occasionally.
The trigger is the most important interface that comes in contact with the user for the whole time of nailing. It is always expected to be stout enough to handle much pressure. Maybe, for this siding nailer, the statement is correct, yet the plastic trigger may disappoint you.
3. Makita AN611 1-1/4-Inch to 2-1/2-Inch Coil Siding Nailer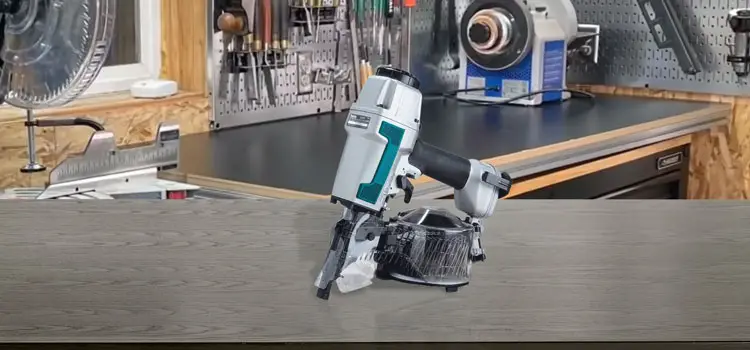 Why choose it?
A fine-tuned and tunable tool like the AN611 one of Makita is quite rare. A large number of features with great adjustability options fixes the term "versatility" with it firmly. The range of nails begins from 1.25 inches to 2.5 inches, which serves as an explanation of the above, and more are to come.
The coil siding nailer hands over the option of 3 modes selection. The selector includes sequential, contact, and lock modes allowing you to play with the nailer as the new projects arrive. To aid further comes the easy loading canister which is also large enough.
400 nails is a big count as far as magazines of siding nailers is concerned. This here presents such a magazine along with 15 degrees inclination of collation angle. But the tip is rich in enough safety with a rubber bumper. Thus you are ready for day-long nailing with surface smoothness ensured.
The exhaust is 360 degrees multidirectional saving your face. But that's what you expect in any modern nailer. The difference-maker is the air filter option that recedes the amount of dirt and debris being expelled. And it comes built-in i.e. getting an extra point without losing anything!
Lastly, the depth adjustment appears in an advanced form. To put their nose tips ahead of others at least in terms of versatility, Makita has added 9 setting modes associated with this feature.
What puts it behind?
Most other siding nailers weigh slightly less than this Makita product. This relates a lot to the maneuverability while driving the nail and kills comfort considerably.
The exhaust is strong and puffs powerfully. Well, that has turned out to be a drawback since the blow is quite more powerful than required.
4. Hitachi NV65AH2 Coil Siding Nailer, 2-1/2-Inch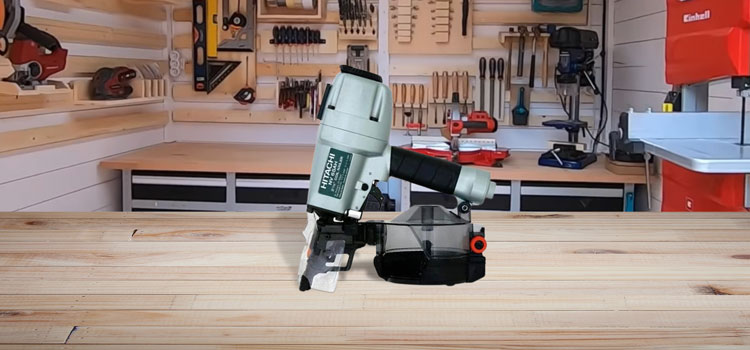 Why choose it?
A well-reputed company, Hitachi, has put their siding nailer in the crowd of modern-day advanced nailers and NV65AH2 has well knocked down many others. It marks its journey to victory with the actuation switch. Switch between contact and sequential nailing modes just with a switch flip.
Its side loading magazine is a wonder. Reloading is easier than any other siding nailer. But the pace of loading as well as releasing nails is some quantum multiple. To put things into perspective, know that even the 2.5-inch nails (0.099 inches diameter) are set to penetrate at the rate of 3 nails every second.
Pouring all your skills into the material may not be as easier as using this coil siding nailer. And why not since it operates being loaded with so many features yet weighing under 5lbs. The 4.8lbs tool is so compact and handy that the space your Jobsite offers will not remain a parameter.
 A few adjustments are always offered in a number of features by the best nailers in the market. Nailing life gets no comfier than while using siding nailer having depth drive adjustment and especially tool-less. More adjustments are found with the air deflector set for exhaust. Directions all the way around may be achieved through it remarkably.
Adding more to safety's side Hitachi put a great and unique plastic shield. Its function is to deal with wire collations by deflecting them. The safety of the material, on the other hand, is enriched through the addition of a no-mar tip. So no trouble while finishing as no chance to marks is residue. Besides both plastic and wire collated wires are in the domain of the nailer.
What puts it behind?
Though jamming is not an issue encountered normally, you may experience a couple of nails that aren't aligned well with the receiver at the head. This is an aspect to be noted since jamming kills time as well as deteriorates the tool's health.
Consistency in finding the correct depth has popped out to be a trouble to a few.
5. Dewalt DW66C-1R 15 Degree 2-1/2 inches Coil Siding Nailer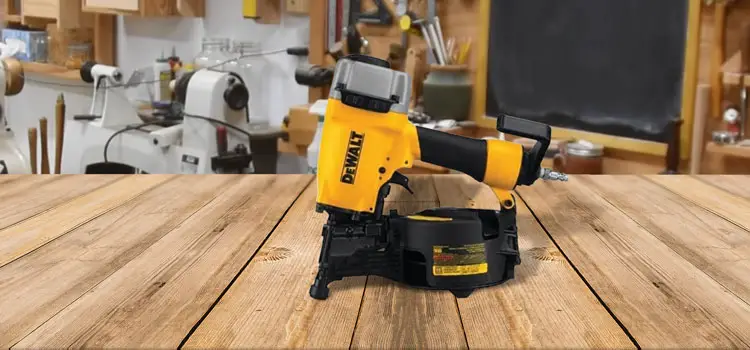 Why choose it?
The Dewalt pneumatic nailer is a "monument" of lightweight design. The aluminum housing has led it to the 4.9lbs weight that it possesses. A user-friendly tool under affordability is a win for the one who owns a piece.
This 15-degree collation angled tool features a rubber foot. The smoothness of the foot smoothens the material at hand. Both the options of wire and plastic collated nails are at your hand. So, 2.5 inches of siding nails of your choice are all set to be driven into a scratch-free material.
The certified refurbished siding nailer has no place of dust, at least, near you owing to its truly adjustable air exhaust system. Your body, as well as a workpiece, will only remain await of the neat touch of yours.
Adjustability and longevity are definitely tagged with the Dewalt item. Along with the exhaust port, the depth of drive adjustment is also tool-less adjustable. And body parts like high-quality springs and bumpers have a great impact on the "life expectancy" of the siding nailer.
What puts it behind?
The air filter is a new demand among the users and, in harmony, a new healthy trend among the leading nailers. This nailer clearly misses out on this feature.
Double firing is another vital issue users relate to it. But note that the trouble is limited to occasional occurring.
Guide to Buy the Best Siding Nailers
Why not shed some light upon the magical tool for which we are here? A thorough understanding of the parameters on which we may judge and rule in or rule out a particular siding nailer is thus listed ahead. Let's brush up on our knowledge and know-how to find the best nailer in the race. 
Speed vs power
Balance is the name of the game when both power and speed are taken into consideration simultaneously. When you are buying one keep in mind that neither siding works are meant for cruising power nor are siding nailers framing ones. Much power has the potential of damaging the workpiece.
Magazine capacity
Trends go for 300 to 400 nails around and so are the magazine sizes. What you need to bear in mind is that the more the nail counts each work cycle, the less is downtime.
So if you have a mammoth-sized project at hand, it's not a bad idea to push the budget for larger magazines. But simple household tasks and small-sized DIYs mostly do not demand such.
Nails that it Drives
Nails differ both in size and collation types. Siding nailers mostly welcome nails between 1 ¼ inch to 2 ½inches. Both wire and plastic collated nails are found within this range. A siding nailer lags behind in the race of flexibility if it is unable to handle both types of collations.
Adjustability
The adjustability of nailers refers to specifically at least two aspects: the exhaust system and the depth of nail driving.
Exhaust
The 360-degree exhaust port is gradually becoming the norm in nailers. Debris, dust, and dirt will find a different course for the attachment exhaust. But best siding nailers are recognized by the addition of adjustment features that.
Nail Driving Depth
Depth of drive, the other feature having the expectation of adjustability, is more fundamental. Almost all of the applications of siding nailers involve a swift finish. This is ensured if the nails are strong and effective in terms of size and if the wide nail heads remain smooth with the material. Adjustability in nail depth is thus a killer finisher aspect.
A group of siding nailers offers a number of setting options while others put a dialer. Both are more or less the same in terms of operation.
Nailing Modes
At best 3 modes of nailing are found in modern-day nailers. Sequential and contact, otherwise known as a bump, nailing modes are prominent couples among the three. Lock nailing, the other nailing mode, is rarely found.
When the sequential mode is actuated, each trigger press releases one fastener at a time. In bump or contact mode both trigger press and bumping of the nailer tip on the workpiece make a shot. However, using bump mode needs a good protective foot.
Nailer Foot
Nailing, especially in bump mode, requires special attention to be thrown to the foot. In many cases, it comes in direct contact with the material, and thus the health of the workpiece is closely related to it. In bumping mode, it is a necessity and hence the contacting part is called a bumper.
So, the bumper is to be shock absorbing enough to produce a collision with the material as soft as possible. Rubber foot is now a criterion for best siding nailers. As siding materials are more delicate than others, smooth rubber is much appreciated.
Air Filter
Health issues are sensibly handled by people nowadays and nailer users are no exceptions. Dust and dirt are handled well by the exhaust system but air filters upgrade their performance adding themselves with the former. But it is equally sensible to let it go if price intervenes as an issue.
Safety shield
A few nailers provide safety shields, often made of plastic. It may serve greatly to you if you use too many wire collated nails since it deflects the wire collations.
Included Accessories
Wrench, safety goggles, the case for tool, etc. are extras that you may get with the nailer you are choosing. Don't forget to keep track of the budget you are intending to target in that case. A tip may go as: check out the prices of the accessories individually and compare.
FAQs
Question: Are siding nailers equally good for roofing works?
Answer: Firstly you need to take into consideration that roofing nailers are dedicated ones for roofing. Now let's dig into the facts why you can't go siding and roofing side by side.
Siding focuses on holding sidings strongly for a larger period of time. But roofs are given the provision for quick maintenance. Hence the nails for roofing are made so that they can be removed and replaced easily.
Roofing nails need to penetrate sturdy workpieces like cement, asphalt, etc. Siding nailers aren't made for so. They are shorter in length and wider in the head region. So, definitely, you can neither use siding nailers in lieu of roofing nailers nor can you use roofing nails instead of siding ones.
To know more about siding nailers and roofing nailers, please have a look at the Siding Nailer Vs Roofing Nailer article.
Question: Is brad nailer a substitute for a siding nailer or vice versa?
Answer: Both brad and siding nailers add stuff to some existing material. And this may easily lead to the above question. But once you get the sense of carpentry of sidings, no questions would get a chance to stand.
Like upholstery works, brad nailers deal with lightweight tasks. And hence, brads are often called pins. But sidings are quite heavier than those materials and cannot be handled by the power this pin has to offer.
Moreover, the angles provided by siding nailers aren't coverable by that of brad nailers. On the other hand, using siding nailer in brad jobs would readily ruin the project firsthand. The one can't be replaced by the other in the usual manner.
Conclusion
Heavy-duty yet light weighed ones are regarded as the best siding nailers by all. Our selected products cover almost all the points raised by the preceding comprehensive buying guide. Yet winners have different colors of taste.
Bostitch N66C is the choice of mass, Freeman PCN65 comes with its greater versatility, and AN611 of Makita provides the uniqueness of air filter. Now it is you to make the final match of taste.